Faith in the Promised Land
Yenisel Rodriguez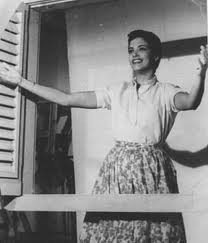 At the ceremony for the 2010 Lucas Awards, that gala of Cuban music videos, concluded with the large projection of the word "faith."  On a giant screen there unexpectedly appeared the unforgettable Consuelito Vidal making an appeal for hope for the Cuban people, and in the foreground the word "faith" was highlighted in red.
The Lucas Awards is a political, cultural and religious event in a country where the atheistic politics of the government eroded the popular prestige of religion.  Although with time we have confirmed that this erosion wasn't so deep, it's no less true that today there still exists strong atheistic indoctrination among certain sectors of the Cuban population.
It is common to meet people who need to make it clear that they don't profess religious ideas.  Many of them can recite basic notions of scientific atheism automatically.  It is a knee jerk reaction, but what this implies is that they don't allow themselves to engage in the most minimum of exchanges concerning theological opinions.
Now that the stigmatization of religious practices has been lifted and left behind, the promotion of an attitude of faith within the context of an official cultural event of popular interest seems to be one more step toward burying — for once and for all and forever — the worst of the religious fundamentalisms: scientific atheism.
Though I don't deny the possibility of the existence of a non-religious faith, in Cuba the simple allusion to the term activates a popular imaginary in which religion occupies an important place, especially those of Catholic and African origins.
I have always associated the personality of Consuelito with that characteristic manner of public-spiritedness and spirituality that identifies us.  To see her making an appeal for faith confirms my suspicion that many of us Cubans give the same meaning to this wonderful woman.  In many ways we are returning to her in a search for new utopias.
May that faith be reborn with this new year, and my we come closer to that promised nation of full stomachs and free souls that so many of us desire.