Will They Be from Havana or Santiago?
Yenisel Rodriguez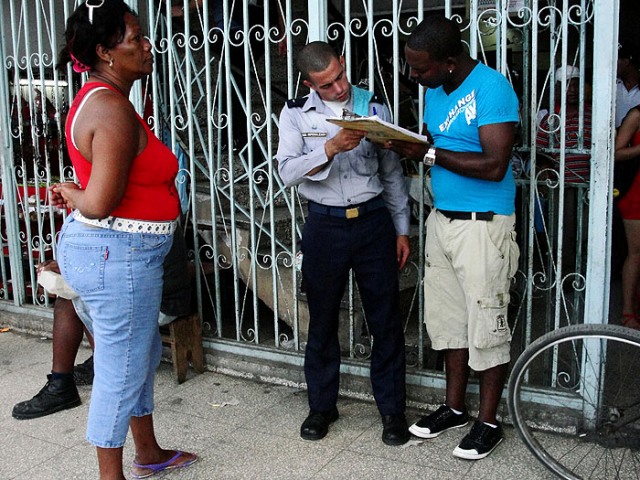 The Cuban government is getting no break; it's experiencing times of profound desperation as almost nothing is working out right.  At this very moment it doesn't know where it will recruit the personnel it needs to reinforce the police in the capital.  Things aren't working out well with the young officers recruited from the eastern provinces over the past several years.
It was thought that those inducted from the east wouldn't become implicated in Havana's networks of crime and corruption since they were coming from so far away.  But as always happens in the plans of our bureaucrats, improvisation and circumstances have again dealt them a bad hand.
What's happening?  Corruption and graft have shot way above what was expected.  The statistics are astounding, even to the most skeptical observer.
Police who are imported always wind up "hooking up" with some old acquaintance that now lives in Havana.  Eastern prostitutes become their accomplices, as do their drug dealing counterparts. These networks of solidarity are very solid, especially when they're strengthened and protected by hard currency.
Faced with this situation, the government made another 180 degree turn without wasting time, an abrupt shift that will take it back to the same place.  Now they're trying to reconcile themselves to young candidates from Havana so these trainees can take the places of those ex-officers who are now being sent back to their eastern hometowns, though for the moment these transfers are voluntary.
The public doesn't expect big changes from these new native Havana cops.  Only the faces of those involved in corruption and graft will change.  Immigrant prostitutes and dealers will be threatened by Havana prostitutes and dealers.  They know from their own experiences that when stopped in the street by an officer who was an old friend from the classroom or the bedroom, they have a much better chances of getting out of any jam.
Will we gain something positive by having a homegrown police force again?  We'll have to wait and see.  In any case, one would have to be naive to think that an armed body won't defend with tooth and nail the interests of whoever pays them.
Even like this, perhaps it will be easier to face law enforcement officers who feel that their profession stigmatizes them.  More than a privilege it is a need; collectively, they are the last card in a once prestigious deck, because being a police officer in Havana ceased being something prestigious a long time ago.