Venezuela: Of Line-Ups and Ministers
Caridad
HAVANA TIMES — Venezuela is the country with the safest supermarkets. I was able to see it first-hand yesterday, when I passed by several of them in Caracas, including one of the largest Bicentenarios in the city (the last Chavez was to open, if I'm not mistaken). There were hundreds of police officers and members of the National Guard, including riot squads, monitoring the line-ups and entrances to the stores.
What gradually became a daily spectacle as of a year ago has become rather uncomfortable news at home and abroad: immense line-ups of people hoping to buy food and hygiene products.
Many Venezuelan families go on vacation during the Christmas season. Some travel, others stay at home, but, generally speaking, it is one the few times during the year when families spend time together for several days.
We know that, when this happens, people's supplies run out faster than usual. And, naturally, people go out to the market to buy flour, chicken or anything else they may need (including diapers for their babies, milk for their children, soap, articles which were already becoming difficult to find at the close of last year).
So, they go to the nearest market and find that it has nothing of what they need for their daily eating and cleaning needs, and they go in search of these products at other larger supermarkets. Little by little, people start informing one another of where these hard-to-find items can be found by word of mouth, and everyone heads there to buy what they need.
Then, one of the government ministers who stayed in Venezuela to show their faces while Maduro tours Asia and the Middle East goes on television and denies the existence of those lines of people.
But the lines are there, there are pictures to prove it.
So, people are now prohibited from taking pictures in line, and these are being surrounded by the National Guard and police.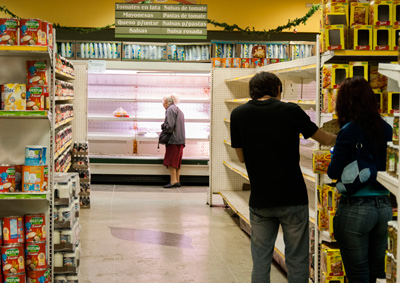 I wonder who they are looking after: the people in line, so that delinquents won't take advantage of them? Or are they afraid the fearless people will loot the supermarkets, as they've done on other occasions?
But, weren't we told the lines of people don't actually exist?
We have the Minister of Foreign Affairs who says people are standing in line because they want to. Ernesto Villegas – I don't even know what position he holds now – goes on TV to tell us that the lines are full of spoiled rich kids who are there to instigate violence.
So, we're to assume that most people in Venezuela are trying to instigate violence? The lines of people are far too long to believe this business of "spoiled rich kids."
The Minister for the Food Industry then has the bright idea of paying the Bicentenario in Zona Rental a visit (the same one I went to yesterday). This supermarket was so under stocked at the beginning of the year that there weren't even people waiting in line there. Then, it closed for inventory and, when it reopened its doors, the crowds almost took away the Minister as meat.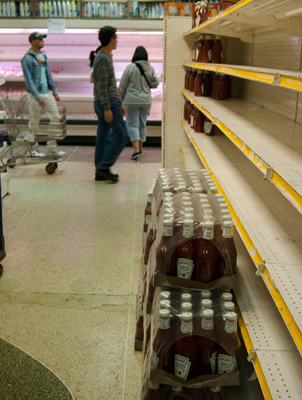 There are very embarrassing photos and videos of this.
To prevent such bad press, the said minister, accompanied by the Minister of Domestic Trade (whose most remarkable feat was organizing a Christmas Fair that had to close down ahead of schedule) forbade the press from filming or taking pictures. After putting some order to that disaster, he let some well-behaved customers go in and then, the obedient boys of the official press were able to take a few, beautiful photos of the minister accompanying the people in their orderly buying.
But people still took pictures with their cell phones and published them on the Internet.
The government no longer has any choice but to acknowledge there are long lines of people and that markets are under stocked, so they claim there have been certain delays ("as tends to happen at the beginning of the year") but that food supplies will be back to normal soon.
Most emphatically, they claim the opposition is inciting people to protest, frightening them with the prospect of a nationwide strike, manipulating people so they will go out and buy things desperately and en masse.
What if this were true?
What if it were true that the thousands of people standing in line throughout the country all have been manipulated into doing so by the statements of the opposition?
We would then be witness to the strongest opposition on the planet, the opposition with the greatest number of followers, an opposition that can destabilize a country by simply moving a finger.
Where are the millions who allegedly support the government?
At home? Or are they also standing in line, in response to the calls made by their enemies?
Yesterday, I stood in line for an hour to go into a government-run supermarket. Judging from the bags people carried on their way out, I saw that it least carried flour, powdered detergent, shampoo, milk and chicken.
I also saw many elderly people waiting for hours to be able to buy something (this is one market where the decree that the elderly do not have to stand in line was not put into practice), pregnant women and women with children, common folk, tired and sad. I didn't see any spoiled rich kids pretending they needed to buy something they have plenty of at home. I spoke with some people, who told me of the veritable odyssey they had to go through to get their hands on essential products.
What struck me the most (foreigner that I am) was the Administrative Identification Service (Immigration and Foreign Affairs Department, or SAIME) operation set up at the entrance to the market.
The night before, I had read a note that, I thought, was aimed at warding off potential hoarders and re-sellers from Colombia who often have a chain of buyers (particularly at bordering states) that resell products at thrice their price (I should point out that there are as many Venezuelan resellers as there are Colombian). The note as such issued a warning that, as several foreigners buying at markets had expired residence permits, the SAIME would conduct operations at several locales that sold food products.
So, now clerks at supermarkets also check people's passports? Personally, I never carry my passport with me, only a copy (which is what everyone does) without the visa page.
I asked my friend to approach the SAIME officials to ask. These kindly informed her that they were asking people for their IDs before they went into the supermarket, and that foreigners residing illegally in the country would be deported.
They didn't mention whether they had actually caught any illegal residents.
As for Cubans working in the country, they must ask for a letter from their Community Council. At any rate, it seems that matter is already being addressed within the official missions where Cubans work.
I know I could well stray off topic if I start to write about that "small" measure which, I am sure, will put an end to the shortage of many products in Venezuela.