Caridad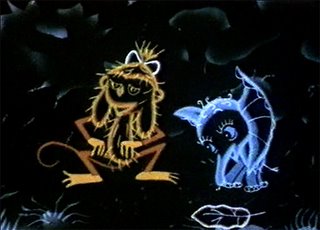 If I were a little girl again —something I wouldn't want to go through— and if I were again among ranks of the Young Pioneers, wearing my uniform and with my hair well combed, instead of chanting the motto "Pioneers for communism, we will be like Che," I would like to chant, "We will be like Fantito!"
Who's Fantito?
Those of us who were born in Cuba in the 1970s all remember Fantito (or Fantik), the Russian cartoon that would cause such fear when we watched it as little kids. Maybe this was because of its dark and haunting scenery, or perhaps it was because of that strange creature that everyone feared (curiously the only character in color in the animation).  The forest was dark, a bluish black, and the animals ran in panic with the approach of Stusa Cutusa, the ferocious beast, the one that threatened to devour them all.
Fantito was of course a small, tender and sweet little elephant that was full of harmony.  He came upon a plant that was crying because it was thirsty, and he didn't think twice about going to search for water to aid it.  Close by was a puddle where he could get water, but at the bottom he found a family of frogs.  Fantito apologized to them and put the water back.
He then undertook a longer trip in search of the precious liquid to help the plant, which was crying the whole time.  On this journey the elephant discovered several crocodile eggs that helped him to locate water.  He also ran into a nest full of bored crane nestlings that didn't have anyone to play with, so he spent a little time with them.
In this journey he was accompanied by a nice monkey who wasn't very popular in his troop.  Each step along the way he reminded Stusa that it wasn't worth it to help others, and that one would only be looking for problems by trying to.  He too was being pursued by Stusa Cutusa, the ferocious creature that was following the rapturous scent of Fantito.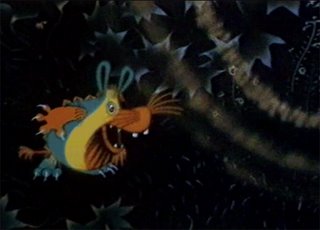 There were many other characters who were helped by the bluish elephant in his quest for water for "the thorn" (this is the name I remember that he called the plant).  These included an inquisitive old turtle and the same monkey that accompanied him who received the elephant's love when its troop made fun of him for being so ugly. The elephant consoled him by saying, "To the contrary, you're the prettiest monkey in the world."  Fantito then dried his tears and presented him with a flower.
This little Russian animal created more values in me than any of the propaganda that was drilled into me in school.  Fantito had a problem though: he was too small for his ears.  But he didn't focus on that, nor did he walk around begging for compassion; on the contrary, he concentrated on other people's pain, on those little animals that surrounded him and feared such threats as Stusa Cutusa.  Those others were sure that whoever didn't know how to kick, gore, claw or bite won't be been able to evade the voracious appetite of that chubby mustached creature that would look at his most desired prey with fondness saying, "ah, a fresh face, a gentle spirit."  Fantito didn't know how to defend himself, he only had love.
Finally (for those who are interested in how the story of the elephant ended), he was indeed able to water the thorn, and now it's an enormous and luminous tree that attracts all the animals in the forest, including the once insatiable creature that had wanted to swallow Fantito whole.  But later the little elephant (helped by the ugly monkey) was able to eat the fruit of the thorn tree and it became a great elephant that didn't seek revenge against Stusa Cutusa.  He only kept his distance from the creature and informed it that he had grown up, and therefore his name was no longer Fantito, but Elephant.
Spiritual growth?
I believe that's more or less the lesson of the Russian cartoon, I can't see it otherwise.  Perhaps that's why, despite everything, it continues to appear to me that it's a tale about our generation, the most beautiful of all of the Cuban generations alive today.  We are the ones who have to finish eating the fruit, to stop being afraid of Stusa Cutusa, to continue thinking about those who have needs greater than our own, and in that way forget what we haven't been able to achieve because of thousands of obstacles and lies that surround us.  That's why Fantito continues to be my ideal character, my dearest hero.