A Cienfuegos, Cuba Community that Wants to Grow and Flourish
By Glenda Boza Ibarra (El Toque)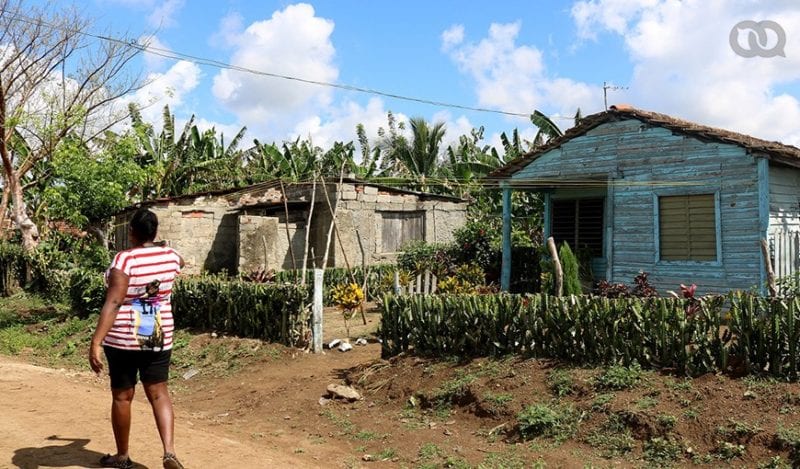 HAVANA TIMES – Residents recognize their marginal status, so they began to think about a different way of living. They are almost all black, with basic education and are illegal migrants in their own country: everything they need to be discriminated against. And, they were. Until they themselves found a way to put a spin on their history. They live in La Baria, a settlement two kilometers away from the town Ciego Montero, in Cienfuegos' Palmira municipality.
The community's name is due to a tree that grows over eight meters tall there and is said to have magical properties. However, there isn't very much magic in La Baria, with the exception of its people's humility of course.
I liked it here, I stayed
In 1998, La Baria was a migrants' worker camp for a sugar cane cooperative. What used to be the residence, dining hall and kitchen, is now home to almost a dozen families. There are several wooden homes, with earthen floors, around it that are now home to those who also came here to cut sugar cane.
In the 2012 Population and Housing Census, it was recorded that only 76 people live there. However, almost 200 people live in La Baria today.
"[We've been] here for over 20 years and we are still illegal," Mayle Andrade Curbelo laments. "A while ago, the ID Card and Housing Department people came to help us with the papers for our homes, but we are still waiting for them."
Mayle's house is the residence's former kitchen/dining hall. Four old pieces of cardboard serve as walls to divide the space into rooms. In the living room, there are two wrought iron chairs and a TV with poor signal.
"The government was going to build 27 homes in this community, but they only completed three," explains Eloy Morales Fuentes, who was born in Contramaestre and is the settlement's founder. "We've been made many promises, almost all of which have yet to be done good on and people are getting upset as a result."
Yanelis Reyes Rojas has two children and had to travel to Oriente to give birth.
"I am from Mangos de Baragua and I've been living here for ten years, but as our homes still haven't been legalized, the address on my ID card is still in Oriente. Registering the children here is a problem because we are illegal," she explains.
According to neighbors, some people have left the settlement because they were filled with despair. They didn't believe that La Baria could ever have a prosperous future.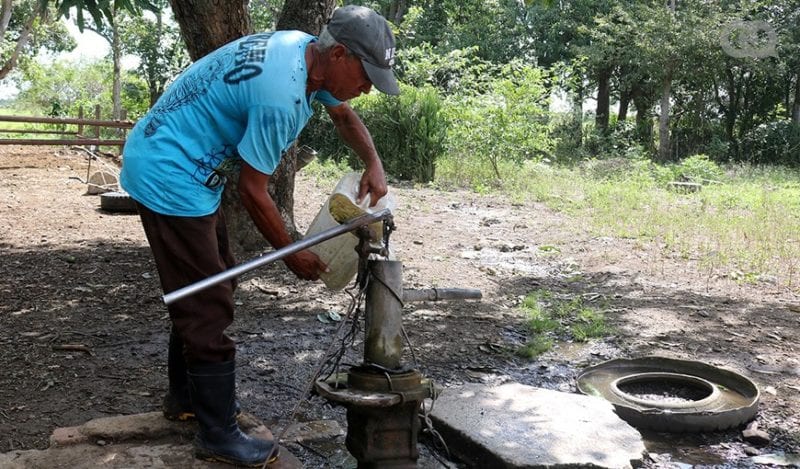 "The electricity supply is very unstable because we have many lines and this has burnt out fans, radios, Tvs," Toniberto Morales explains.
"It's one of our oldest complaints," Eloy interrupts. Three months ago, people from the electricity company came and said they were going to begin works here, but we still haven't seen them do anything. There are several lines that are almost on the ground and this is dangerous."
La Baria could be considered a silent area not only because of its peaceful surroundings, but also because there is almost zero phone signal there.
One of the resident's greatest demands right now is the installation of a phone line.
"Even though the nurse comes to visit us regularly, we have no way of communicating if there is an emergency. Here, we have old people, people with physical and mental disabilities, children and if anything happens in the middle of the night, we have no way of getting to the polyclinic," Yanelis admits.
"At least, they fixed the road and this give us some consolation," Eloy says. "A few months ago, this place looked like a swamp with all the rain, but it's a lot easier to get to today."
"Most women are housewives and the men work at the 8 de Octubre sugar cane agricultural cooperative (CPA). We don't have a school here, or bodega rations store, or any other store, or doctor's office. You have to walk at least two kilometers to the center of the People's Council for everything," explains Efren Sanchez Abreu.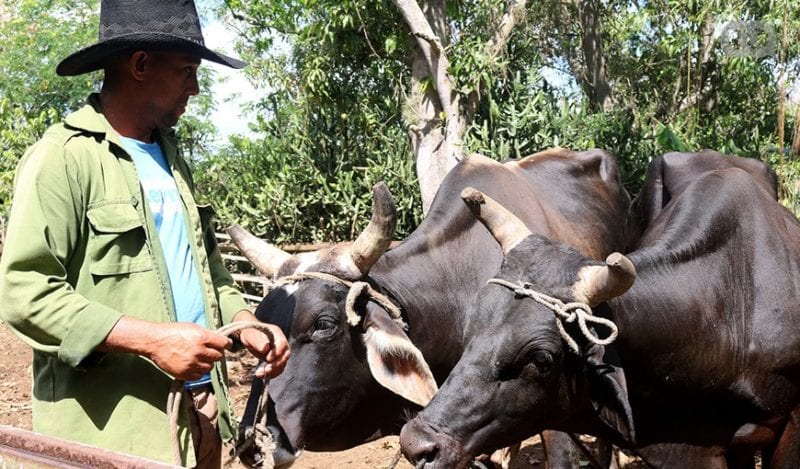 Living is illegal, but dancing isn't
As its residents come from Oriente, this settlement was the ugly duckling of the Arriete-Ciego Montero People's Council.
"There were lots of alcoholics here and we were very disadvantaged. We knew that we had to do something for people to bear us in mind and for things to change," Daniel says.
In July 2014, Magnolis Boone Peralta had the idea of setting up a music/dance folklore group with her neighbors and she called it "La Baria" to give the community some visibility and to get the local authorities' support.
"We started off by playing with buckets and an iron shovel which we still use as a bell. None of us had any musical training, only the songs we had learned because of our African roots," she says.
Anyone representing a saint instinctively knows how to do this according to the deity's personality.
"I play Oshun and I make every movement thinking about what this goddess of love is, who walks around in the countryside with santeria, salsa… and this is how I try to move," Mayle remarks.
After presenting the project to the Municipal Board of Culture and it being approved, they started to appear at different events. They became prestigious.
"We have regular gigs, we celebrate important dates and we have performed in other municipalities within the province and at important places in the city of Cienfuegos, such as the UNEAC gardens and the Benny More Center," Efren adds.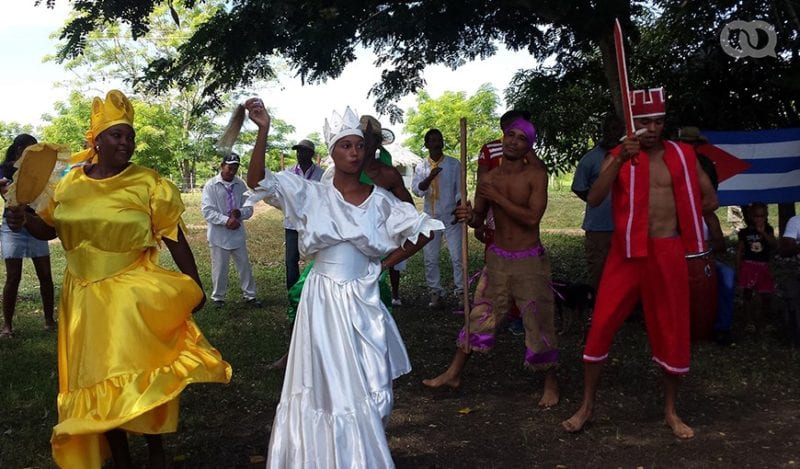 Creating the folk group was the first step, then it became a community project that includes different art forms linked to Afro-Cuban roots.
"With the CPA's help, we want to make an Orishas Forest where we can plant trees relating to the saints of the Yoruba Pantheon and others which are used for their medicinal properties," Magnolis explains.
They also have a small library that the community has access to and a dancing group with children.
Orlando Ventura Rivero, Ciego Montero's cultural promoter, confirms that La Baria music/dance group is one of the groups that the Arriete-Ciego Montero People's Council is most proud of.
"It has even become one of the headliners at many provincial events. Plus, they celebrate important dates and national holidays with greater enthusiasm than other more central neighborhoods," he says.
Magnolis says that the group goes to great lengths to ensure a quality performance always. "Even though we are restricted when it comes to costumes, especially for musicians and the chorus, we put a lot of effort into our work. We even won a Festival del Agua award, which is given to bodies and institutions who stand out for their participation in the People's Council."
However, during 2018, they went almost a year without performing because rarely were they able to secure transport.
"A lot of the time, we end up "dressed and nowhere to dance". Sometimes, we take leave from work because we have a performance and we lose the day because the transport never comes," Mayle explains.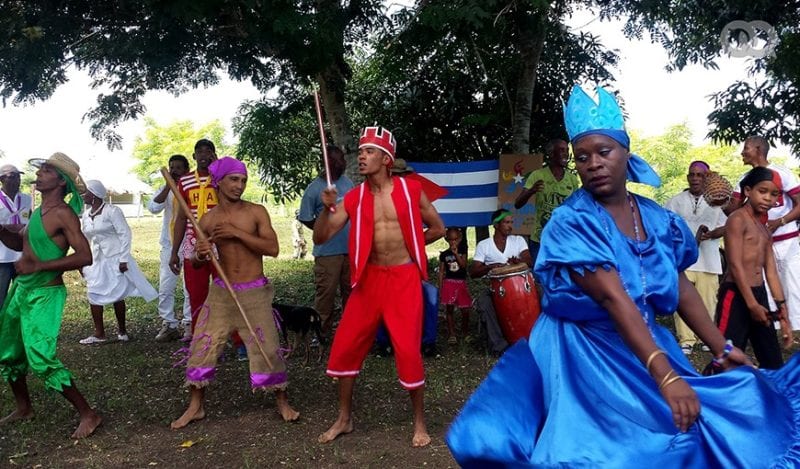 As the La Baria folk group is still amateur, they perform for free. Although they hope to become professional, this is a distant dream it seems.
"I believe that the group will bring us great benefits. We give, but we also hope to receive," the young 30-something-year-old-woman says.
Do they dance off the bad in La Baria?
Residents in La Baria agree that the attention they have managed to get in recent years is due, to a great extent, to the prestige of its folk group.
"There's no denying that some things have improved, especially because people look at us with more respect and without so much prejudice," Yanelis admits.
"On some days, even government officials come and they are surprised at how much we have achieved in culture," she adds.
However, Yanelis doesn't forget when one government official came to visit and promised to build a children's park and then said that it was impossible because they had no way of transporting the building equipment there.
"We know that our problems can't be solved overnight, but we would like to at least see that they are working towards this end," Mayle says.
And, even though Magnolis claims that the authorities and people of Ciego Montero already recognize La Baria as a community and that makes their souls happy, there are still many things that affect them and many promises that still need to be kept.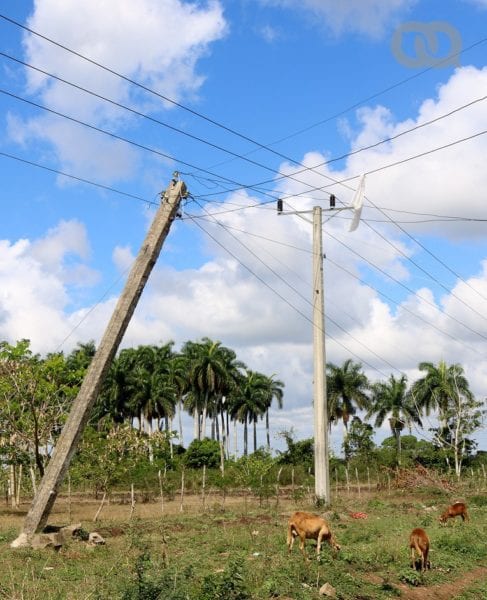 Thus, Toniberto Morales, a cooperative worker, stresses that support for the project is crucial to change the community's reputation and way of life.
"It's important for this work to continue, to be promoted, to be seen. This helps prevent many things from happening which happen in communities like this, which are very vulnerable."
Without explicitly mentioning these issues, Toniberto speaks about alcoholism, crime, prostitution, illegal activities, drugs, violence; common phenomena in illegal settlements and neighborhoods where migrants come and live under minimum conditions.
"La Baria has magical powers and is growing quickly. It's a leafy tree," Mayle says. "We also want to grow and flourish."
In spite of all their needs, fixing the slope to La Baria alone seems to be the sad metaphor of someone who levels the path, but forgets where it's heading.