A Day of Celebrating Cuba Culture
Irina Echarry, photos: Caridad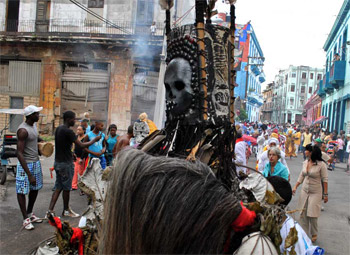 HAVANA TIMES, October 23 — Like on every October 20 here on the island, we celebrated "National Culture Day." In Havana there were concerts and theatrical performances, seminars and activities for children and adults, not to mention presentations of magazines, movies and CDs.
A procession by the carnival dance group El Alacran was joined in by residents of the Cayo Hueso neighborhood as they paraded through the streets of Centro Havana thanks to the initiative of the Callejon de Hamel program.
This October had something additional at the Pavilion Cuba: the Asociacion Hermanos Saiz, having decided to dedicate a week to commemorate its 25 birthday, organized book presentations, encounters with artists and writers, concerts, the showing of Cuban films, art exhibits and several other activities to celebrate the two dates.
The exhibit "Las metáforas del hereje" (The Heretic's Metaphors) served to recall the works of talented artists of the past.
Visitors could appreciate a xylography by Belkis Ayon, the description of a performance by Humberto Diaz, an installation by Julio Neira, a look at homosexuality in the 1990s from the perspective of Jose A. Toirac, in addition to works by other artists who — though differing in techniques and subjects — coalesced around this exhibit of artistic recollection.
Also displayed were documents that helped tell the history of this youth organization that, though having at times excluded some initiatives and individuals over the past 25 years, has embraced most of the country's young artists.

Click on the thumbnails below to view all the photos in this gallery. On your PC or laptop, you can use the directional arrows on the keyboard to move within the gallery. On cell phones use the keys on the screen.