A Gay Soccer Drama Set in Havana
Elena Box (dpa)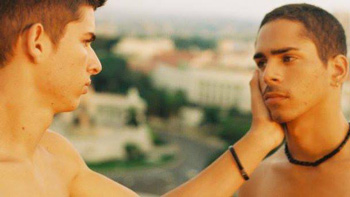 HAVANA TIMES — At night, Havana's picturesque ocean drive becomes a showcase where young men offer the charms of their youth to tourists in search of sexual adventures. The double standards that underpin these relations is one of the issues explored by La partida ("The Departure"), a gay drama directed by Spanish filmmaker Antonio Hens which will premiere in Spain this Friday.
Reinier (Reinier Diaz) and Yosvani (Milton Garcia) are two teenagers who eke out a living on the streets of the Cuban capital and devote the rest of their time to their passion: soccer. Reinier is married and has a baby. His mother-in-law (Mirtha Ibarra) encourages him to hustle foreigners to bring money back home. Yosvani has nowhere else to live other than his girlfriend's father's home.
As the two exploit their virility, they begin to feel a throbbing, internal tension that leads them to discover new paths in their lives. Their journey down the winding roads of sexual identity places them face to face with a hostile reality where everything has a price.
"I know Cuba through my family there, and I was immediately intrigued by people like Reinier and Yosvany, kids who try to find a point of departure within Cuba's complex society," said Hens (Cordoba, 1969). This is the second feature film he has directed and produced since Clandestinos ("Clandestine").
Far from condemning this reality, Hens' foreign lens focuses on the world of these young men without passing judgment, acting as a kind of mirror. "The film does not aspire to be sociological," Hens explained before a showing for the press. "What we were interested in was showing the fragility of these teenagers who live in such a harsh world, in the midst of so much moral corruption."
Such moral degeneration and utilitarian view of human relationships aren't exclusively Cuban issues. "We're not immune to any of the things shown in the film," said Spanish actor Toni Canto, who plays an attractive tourist in search of gay sex.
Canto (who acted in Almodovar's "All About My Mother") underscored that, even though people can express their sexual orientation freely in Madrid, the same isn't true in other parts of Spain.
"We must avoid the Western arrogance of thinking this problem has been overcome," he said, recalling his astonishment on seeing France's recent protests against gay marriage.
According to Canto, there are places, such as soccer teams, where revealing one's sexual orientation still "has a price." "It is clear there are gay soccer players, statistically speaking." The actor also took a shot at double standards in Spain on referring to his nude scenes. "I am aware of the fact I live in a country where people are more easily offended by seeing a politician's ass than finding out they´ve stolen a million euros."
La partida also features two renowned supporting Cuban actors: Luis Alberto Garcia (Seven Days in Havana) and Mirtha Ibarra (Guantanamera). The actress declared that, twenty years after Strawberry and Chocolate, "there are still vestiges of machismo in Cuba." "I believe the situation has changed considerably, but there are people who still have such conflicts." The movie is scheduled to premiere in Cuba in July.
TRAILER