A Legion of Cuban Buyers Invades Managua's "Oriental" Market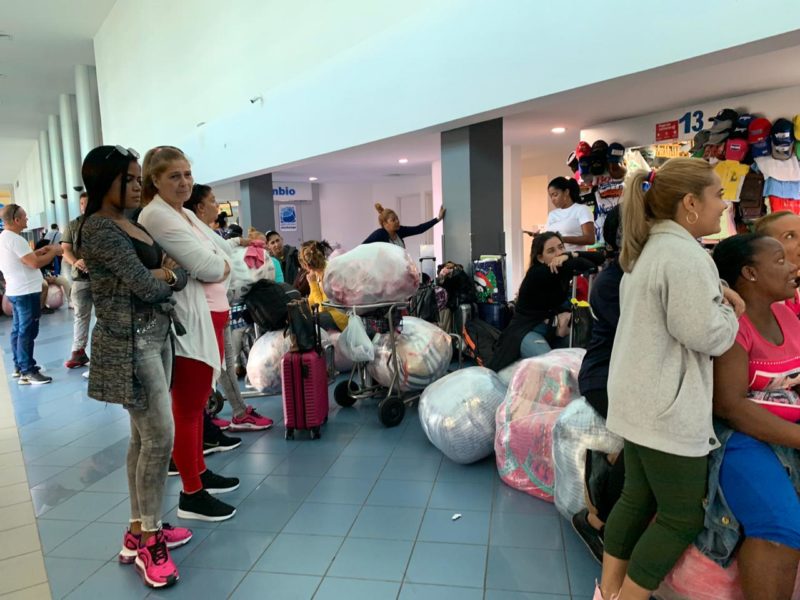 This year, the Ortega government made getting a visa easy for Cubans and about 2,000 arrive every month. Many continue on North, and an also large number purchase merchandise to resell on the island.
By Wilfredo Miranda Aburto (Confidencial)
HAVANA TIMES – In the huge bustle of the "Mercado Oriental" in Managua a new accent is heard, one that marks a novelty between buyers and merchants in the largest market in Central America. It is a loud and melodious voice, which bargains the price of products with such Caribbean cunning that almost always gets away with it.
"Hey man, how much is that shirt?", asks Jose Beltran, a Cuban with a gray mustache and blueish eyes. "The Cubans buy everything and haggle a lot in search of the cheapest (price)," says the seller. After Beltran completes the transaction, he recognizes another fellow islander and greets him with an expression that Nicaraguan sellers are getting use to: "¿Que bola, chico?" (What up with you?).
Beltran arrived a week ago in Managua from Havana, the capital that on November 16th celebrated 500 years since its foundation. Beltran flew 1,284 kilometers to Managua to buy shirts, pants, shoes and, above all, tomato purée, which has been scarce since October and is "sold at the price of gold" on the island that opened to the Spanish conquistadors "the glories of the New World."
The Havana resident is part of a legion of Cubans that have flooded the Mercado Oriental, other shopping centers and supermarkets in Managua for more than four months, because of a migratory flexibility granted by the Daniel Ortega regime on January 23, 2019.
A more expedited process
Although Cubans always need a visa to land in Nicaragua, since January the island went from "Category C" to "Category B." That is, the Nicaraguan consul in Havana can grant a tourist visa to a Cuban without making so many inquiries, and without waiting for the approval form Immigration in Managua. It's an expedited process that opens the door to Cubans in a quicker way than other countries, without so many migratory obstacles. The interested must only present a valid passport, pay the visa value of 30 CUC (Cuban convertible peso equivalent to one dollar), show a round trip air ticket, and voila, fly to Nicaragua.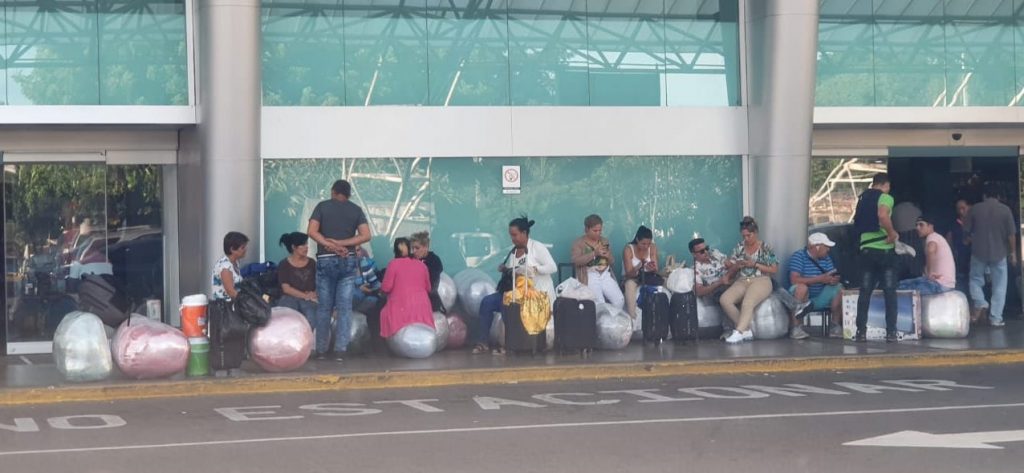 The migratory flexibility led to the arrival of thousands of Cubans in Managua. In one of those legions came Jose Beltran. In fact, it is the third time in less than six months that he has travelled to Managua. "One spends about 549 pesos (dollars) of tickets, then 10 dollars to enter Nicaragua and lodging is not so expensive," Beltran explains enthusiastically.
The Nicaraguan Tourism Institute (INTUR) celebrated in May the massive arrival of Cubans to "Nicaragua always beautiful." "The beauty of all this is the opportunity to be able to publicize what Nicaragua offers, that maybe Cuba does not have great potential (…) for example the volcanoes," said Ana Carolina Garcia, director of promotion and marketing of INTUR. "They (Cubans) are lovers of our volcanoes, they don't have volcanoes… so it is impressive for them that we have those active lava volcanoes and that they could see it very closely," said the official.
Tourism of "the mules"
According to INTUR, since the visa flexibility from January to May of 2019, 5,000 Cubans entered the country in comparison to 566 that arrived in 2018. An exponential increase that has been seen, certainly, around the volcanoes of pants and shirts that rise in the sections of the Mercado Oriental. Cubans climb clothes peaks in search of the ideal garment. The "tourists" do not leave Managua and concentrate their visits on shopping centers. Actually, it is the tourism of the "mules."
"Mules" is a very well-known term on the island. It refers to a fruitful business and, at the same time, to a way in which Cubans get around the perennial shortage in which they have live since the nineties, after the dissolution of Soviet Bloc republics.
"The mules" take advantage of countries in which Cubans do not require visas or immigratory regulations are lax—as is the case of Nicaragua—to travel and buy all kinds of products, ranging from clothing, footwear, soaps, household goods, to powdered drinks, instant soups and scourers. All these products end up resold on the informal market of the island, but which is tolerated by the regime that cannot provide the products in demand.
The informal offer is essential for Cubans, since in the official retail stores (all controlled by the communist government) most products are marked up 240%. "A pair of shoes that you buy here, in Nicaragua, in twelve dollars there you can sell it in 30 or 40," compares a Cuban who leaves accompanied by a large group, pushing full carts, from the Walmart supermarket located on the road to Masaya. "The difference is abysmal: soaps that are in six pesos here, there cost 20," he adds.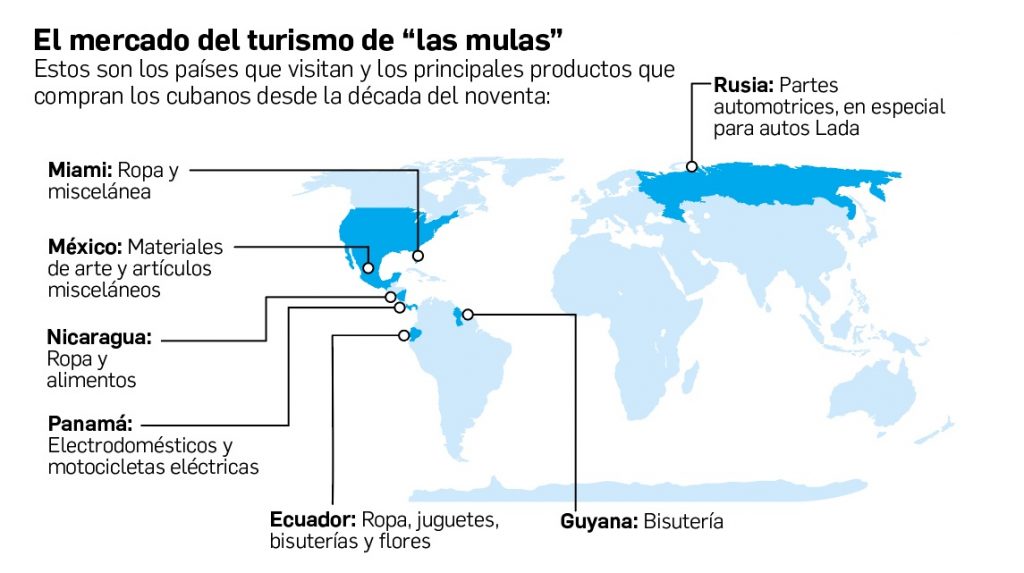 Although the tourism by "the mules" is an old business in Cuba, in recent months it is a novelty for Nicaraguan who see the islanders with filling with a frenzy suitcases and shopping carts with merchandise and provisions. An identical situation is represented by Cubans in countries such as Mexico, Spain, Guyana, Haiti, Ecuador, Panama and Russia where they do not require a visa. (Ecuador suspended the benefit in 2015). These countries quickly discovered that "mules" tourism generates substantial profits to their businesses. For example, 5,024 "mules" visited the Colon Free Trade Zone, in Panama, in 2016. "Mules" leave Panamanians an average of 100 million dollars, especially in the purchase of electric appliances. However, last July, Panama temporarily suspended the tourism card granted to Cubans. "Panama was very coveted until recently," laments a young Cuban in Plaza Inter.
"What is happening in Nicaragua is normal in Mexico and Panama. It is probably worse in Panama. There are business networks to serve the Cubans who are going to buy in Haiti, because there are very cheap electric appliances due to the many blackouts they have and a visa is not required," explains from Havana, Monica Baro Sanchez, a renowned journalist and winner of the Gabo (Gabriel Garcia Marquez) 2019 Award. "They have realized that it is a very big business, Interjet (Mexican Airline) has special prices for Cubans, who carry air conditioning splits."
Even on the internet, Cuban portals provide tutorials on how to get the most out of the "mule" practice: recommendations to spend less in lodging, food and transport in those countries. Cubans use their savings or depend on relatives in countries—such as the United States—who send them money to travel to easy visa destinations. The purpose is to make purchases to meet personal needs and sell in the informal market.
The practice boomed after more than 140,000 Cubans managed to obtain Spanish nationality thanks to the "Historic Memory Law," approved in 2007 by the then President Jose Luis Rodriguez Zapatero. The "mules" travelled with new passport to more countries to buy merchandise.
The Ortega government made more flexible the entrance of Cubans in the midst of an economic crisis caused by the police and paramilitary repression, unleashed since April 2018. The "mule tourism" has come to breath some life into the depressed national trade a bit. However, the recent Cuban buying in Nicaragua is not expected to alleviate the projected recession between -3.5 and -4.5%. For the time been, the benefits are in the Mercado Oriental, land of volcanoes of pants and shirts.
Thousands come, not everyone returns

Flight 7701 of the Venezuelan airline Conviasa travels directly from Havana to Managua on Monday, Wednesday, Thursday and Sunday. INTUR announced that Conviasa inaugurated the direct route in January 2019 "in the framework of the Nicaragua Always Beautiful campaign," on the same date as the visa flexibility for Cubans. Although the flight was not sold fully in the first months, tickets began to get scarce four months ago. "The mules" had discovered Nicaragua. Since then, photographs of endless rows of Cubans at the airport began to circulate on the social networks waiting for their plane with plastic wrapped bundles, round like prehistoric eggs.
Sources at Nicaraguan Immigration and the Augusto C. Sandino International Airport assured Confidencial that after May between 480 to 530 Cubans are arriving weekly, a little more than 2,000 per month on average. Conviasa is the main airline, although Aruba Airlines also provides a direct line Havana-Managua. Cubans use Avianca and Copa airlines to a lesser extent.
According to the Conviasa website, all tickets until February 2020 are already sold… the flights of the Venezuelan airline, which could be purchased at 200 dollars at the beginning of the year, now are quoted between 500 to 900 dollars or more.
Immigration and airport sources, as well as Cubans who have travelled to Managua on more than one occasion since January 2019, agree on something: "The flights are full, but they return a bit empty." "About 120 people come on the plane and they return with 40, 30 or 20. It's obvious why," says the same Cuban we talked to at Plaza Inter. Apart from the tourism of "mules," many Cubans take advantage of migratory flexibilities to emigrate from the island. "To go north," which in other words means to the United States.
The Cubans—whom the Ortega regime closed the southern border in 2015, when they were trying to reach the United States from Costa Rica, causing a humanitarian crisis—ironically today take advantage of the visa flexibility as a springboard to reach Mexico.
Many decide to follow the route to "the north," while others request refugee status in Mexico. So far in 2019, the Mexican Commission for Refugee Assistance (COMAR) reported that 5,371 Cubans requested asylum. Many of the Cubans who have departed from Managua to Mexico these months have joined others who left the port of Obaldia, in Panama, and have formed "a bottleneck" in Tapachula, Chiapas.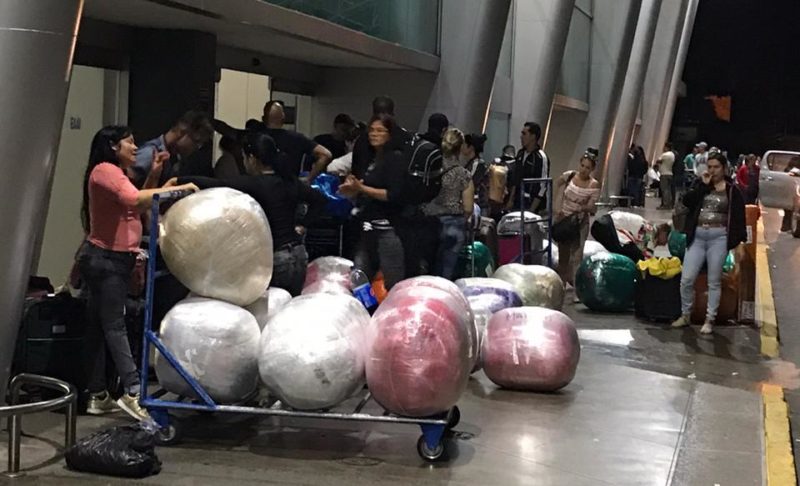 "In Havana, rumor has it that they will cancel the visa flexibility for Nicaragua, because many are going north," laments the Cuban at Plaza Inter. That is why he hurried to come to Managua to do shopping, anticipating that the benefit will end, as has happened in Ecuador and Panama. He asks not to reveal his identity. "You know, there in Cuba it could be awful," he says, alluding to the Castro regime without naming it.
Whether it be the motivation to emigrate from the Island, or buy merchandise to return to Cuba to nurture the informal market, which makes Cubans in Managua reluctant to give statements to journalists. Of those interviewed, 90% requested not to reveal their identity. Some are distrustful because they believe that the tentacles of Cuban State Security will reach them even in the Mercado Oriental or because they plainly are not used to providing interviews. The only one who dared to speak openly was Jose Beltran. The habanero with a grey mustache and blueish eyes. He did not hide that the motivation of his trip was to purchase merchandise to resell on the island.
"They treat us well in Nicaragua. The price is good. The only problem is that for a dozen they only sell you a single color or size," says the Cuban buyer. "If they varied it would be better for sales."
Light merchandise
In the Mercado Oriental there are stores that have placed signs to sell exclusively to Cubans. Cheap merchandise, but especially light. If there is a requirement that the Cubans look for, it is lightweight. Cuban customs impose serious restrictions on the entry of goods. There are different limits to the goods, but the restriction par excellence is the weight of packages.
Cubans who pack Managua's shopping centers are allowed only once a year to enter into the island a checked suitcase, a carry-on luggage and a personal item. If they travel again, they can only return with a carry-on and a personal item. All extra luggage must pay high taxes, which are unpayable for them. Although the islanders maintain that some "mules" have contacts in customs, and they bribe the officers to enter the merchandise.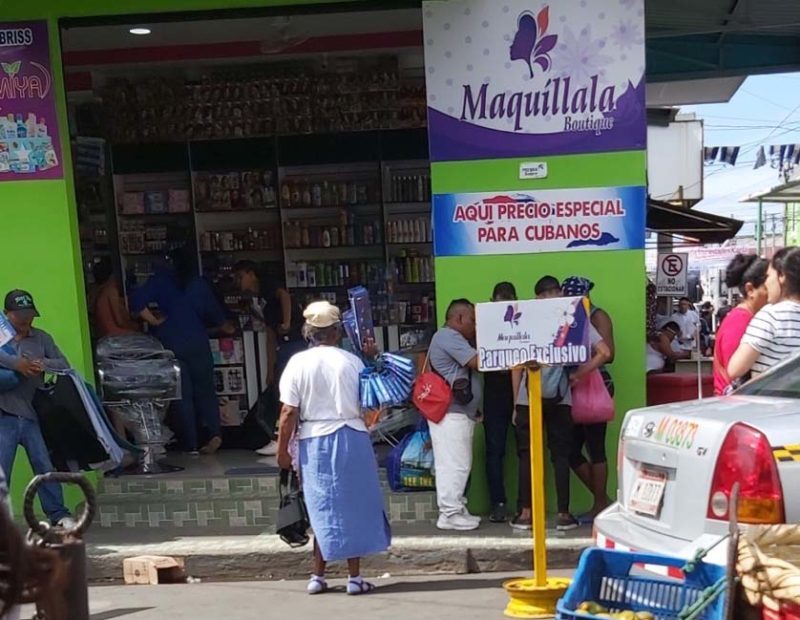 That is why knowing that the trip to Managua will be the last in twelve months, they buy a lot, but with the precaution of not being overweight. Cubans have developed a kind of particular expertise on this matter. Merchants at Mercado Oriental have already intuited it. "Most of them come looking for brassieres, panties, thing that are not heavy and that are very cheap," explains Francisco Arauz Mena, clothing seller, who boasts of knowing Cuban requirements, while accommodating his golden glasses in the style of Hector Lavoe.
Beyond the weight of the products and the prices that Cubans haggle, sellers agree that they have improved sales. "They buy per dozen, per unit…we give them a special price, because they are from another country and we know their situation. There is more money that has come in October and November, because weren't selling hardly anything," says Maria Guerrero, an undergarment merchant.
A bubble to deflate?
Despite the slight relief felt by the merchants of Mercado Oriental, from the Nicaraguan Chamber of Commerce and Services (CCSN) there are reservations about the tourism by "the mules." They are not convinced that it could be a lifeline for the deteriorating national economy.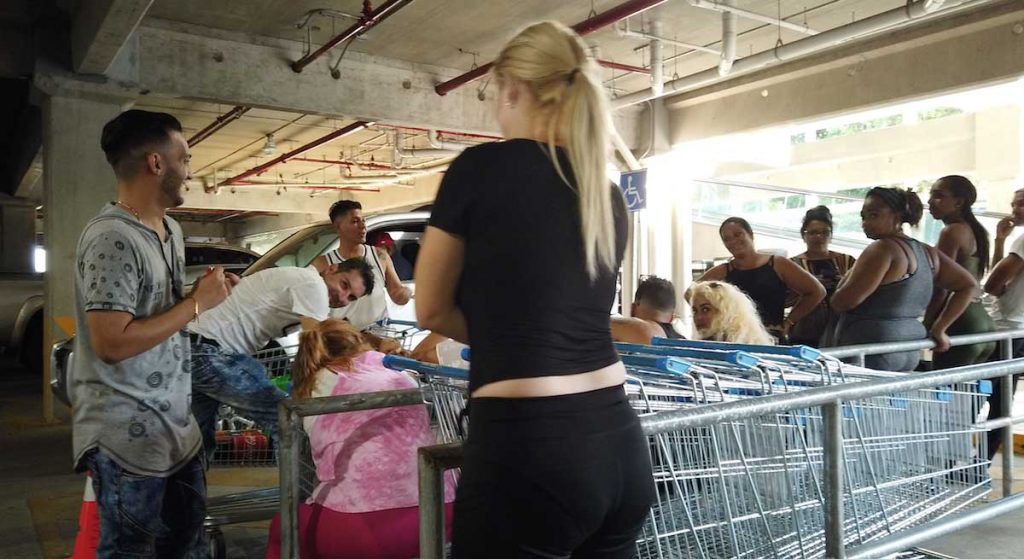 "As an external and temporary agent, we are more concerned that such business appears something continuous, and that it is invigorating the economy, generating trade and then suddenly deflates," argues Carmen Hilleprandt, president of CCSN. "It concerns us that people would fill up their inventory and the merchant will be stuck. It's like a bubble. It's not real. Rather, we would like for there to be a change in tax policies so that the economy of the country is really energized. Taxes are overwhelming trade and we have said it."
Hilleprandt does not rule out that the Ortega government has made flexible the Cuban visas to try to revive the economy. "I don't know how many Cubans are coming, nor in what quantities they are buying. But in the end, it is always a bubble, a palliative. What will be sustainable, so that more investment comes in the medium and long-term, will be a national agreement and that tax policies be consistent with reality," says the president of CCSN.
However, as long as the entrance to Nicaragua continues open, Jose Beltran "will take advantage of the good understanding between the two countries." The last thing that the habanero will have to do before leaving Managua will be to pack. Arrangement and rearrangement to avoid being detected by the scanner. So many miscellaneous products that only Cuban ingenuity—the same that has allowed them to overcome so many restrictions—can be made to fit in a 23-kilogram suitcase.