A New Concept of the Cuban Souvenir
Vicente Morin Aguado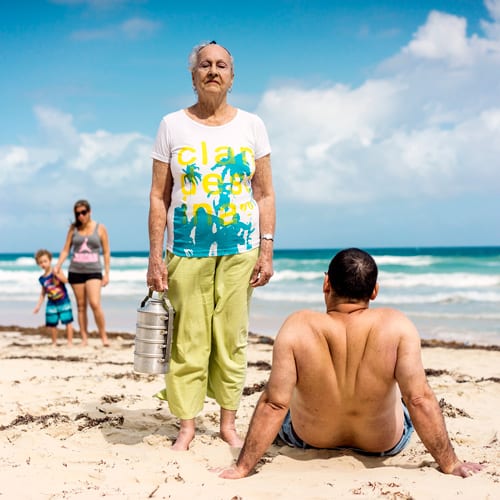 HAVANA TIMES — Opened to the public in February last year, the design store Clandestina (clandestine) has overcome the difficult test of time. The shop's owner, Idania del Rio claims: "We are self-sufficient, we pay the bills and while we have yet to make back what we invested, we've gone from having 4 to 10 employees." Under their watchful eyes, they have set their store far apart from the typical products that dominate this sector called Imagen Cuba.
Why Clandestina? The answer to that question defines the project, determined to sell what Idania calls "a new concept of the Cuban souvenir": "My friend and companion on this adventure, Leire Fernandez, from the Basque country, loves Cuban director Fernando Perez's films. One of which was "Clandestinos". However, as we're also women and are trying to go against the mainstream, we too are clandestinas (underground) in a sense."
The shop is well located next to the Christ park on Villegas Street, on the corner with Teniente Rey, officially baptized Brazil Street. Walking into the shop, one is immediately captivated by the kind of design these two women are promoting. The Cuban woman graduated from the Advanced Institute of Industrial Design (ISDI) and the Basque woman is a linguist and publicist: "We're a very good pair together. Leire handles the concept and I take care of the designs, although we share everything."
What's your idea, the meaning captured in these images? – Idania answers: "We're trying to make a marketable cultural product that defines modern Cuba, its youthful freshness. We don't copy famous brands, nor what's called "Imagen Cuba" which is sold at state stores, selling outdated goods, or mimicked representations which are sold at independent arts and crafts markets.
In fact, the infinite copies of Korda's Che Guevara portrait, Comandante style hats and old US cars, amongst the many other boring images which dominate the souvenir market directed at tourists, no longer hold value. At Clandestinas you are met with new messages: We Cubans aren't afraid of global warming. I'm not too old to fall in love. I'm a mamey, you can make a milkshake out of me. Live flesh, long live the flesh!
They sell posters, t-shirts, hats, baskets, keyrings, fans, cushions, bags, toys; in short, an ever increasing number of items available at a competitive rate. Idania tells us a little bit about her daily activities at the store:
"We take into account the going prices on the market around us and we try to search for a balance without depreciating our art. Our customers first began coming from the neighborhood, then wandering tourists started coming. We particularly like the fact that Cubans who are about to travel abroad and are looking for something different to take as a gift, who want to take a piece of Cuba with them, come and visit us."
From my fluid conversation with this risk-taking designer, I note she encounters some difficulties to work although she assures me that "up until now, the State hasn't caused them any problems." Journalists understand how difficult it can be in this country for the new methods of production she's trying to push forward, in a Cuba which doesn't adapt to the times, which Idania clearly tells us: "Some raw materials are very expensive, for example, screen printing inks, I buy them abroad" -, shedding some light on the obvious details of a tricky subject.
How do you tackle a project? Do you accept proposals made by others?: "Yes- the interviewee answers- we've received proposals from prestigious designers such as Nelson Ponce and Gustavo Lara to name just a couple, although the bulk of our work comes from the Clandestina staff itself."
As you've graduated from the best design university in Cuba, we're interested to know if your university years really helped you when it came to working in the real world:
"The training you receive at the ISDI is very good, it's very technical. I still use some of the tools I learnt during my time there, although I believe that the study programs are somewhat distanced from culture. Anyway, it's wrong to think that you can learn everything at school."
Is publicity a new direction for you?
"We're looking for an alternative advertising channel, which fits in with our ideas. We're going to launch our first campaign soon, based on recycled clothing. We'll see. At the moment, we have a Facebook page. CLANDESTINADECUBA, as well as a website www.clandestinacuba.com."
They're particularly interested in the concept of upcycling. You can see this in the artworks they've created called Vintrashes. They buy clothes at the popularly known "traipichopins", a mix and idiomatic corruption of the words Trapo (rags) and Shoppings (shopping centers). Clothes which have lost all of their value gain new life and become an attractive item thanks to art.
On Villegas Street, on the corner of Teniente Rey, with the old panorama of Christ park in front, a modern, fresh, proposal for Cuban souvenirs awaits Cubans and visitors alike, different from the same old political slogans and images.
The main promoter of a project worthy of success, Idania del Rio isn't afraid of the challenges Cuba faces today:
"Design is my life, my passion. It's a complex thing; it needs art, industry, technology to come out of a computer. I try to promote the value of design within Cuban society."
Vicente Morin Aguado: [email protected]