A Trip to the Peaceful Town of Vinales, Cuba
By Vicente Morin Aguado
HAVANA TIMES — A world heritage site, Vinales and its beautiful mountainous valley are located 200 kms west of the City of Havana.
Given its limited number of inhabitants in the town center, 10,000, tourist activity here is very high for Cuba, as there over 2,500 family rooms available for rent. Visitors' general opinion seems to be that it is an extremely peaceful place.
Constantino, a 50 year old Italian, said that "It's too calm for me, I couldn't even find Cuban women to dance with last night at the club." A Belgian couple, who had come from Amberes confirmed the Italian man's statement: "If you compare this to Havana, here you're at total peace, the people are friendly, there are no problems out on the street."
Like any town in the provinces, its urban structure is made up of one main street, the longest, called Salvador Cisneros, in honor of one of the Presidents of the Republic in Arms during the independence war. Nearly all of the town's businesses are located on this avenue which flaunts the result of government reform. I counted 25 restaurants in the three blocks going down from the park, all of which were privately owned.
The absence of hustlers (jineteros and jineteras) is obvious for those used to Havana. Everything is well-organized in Vinales and nobody seems to leave their designated role, that is to say, the space they have been given. This rare social tranquility, given the fact we are in Cuba, has led me to ask some questions along with certain observations.
Yuslaydis, a lady who rents out private rooms on Rafael Trejo street, said: "Here, girls get married very young, many of them to tourists, they have no reason to go hunting for tourists at clubs, plus, the police here are very strict and because it's a small town, well anybody who steps out of line is immediately tracked down."
However, Constantino provides an interesting observation which I verified: "There were Cubans at the bar, a lot of young Cubans, but they were all men and gathered around the young foreign women present, you can imagine, Cubans are expert dancers."
Underhanded gender discrimination? It seems that way, especially because the authorities don't even bother when it comes to the masculine sex. By the way, a bartender said: "If there aren't any Cubans, there's no party. Who are the tourists going to dance with? There are some couples among them, but the majority come alone" – women come alone, he corrects himself, and the salesman continues: "That's why we need the men to start dancing, then they – the tourists – start drinking."
He highlights the quality of music bands such as the salsa group Corazon Mantuano or the Conjunto Mezclarte, which are unfortunately far from being promoted in national media. The food is excellent, more or less the price at a state-run hotel, but with better service. An example is the Cubar tavern, in front of the Church which in these towns tells you where the main park is.
A limiting detail was no shrimp or lobster, which are almost impossible to find. Only one of the nearly 30 restaurants I visited offered these seafoods. They are normally cooked at home for tourists, but Yuslaydis is emphatic to point out: "I won't lose it all, my house, my investment, just to put some lobsters on a plate, it would do me good, but inspectors are really cracking down on the issue."
However, Vinales is a lot more than music and food, the vast area of the valley has the Palenque de los Cimarrones, a natural museum which lets visitors learn about the runaway slave rebellion. There's also the Cueva del Indio, whose underground river you can go down in small boats. Tobacco farms are open to visitors who are eager to learn the details about cultivating this native Cuban plant. Canopy tours are another attraction as well as the diverse and omnipresent landscape.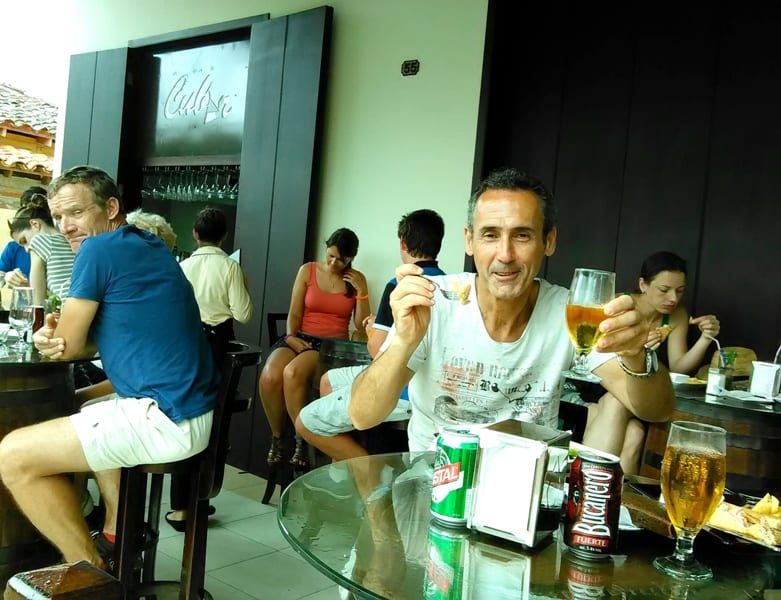 Every story has to be told from beginning to end, tourism here in this unique town also has one at least if you're talking about a trip here. From people who rent out rooms' experience, most foreigners stay between 1 and 3 nights, but they are always pretty booked full. The state-run bus company Viazul offers two daily trips from Havana, which is then complimented with taxis, and excursion buses, as well as direct connections from the town to other Cuban cities.
Even though true lovers of nature find a wonderful refuge here, we should never forget that we, human beings, are also nature, and that the peaceful calmness of Vinales with its well-disguised discrimination speaks for what Cuba is today.