Abreu Ties Despaigne's Home Run Record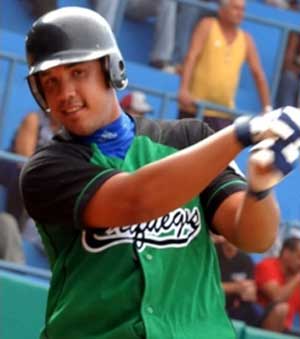 HAVANA TIMES, April 19 — All season long most eyes have been focused squarely on Granma's Alfredo Despaigne and his quest to catch and surpass the single-season home run mark of 33 established last spring by José Dariel Abreu (Cienfuegos) and Yoennis Céspedes (Granma, now with the Oakland Athletics in the North American major leagues).
A little more than two weeks ago the Granma Stallion ("The Horse of the Horses" as he is known around the island) accomplished his goal in most dramatic fashion by banging out numbers 34 and 35 in Havana's Latin American Stadium.
The first record-breaking smash was especially spectacular since it came on a pitch that actually severed Despaigne's bat into separate pieces; that blow – struck off Industriales southpaw Ian Rendón – still managed to travel well in excess of 400 feet on its flight into the left-center-field bleachers.
By putting some distance between himself and Abreu earlier in the month, Despaigne seemed to have locked up both the new home run record and also the league lead in runs batted in. First place finishes in both those slugging departments seemed to spell another near-miss for José Dariel who has now flirted with a possible first-ever Triple Crown for two consecutive seasons.
Last year's batting and home run champ, Abreu lost out in the RBI department by the narrowest of possible margins to Céspedes (with whom he shared the home run crown). This year Abreu enjoys a safe margin as repeat winner of the batting title (now owning a .391 average) and has trailed only Despaigne in the other two heavyweight offensive departments.
But the Fat Lady had not yet sung (as the saying goes) and for the second time in a month Abreu has charged from the rear to again grab at least a share of the spotlight. Last night (April 18) in Cinco de Septiembre Stadium the bulky Cienfuegos first sacker smacked out long ball number 35 (in the sixth inning off Santiago right-hander Dany Betancourt) to take back a share of the home run record he had surrendered to Despaigne on April 3. It was Abreu's third homer in as many games and his sixth since Despaigne's own record thirty-fifth. And the blow also narrowed the gap to a mere five in the RBI department.
Both sluggers now have three games remaining as the National Series season heads into its final weekend. Cienfuegos entertains Ciego de Avila in a three-game set at home and will likely face league ERA leader Vladimir García in one of those matches. Granma faces a more crucial series on the road in Nueva Gerona versus Isla de la Juventud (whose pitching staff boasts new single-season Saves record holder Danni Aguilera).
The Stallions must make up a one-game difference in their tussle with Santiago de Cuba for the final Oriental League post-season slot. Abreu seems to have all the momentum at the moment and is in fact currently slugging homers with greater frequency on the season than Despaigne. Abreu as whacked a round-tripper every 7.83 times at bat; Despaigne is slightly less impressive with one every 9.51 official trips to the plate.
If Abreu has the momentum, it could also be said that Despaigne is overdue and also owns a history of saving his grandest performances for the biggest stages. It should be a thrilling race to the wire.
José Dariel Abreu's Home Run Inventory for National Series #51 (2011-2012)
Compiled by Peter C. Bjarkman
| | | | | | |
| --- | --- | --- | --- | --- | --- |
| HR | Game | Date | Stadium | Inning | Pitcher (Throws) Team |
| #35 | #93 | April 18, 2012 | Cinco de Septiembre | Sixth | Dany Betancourt (RHP) Santiago de Cuba |
| #34 | #92 | April 17, 2012 | Cinco de Septiembre | Eighth | Osmani Tamayo (RHP) Santiago de Cuba |
| #33 | #91 | April 15, 2012 | Cinco de Septiembre | Eighth | Alain Dela (RHP) Santiago de Cuba |
| #32 | #86 | April 8, 2012 | Cinco de Septiembre | Sixth | Raidel Borges (LHP) Metropolitanos |
| #31* | #85 | April 7, 2012 | Cinco de Septiembre | Eighth | Abel Viego (LHP) Metropolitanos |
| #30* | #85 | April 7, 2012 | Cinco de Septiembre | Second | Abel Viego (LHP) Metropolitanos |
| #29* | #80 | March 31, 2012 | Augusto César Sandino | Sixth | Diosdani Castillo (RHP) Villa Clara |
| #28* | #80 | March 31, 2012 | Augusto César Sandino | Third | Marlon Romero (LHP) Villa Clara |
| #27 | #79 | March 30, 2012 | Augusto César Sandino | Eighth | Irvin del Río (RHP) Villa Clara |
| #26 | #76 | March 26, 2012 | José Antonio Huelga | Fourth | Yamichel Pérez (LHP) Sancti Spíritus |
| #25 | #75 | March 24, 2012 | Nelson Fernández | Fourth | Antonio Oliva (RHP) Mayabeque |
| #24 | #74 | March 22, 2012 | Nelson Fernández | Third | Ariel Miranda (LHP) Mayabeque |
| #23 | #73 | March 21, 2012 | Nelson Fernández | Eighth | Yusbel O'Farril (RHP) Mayabeque |
| #22 | #72 | March 19, 2012 | Cinco de Septiembre | Eighth | Yoanni Yera (LHP) Matanzas |
| #21 | #71 | March 18, 2012 | Cinco de Septiembre | Fourth | Yasmani Arias (RHP) Matanzas |
| #20 | #58 | March 2, 2012 | Cinco de Septiembre | First | Vicyohandri Odelín (RHP) Camagüey |
| #19 | #57 | March 1, 2012 | Cinco de Septiembre | Third | Rodolfo Soris (LHP) Camagüey |
| #18 | #56 | February 29, 2012 | Cinco de Septiembre | Eighth | Frank Madan (RHP) Camagüey |
| #17 | #54 | February 22, 2012 | Calixto García | Ninth | Juan Alberto Cruz (RHP) Holguín |
| #16 | #52 | February 16, 2012 | Nguyen Van Troi | Sixth | Frank Navarro (RHP) Guantánamo |
| #15 | #44 | February 5, 2012 | José Ramón Cepero | Eighth | Yusnel García (RHP) Ciego de Avila |
| #14 | #42 | February 2, 2012 | Guillermon Moncada | Eighth | Osmani Tamayo (RHP) Santiago de Cuba |
| #13 | #38 | January 28, 2012 | Cinco de Septiembre | Seventh | Alesky Perera (RHP) Isla de la Juventud |
| #12 | #37 | January 26, 2012 | Changa Mederos | Fifth | Kuglai González (RHP) Metropolitanos |
| #11 | #35 | January 24, 2012 | Changa Mederos | Eighth | José Armando Pérez (RHP) Metropolitanos |
| #10 | #33 | January 21, 2012 | Julio Antonio Mella | Sixth | Dael Mejias (RHP) Las Tunas |
| #9* | #27 | January 12, 2012 | Nico Egozcue (CFG) | Second | Omar Guardarramas (RHP) Sancti Spíritus |
| #8* | #27 | January 12, 2012 | Nico Egozcue (CFG) | First | Yoharisleivis Panama (RHP) Sancti Spíritus |
| #7 | #22 | January 5, 2012 | Victoria de Girón | Fourth | Jorge Alberto Martínez (RHP) Matanzas |
| #6 | #20 | January 3, 2011 | Victoria de Girón | Fourth | Yoanni Yera (LHP) Matanzas |
| #5 | #14 | December 22, 2011 | Martires de Barbados | Fifth | Yanier González (RHP) Granma |
| #4 | #13 | December 21, 2011 | 17 de Noviembre (GRA) | Third | Alberto Soto (RHP) Granma |
| #3 | #11 | December 18, 2011 | Candido González | Seventh | Fidel Romero (RHP) Camagüey |
| #2 | #8 | December 8, 2011 | Cumanayagua (CFG) | Sixth | Ernesto Hernández (RHP) Holguín |
| #1 | #1 | November 29, 2011 | Cinco de Septiembre | First** | Miguel Alfredo González (RHP) Artemisa |
Cumulative Notes on José Dariel Abreu:
Abreu's Home Run Ratio: 7.83 (Number of At-Bats per Homer Run)
**José Dariel Abreu homered in first at-bat of the season on November 29, 2011
Home Runs by Month: November (1), December (4), January (8), February (5), March (11), April (5)
Home Runs versus Pitching Orientation: against right-handers (25), against left-handers (10)
Multiple Home Runs versus Single Pitcher: 2 (versus Abel Viego [Metropolitanos] and Yoanni Yera [Matanzas])
Home Runs in Ballparks: Home (16), Road (19)
Home Roads in Specific Ballparks: Cinco de Septiembre (Cienfuegos) 13, Augusto César Sandino (Villa Clara) 3, Nelson Fernández (San José de Las Lajas) 3, Changa Mederos (Havana) 2, Victoria de Girón (Matanzas) 2, Nico Egozcue (Cienfuegos) 2, José Antonio Huelga (Sancti Spíritus) 1, Calixto García (Holguín) 1, Nguyen Van Troi (Guantánamo) 1, José Ramón Cepero (Ciego de Avila) 1, Guillermon Moncada (Santiago de Cuba) 1, Julio Antonio Mella (Las Tunas) 1, Martires de Barbados (Granma) 1, 17 de Noviembre (Granma) 1, Candido González (Camagüey) 1, Cumanayagua (Cienfuegos) 1
Home Runs versus Teams (14 teams): Metropolitanos 5, Camagüey 4, Matanzas 4, Santiago de Cuba 4, Villa Clara 3, Sancti Spíritus 3, Mayabeque 3, Granma 2, Holguín 2, Las Tunas 1, Isla de la Juventud 1, Ciego de Avila 1, Guantánamo 1, Artemisa 1
Teams Not Permitting an Abreu Home Run in NS #51 (2 teams): Industriales, Pinar del Río
Home Runs by Innings: First (3), Second (2), Third (4), Fourth (5), Fifth (2), Sixth (6), Seventh (2), Eighth (10), Ninth (1)
Longest Consecutive Game Home Run Streak: 6 games (March 18 – 26, 2012 in Games #71 – #76) (ties Cuban League record)
Longest Consecutive Game Streak without Home Runs: 12 games (March 2 – 18, 2012)
*Multiple Home Run Games: 3 (January 12 versus Sancti Spíritus, March 31 versus Villa Clara, April 7 versus Metropolitanos)