An Association for Cuban Tattoo Artists
By Peregrino Perez
HAVANA TIMES — On Saturday February 17th, I bore witness to an unusual event in our country. It had to do with the attempt to create an NGO for body artists (read here: tattoos and piercings mainly).
The thing that really struck me about this wasn't that people who dedicate themselves to tattoos want to organize themselves, but rather who the people were pushing this project and its content.
It turns out that it had been written up by a retired officer from the Armed Forces, a lawyer by profession. A completely anachronistic figure in that place where we all had an unconventional look, with tattoos and long hair.
The excuse used for the meeting was a Tattoo Converntion that was being held as part of a visual arts event in Matanzas promoted by the Hermanos Saiz Association. Hardly anyone knew about this project or what it was about.
I thought that the first thing that would be put forward would be to redeem this activity's legal protection, as this profession doesn't appear among the list of options for self-employment and any other kind of trade. That's why some of the people who do body art have been arrested and had their working materials confiscated.
However, it couldn't have been further from this. We were read a long document, which pretty much only talked about the dangers of getting sexually transmitted diseases via needles and the Public Health Ministry's need to regulate tattoo workshops via health certificates.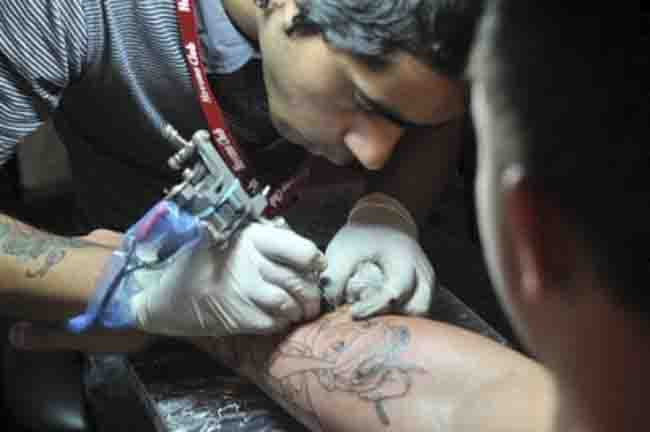 The project consists of grouping tattoo artists up into an NGO so that they can be represented to the authorities. The person who wrote the project stressed that the greatest number of members form a part of this NGO. He said that similar meetings had been held in Havana and Santiago de Cuba. He invited those present to put forward their own proposals to improve the document, however, he revealed himself to be quite unreceptive to criticism.
The impression this event gave me was that it wasn't a grassroots idea born from the real protagonists, the tattoo artists. It rather came from the political leadership, who realize that more and more people who have something to do with tattoos are becoming social groups which they have no kind of control over.
Cuba's Rap and Rock associations were created for the same reasons, which, far from contributing to organizing and strengthening the movement, marked the beginning of a crisis which each of these counter-cultural movements couldn't recover from, which were the most authentic to have been born in Cuba.