Are Cubans Watching too Many "Junk Movies" at Home?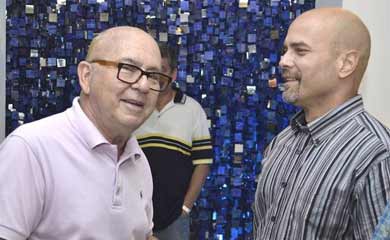 HAVANA TIMES — Writer Miguel Barnet recently complained about young Cubans choosing to stay at home watching "so many junk movies" rather than taking part in Cuba's rich cultural programming.
"We're a country that has created so many opportunities so that we don't have to sit at home watching tons of junk movies… I'm sad to see that, today, many young people don't participate in our cultural programs at theatres, conferences or at poetry recitals," said Barnet, the president of the National Union of Writers and Artists of Cuba (UNEAC) and member of the Cuban Communist Party Central Committee.
The 76-year-old Barnet's statement came during one of the conferences held during a meeting of the National Committee of Cuba's Young Communists League (UJC), who were analyzing youth participation in Cuban cultural policy.
Barnet stated that a lot still had to be done in order to encourage new generations to get involved with Cuba's cultural activities, "that they engage themselves, that they protect our collective memory because a country without culture is like a tree without its roots."
The Government's Standard-bearers
Along with Barnet, Abel Prieto also took part in this meeting. Prieto is Raul Castro's adviser and has become the government's standard-bearer in the field of culture. Both intellectuals are taking the lead at meetings and conferences dedicated to reaffirming history, socialist ideology and independent cultural values in the face of an avalanche of capitalist society symbols, especially after President Barack Obama visited the island.
Picking up on approaches covered at recent meetings, Prieto warned those present of the need to be more alert about those who seek to break down values, traditions and history on a daily basis, with the aim to "undermine the Cuban spirit."
"Dangers are becoming more real now, because emerging platforms allow new channels for consumption. Culture unites all of us revolutionaries who want to defend socialism," Prieto said.
He also added that "this poses a huge threat to continuing values of the Revolution and its great emancipatory project."
The First Vice President and possible successor to Raul Castro, Miguel Diaz Canel Bermudez, also took part in the discussions.
On consumer society
According to official press reports, the 103 members of the UJC's National Committee reflected upon their role in creating "good taste" and encouraging a strong general culture amongst the population, so as to tackle "these pseudo-cultural products and patterns that consumer societies reproduce and impose."
Issues discussed included: the crisis in values, aesthetic education, new technologies, the internet, symbols and the weekly audiovisual package.
Amongst those present were some young figures who are well-known on social media for their revolutionary spirit, such as psychologist Sucelys Morfa Gonzalez, second secretary to the UJC's National Committee and renowned for her fanatical revolutionary ranting at the 5th Summit of the Americas held in Panama; as well as Yusuam Palacio Ortega, president of the Jose Marti Youth Movement.
The report presented by the UJC's National Bureau, revealed that the uneven cultural war that opposing ideologies impose on us is growing because many children, teenagers and young people idolize celebrities from consumer society and look up to them.
The document sadly informs its readers that youth in Cuban society today associate success mainly with material possessions, more than they do with spiritual conquests.
The Internet debate
The UJC Plenary Meeting ended this Saturday after two days of debates at the Lazaro Pena Convention Center, in Havana.
On the last day, there was a call to use new technologies and social media to publish the UJC's strategic report and to prepare student leaders – via training courses – so that they are able to interact more in forums on the internet.
Delegate Ricmar Rodriguez Gutierrez, president of the Youth Technical Brigades, criticized the fact that young people weren't able to use facilities with internet access because of "internal administrative decisions", and urged the UJC to get involved in resolving this matter.
After all of the debates, the UJC National Committee endorsed documents sent out by the 7th Cuban Communist party congress, which took place in April, and will be subject to national consultation: The Conceptualization of Cuba's social and economic model and the National Plan for Economic and Social Development 2030.