As the Tourism Dollars Roll into Cuba
How Does the Boom Affect Ordinary Cubans
By Eileen Sosin Martinez   (Progreso Semanal)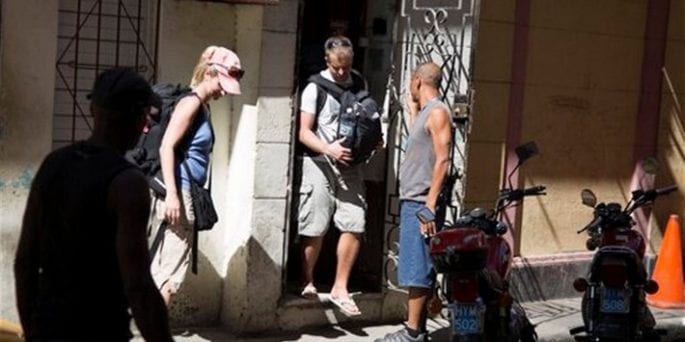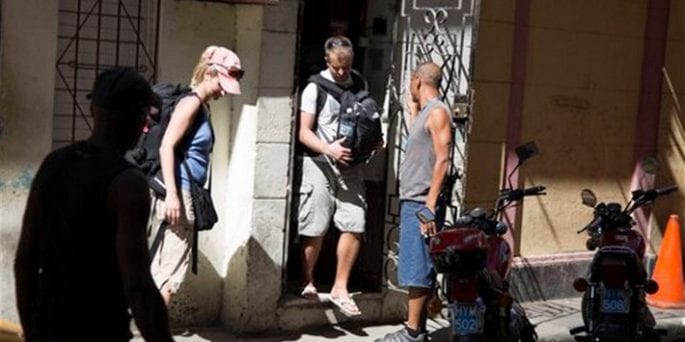 HAVANA TIMES — Celia was on the lookout every day, she asked her friends, she hunted a lot, but there wasn't any way for her to find a decent place to rent for a reasonable price. Until a friend stated the obvious: "My girl, everybody is renting them out to the "yumas" (foreigners) now.
And it's true, in her scant flicking through Revolico, Porlalivre, Ofertas and other classified ad websites, the majority of what she found were rental rooms for tourists, and a lot of people, a LOT of people, searching like she was. If there was ever an ad that met her requirements, it had already been taken by the time she had called.
What's left for Cubans: less availability and impossible rents. Even in Cotorro, a municipality far removed from sought-after neighborhoods in the center like Old Havana and Vedado, some people were renting rooms for 20 CUC (23 USD) per night.
When Celia believed that she had finally got her hands on something, the apartment ended up being a pigsty, without the basics to live. "If it were in better condition, I would have rented it to foreigners," the owner insensitively replied.
After Cuba opened its doors to tourism in the '90s, the diagnosis of "collateral damage" for Cuban society brought a spike in prostitution and drugs, a brain drain with the emigration of trained professionals, and a certain rise in the black market, especially when it came to luxury products, like paintings and cigars.
Thank God these phenomena have now, more or less, been gotten rid of or reduced – or naturalized. Now, with the incessant shower of visitors, there are additional effects on the Cuban people's everyday life, having to "share" the same amount of food, transport and other services among a greater number of people.
Cuba fever
Listing the factors which make the island a fashionable tourist destination leads us to what we already know. The thawing of relations with the US has triggered an almost morbid interest in the Caribbean's "forbidden fruit", both in US citizens, as well as the rest of the world. "Business or pleasure?" Well, both.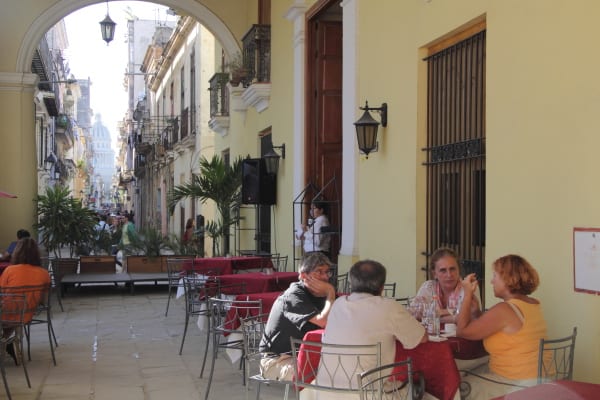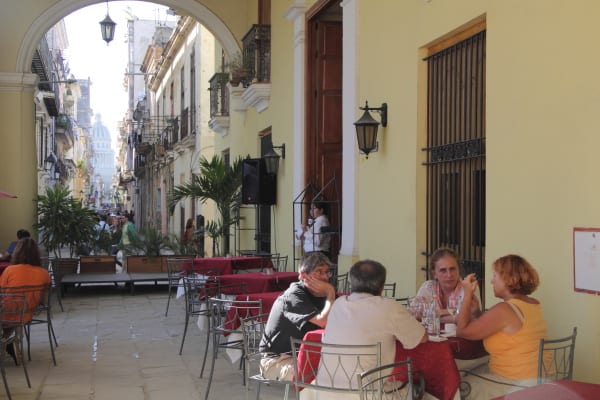 Regular flights which link both of these countries, over 100 per day, new chartered flights from other airlines, the constant arrival of cruise-ships, holding international congresses and events… make up a favorable environment. In fact, the statistics speak for themselves: Cuba received four million tourists in 2016; a figure which beat the 3.7 million estimated by the Ministry of Tourism (MINTUR).
The number of US visitors increased by 74% when compared to 2015; and in January this year, the increase was 125% more than when compared to the same month last year. According to some analyses, this could have something to do with President Trump possibly imposing restrictions on travel to the island in the future.
Even though US citizens can't just come to swim in our waters, the 12 categories to get a visa have made the smock so flexible that anybody could wear it.
Havana can't take no more
"Where have all these convertible cars come from?" thought Celia. Later, she found out that skillful workers in body repair shops spend their days taking off the roofs of 1950s Fords and Buicks, and then comes the upholstery, the nickel-plated accessories and the bright colors which finish off the work. An almendron (used as a collective taxi) isn't the same as a "vintage car"; so much so, that going for a spin in the latter can cost you 50 CUC per hour.
Celia notes that for every one of these luxury taxis, there's one less car "collectively taxiing" people on the roads. However, a driver calmed her down, "there's a limit on this, because not every car owner can pay for such a transformation."
In December, The New York Times reported that the boom in tourism was making food shortages in Cuba worse. That's obvious: there are four million more mouths to feed. Agricultural products aren't enough for Cubans alone (in quantity, variety and price), and this situation is even more serious when we have visitors.
On the other hand, MINTUR keeps on with its strategy to diversify the classic image of sun and beach, promoting Nature, cultural and city trips. Furthermore, a great deal of visitors, US included, explicitly seek to distance themselves from hotels so they can mix with locals and get to know the "real Cuba".
Besides the hotels, over 17,000 casas particulares (home stays) put up tourists across the country. And where do these hostels get their supplies? Officially-speaking, from the same place as you and me, from the state-run network of retail stores. Growing demand has broken the already insufficient distribution system, and that's why there are sometimes shortages in basic products such as detergent, soft drinks, powdered milk or tomato puree. "Now sometimes you can't find things even if you have money," many Cubans say, staring at empty shelves.
Come, ladies and gentlemen, come in!
There was a group of 6 young US men drinking Cuba libres and mojitos, laughing and singing. Typical. Two tables down, two friends were having a coffee, but they could barely have a conversation because the music was on too loud.
– Girl, can you turn down the volume? – one of them asked.
The waitress responded that "the other customers" had asked for it to be loud, and well… there were more of them, and they were drinking more. Without her giving another excuse, the two friends paid and left. A cocky hip hop song played on the cafe's loudpeakers: "Get out the way, bitch / Get out the way…".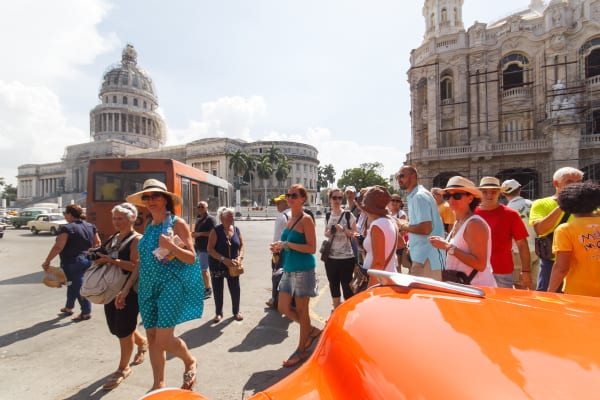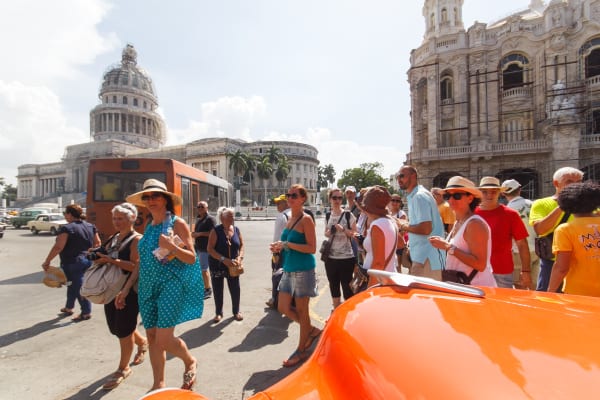 Years ago, the Cuban people and tourists moved in separate circles, however this segmentation could never remain forever, argues a professor at the Center for International Economics (CIE), who preferred to remain anonymous.
The US academic William LeoGrande, who has researched Cuba and its relationship with the United States extensively, explained: "The negative effects are the kinds of things you expect from tourism in a developing country. Clearly, tourists coming from wealthy countries have more than enough money, and this really contrasts with the financial shortages that the majority of Cubans have to face on a daily basis. This creates a certain level of resentment."
It is assumed that revenue generated from the leisure industry will contribute to financing Cuba's social project; however, this transfer isn't automatically or visibly made. "Development projects in the tourism sectors (…), have been carried out in selected spaces which don't distribute advantages to nearby towns," comments (*) professor and researcher Jose Luis Perello.
The current situation could become even more complicated, as some experts estimate the potential of the US market to be between 800,000 and a million and a half visitors; a colossal increase, with regard to the 284,937 who came last year.
"If you ask Cubans," LeoGrande went on, "the majority of them welcome tourism because it is bringing money to their local economy in such a way that they recognize the benefits. However, this striking contrast between the kind of lifestyle a tourist and an ordinary Cuban can have, can also be seen at the same time."
The United Nations declared 2017 to be the "International Year of Sustainable Tourism". For the "motor of the Cuban economy", this sustainability should be something like making progress, while looking behind, and also sideways.
[*] Territorial challenges in the Cuban Tourism Sector within the context of updating, Jose Luis Perello. In: Miradas a la economía cubana, desde una perspectiva territorial. Editorial Caminos, 2014.