Breastfeeding Week in Cuba
In partnership with UNICEF, the Caribbean island joins World Breastfeeding Week to promote support for the breastfeeding mother and care for her baby.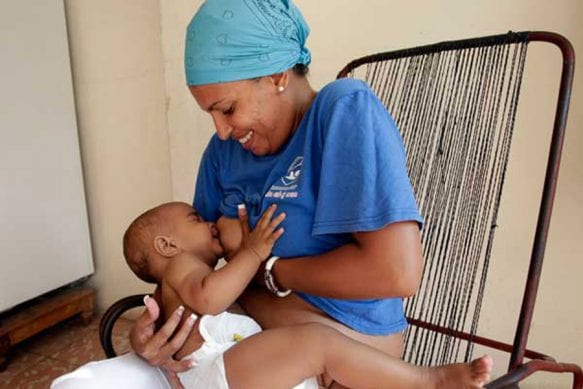 HAVANA TIMES – Doctor Laura Garcia tells pregnant women at the neighborhood medical center: "Mama, exclusive breastfeeding from the very first day is the best gift you can give your baby", referring to a practice that has low indexes in Cuba for many different reasons.
Only 33% of newborns in the country are exclusively breastfed in the first six months of life, 48% were breastfed within the first hour of life and only 24% are breastfed until two years of age, according to the latest statistics available from the 2014 Cuba Multiple Cluster Indicator Survey.
As a result of its commitment to child health, the Cuban Office of United Nations Children's Fund (UNICEF) and Cuba's National Ministry of Public Health launched a campaign between August 1st-7th, World Breastfeeding Week, with the call "Empower parents, enable breastfeeding. Now and for the future!".
This week is coordinated and organized by the World Alliance for Breastfeeding Action, which works in partnership with the World Health Organization and UNICEF.
The campaign promotes breastfeeding within the first hour of life and the father's involvement.
It also calls for collective action in order to meet the World Heath Assembly's objective of at least 50% of new-borns being exclusively breastfed in the first six months of life, by 2025.
Win-win situation
[pullquote]
Sidebar: Week of a Common Front
World Breastfeeding Week seeks to:
– push for gender equitable social protection with a gender-based approach, including measures such as paid maternity leave and the commitment of workplaces to create suitable breastfeeding spaces.
– instill attitudes that protect breastfeeding, encourage equitable social norms, as well as partnerships for greater support.
– an equal division of work in a couple would recognize the unique care breastfeeding women provide, allowing them to breastfeed at work, and for fathers/partners and family members to take on other care for the child.
[/pullquote]
Breastfeeding needs unbiased information founded on scientific evidence and a real chain of support, as well as policies and legislation that allow mothers to breastfeed the best they can.
According to Garcia, exclusive breastfeeding has many advantages including the fact that it facilitates digestion and reduces the risk of gastroenteritis, favoring higher IQ and better cognitive development.
Always ready to go, without the need for baby bottles or sterilization equipment, breastfeeding enables a closer mother-child relationship and has benefits for the mother too: it encourages the uterus to contract after birth in order to prevent bleeding and reduces the risk of breast and ovary cancer, the doctor added.
Research indicates that babies who are breastfed for longer periods of time, have less of a risk of being overweight or obese when they grow older.
According to Victoria Colamarco, the coordinator of UNICEF's programs in Cuba, "while the country has public policies that encourage breastfeeding, indexes relating to this matter could grow substantially with everyone's support."
This "would, without a doubt, mean healthier children, as well as a drop in public health expenses linked to healthcare for new-borns," she said in a press statement sent to IPS Cuba's editorial team.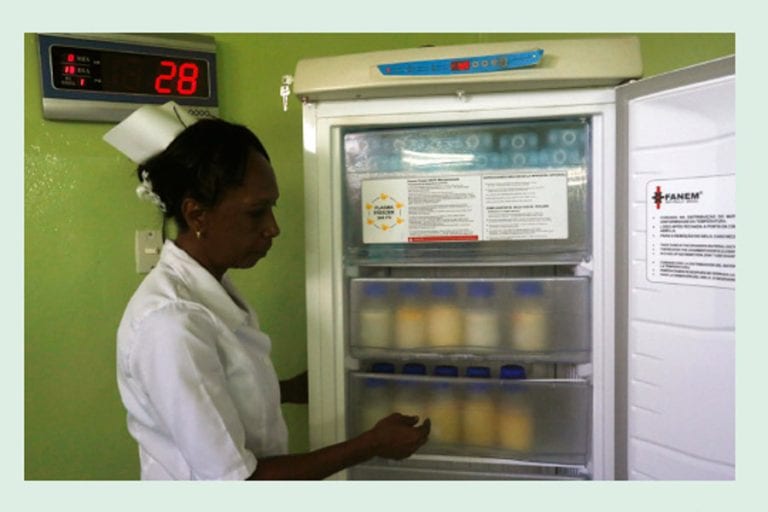 Mothers and fathers
In Cuba, breastfeeding week focuses on the key role the father plays in ensuring and supporting breastfeeding, for the wellbeing and full development of the mother and child.
The joint responsibility of fathers in care and domestic tasks during this period helps mothers to be able to dedicate the time their child needs, as well as to rest and have time to herself.
UNICEF supports efforts by Cuban health authorities to uphold achievements made in maternal, child and adolescent health.
Meanwhile, it collaborates with them to create and get Donor Milk Banks up and running, to help mothers who are unable to breastfeed themselves.
These facilities specialize in collecting, screening and carrying out quality controls of donor breastmilk so it can be later prescribed to new-borns at risk, so as to ensure they receive the best nutrition according to their needs.
Cuba currently has 10 Donor Milk Banks operating nationwide, in the provinces of Havana, Guantanamo, Santiago de Cuba, Holguin, Granma, Las Tunas, Cienfuegos, Camaguey, Sancti Spiritus and Pinar del Rio.
During Breastfeeding Week, UNICEF will support the inauguration of two new donor milk banks in the provinces of Villa Clara and Matanzas, and will push for the creation of two more, alongside the Public Health Ministry, in Ciego de Avila and another at the William Soler Hospital in Havana.
It also contributes to efforts to revitalize the Baby Friendly Hospital Initiative.