Businesses on Board at Cuba's Mariel Special Development Zone
Eileen Sosin Martínez  (Progreso Semanal)
HAVANA TIMES — A total of eight companies have been authorized to operate in Cuba's Mariel Special Development Zone (ZEDM). Of these, five are entirely foreign corporations (two Mexican, two Belgian and one Spanish), one is a joint venture, one a Cuban-owned enterprise and one is a Cuban company with foreign management.
According to recent reports, the ZEDM Office is still evaluating the documents of companies that have submitted an application to operate in the zone. These include firms from the chemical industry, logistics and construction sectors.
Terminal de Contenedores de Mariel S.A. (Cuban company managed by Singapore's PSA International)
The company was the first to operate in the ZEDM after the opening of the Terminal on January 27, 2014.
General manager Charles Baker explained that, during the first months of operations, the company's work consisted of relocating all maritime services to the terminal from the Havana Bay port. "This year, we hope to close with a record of approximately 310,000 containers, more than double the volume we handled at the terminal in 2014."
Baker said he was satisfied with the interest shown by international shipping companies in bringing larger vessels to the terminal and including it on their maritime routes. "The facilities are very good if we compare them with terminals in the region and others managed by our company in other countries," he stated. PSA International is the company managing the largest number of ports and container terminals worldwide.
Richmeat de Cuba S.A (100% Mexican capital)
This company will manufacture pork, beef and poultry processed meats. President Luis Alberto Gonzalez recalled that the company first approached Cuba 15 years ago and, sometime later, they became the suppliers of several Cuban entities.
Initially, production will employ raw materials imported from Mexico. The production plant will cover an area between 2,500 and 3,000 square meters and produce around a thousand tons of processed meats every month, though they will begin producing 300 tons and gradually increase this volume.
The company will employ from 25 to 45 Cuban workers and only two or three Richmeat de Mexico technicians.
Profood Service S.A. (100% Spanish capital)
This subsidiary of the Spanish company Hotelsa Alimentacion manufactures food and beverages for the tourism industry. In fact, Hotelsa has been a supplier of Cuba's tourism sector for 23 years. "During this time, we've realized that some of our product lines could be far more competitive if we were to manufacture them here," said Antonio Vicens, manager of Profood Service.
The executive announced they are thinking of using Cuban raw materials such as sugar, glucose, molasses and spirits. Currently, the company is negotiating purchase agreements with Cuban entities such as Tecnoazucar and Citricos Caribe, to include their supplies in their portfolio. Some Profood Service products may be destined to retailers, in addition to exports to nearby markets.
BDC Log S.A (100% Belgian capital)
BDC International has invested in the Mariel zone through two companies: BDC Log S.A. and BDC Tec S.A., explained Benoit Croonenberghs, president of both companies. He noted that the former will offer logistical services, including container and dry load transportation, handling and construction equipment rentals and other services for third parties.
Once in operation, BDC Log will have a staff of 80 employees. The application was submitted to the ZDEM a little over a year ago and the company hopes to have completed the construction of its facilities and the services yard (to measure 1,500 square meters) by next April.
BDC Tec S.A. (100% Belgian capital)
As the name indicates, BDC Tec deals with technological products, specifically the manufacturing of temperature sensors, electronic switchboards for industrial applications and the assembly of water treatment systems for industry and pharmaceutical production.
According to Croonenberghs, these three product lines stem from the experiences of branches in other countries, particularly Belgium and the Dominican Republic. "We'll be carrying out a technology transfer and will set up facilities over more than a thousand square meters at the Mariel zone, where we will hire around 20 people."
Devox Caribe S.A. (100% Mexican capital)
At the close of this month or beginning of the next, the Devox Caribe plant will begin to be built at the Mariel port. The company will manufacture paints and coats. Jaime Murow, the president, explained they had attempted to invest in Cuba years ago and were only just now able to accomplish this.
"It's an automated plant with very low energy requirements, thanks to the cutting-edge technology used in the production processes. It will be powered chiefly by solar energy, if the weather allows."
In Murow's estimation, the approval process was "truly professional," adding that "to invest in Mariel, in addition to money, you need a lot of willpower and eagerness in finding a true benefit for Cuba's market and exports."
Servicios Logísticos Mariel (100 % Cuban capital)
The company is a subsidiary of Almacenes Universales S.A. Previously named Zona de Desarrollo Integral Mariel, it has now changed its name for the new project. Until 2013, it provided logistical services to oil companies drilling in the Cuban Exclusive Economic Zone in the Gulf of Mexico.
General manager Ania Quintana announced that the company will soon open a cold storage facility with 5,000 cubic meters of capacity for storing cargos for export. The first ZED Mariel business center is expected to be completed by the beginning of 2016. The center will be 1,500 meters square and include commercial and other types of offices, allowing investors to follow the authorization process on site.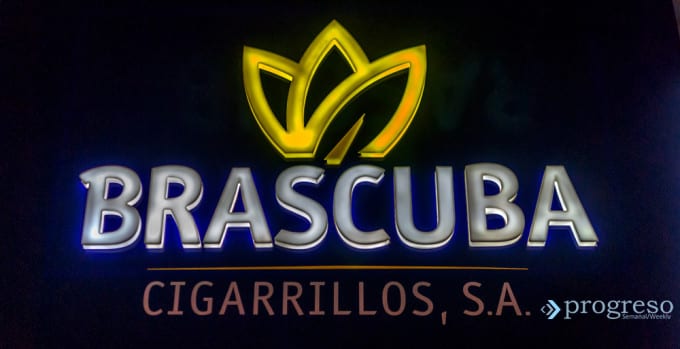 Brascuba (Cuban-Brazilian joint venture)
"The Cuban cigarette market is growing every year thanks to tourism and the rise in average salaries," Adriano Rusak, director of industrial operations for Brascuba explained. "We don't have the resources to produce more at our current location."
Brascuba, which has operated in the country for more than 20 years, has now signed a contract for an additional 40 years of operations and a total value of 116 million dollars. The new plant at Mariel should be operational by 2018 and will employ a total of 600 workers in two shifts. It is expected to have sufficient capacity to produce 10 million cigarettes, part of which will be destined to the domestic market and the other portion for export.
This production volumen is similar to that of Souza Cruz (Brascuba's Brazilian partner) in Mexico, equal to that in Chile and above than in Argentina. Souza Cruz operates in more than 180 countries.