Buying in USD in Cuba: Wary Optimism and Mass Turnout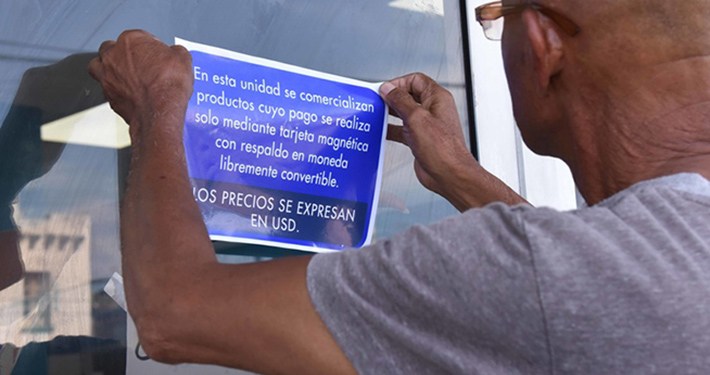 HAVANA TIMES – People were taking a place in line in front of one of these stores, the day before they even opened. On Monday, over 10 establishments finally opened up across Havana, selling products in foreign currency. Another one of these expected retail points was opened in Santiago de Cuba, on Tuesday.
Thus, the domestic market is making a partial return to the dollar, by selling products in US currency, which is deposited in a bank account and linked to a debit card. This measure is one of a series of economic measures that the government has recently adopted, which plans on opening up 77 other stores like this in the next few weeks.
So as to ensure "order and normality", the police's presence was a common denominator at every one of these stores, where huge lines realized how slow service was. Trying out every device bought by the population, as well as writing up guarantee and ownership certificates, meant that the stream of people coming in and out of these stores was relatively slow.
While some people said that there were only 10 of each product per day at a retail point on 23rd and C Streets, in Vedado, customers at other establishments like this said that there was a good variety of products, although they were expecting greater variation.
"We'll see how we can finetune the selling process so that it is quicker and can meet demand. Everyone who has come to buy has bought limited quantities, they're only buying what they need. If a limit needs to be established at some point, it will be, but not for now," Rolando Molina, the manager of the Western Havana Branch, stated.
The possibility of establishing a limit on demand that the government itself is trying to redirect and within the country, seems to be in line with the backward thinking that led the Cuban government to adopt this and other measures in the first place, a few weeks ago.
Ever since these stores were announced on October 15th, prices in foreign currency on the black market, as well as ads on classified sites where people offer all kinds of products, went up. On Revolico, the price of the dollar went up to 1.08 CUC (Cuban convertible pesos), that very day. At the time of writing this feature, value of the dollar currently stands between 1.20-1.22 CUC.
"In 2004, the money people had in their accounts in dollars was changed to CUC, with the argument that this new currency had the same purchasing power as the dollar. Today, these CUC accounts have to return to dollars, which is to say it's a step backwards, if you want to buy electrical appliances for a better price in convertible currency. If that's the case, 10% tax is applied, which is to say that your CUC is now worth less than the dollar, if you change it with the State. However, it's also dropping in value on the black market," Doctor of Economic Sciences, Omar Everleny, told Progreso Semanal.
A few days ago, the president of Banco Metropolitano told Cubadebate that over 10,000 Cubans have already opened up accounts in Freely Convertible Currency (MLC or foreign currency), and a cash deposit was only made in 13% of these.
Employees at various banks, especially outside of Havana, didn't hide their surprise. They weren't expecting this many people to come and start the process for opening up an account in dollars. Small lines of potential customers wanting the new service, even formed outside financial institutions outside of the Cuban capital. Most account applicants did so without making a cash deposit, probably waiting for dollars to come later, they said.
Outside of banks, some customers revealed their expectations about what they would be able to buy in USD. Electrical appliances and car parts especially caught their attention. Others made the point of the fact that while the new retail market doesn't allow USD in cash, its effects could already be seen on the foreign currency black market.
"We can't lose sight of sales in dollars on the black market. It's known that people who travel buy this currency for more than 1×1 CUC, we know that the announcement the other day made it go up and sometimes it shoots up," Javierld, from Sancti Spiritus, said voicing his concerns. In Holguin, Alexis Parra Gonzalez, believed that the right steps were being made, although they could have been made before. "Beyond the fact that this measure isn't directly meant for the working class who earns an average wage, I have my reservations about where currency unification will end up, as it was outlined in the country's Political, Economic and Social Guidelines," he added.
With the sound of his scissors cutting away in the background, Raudel told us about what happened, as he he spins his chair that is only a block away from one of the stores selling TVs, air-conditioning units, washing machines and other highly sought-after devices in USD. He says that he doesn't see himself walking into that store. "Not for now at least," he clarified. While he doesn't rule it out in the future with some of the money his father sends from the US. "I already have Internet access so I always check how much these things are every night to have an idea," he says. "The next day, prices on Revolico dropped and some ads that said how much an air-conditioning unit cost, no longer had the price up. You have to send a private message."
Alberto, is trying to find out what his options are of getting what he's bringing from abroad, here in Cuba. He has specialized in buying abroad. He plans on using some of his money to maybe finance some of the needs business owners have who bring things from Panama. "I'm not sure yet. I don't know whether I'll lose some of my customers," he revealed, referring to one of his other sources of income: commission he earns for bringing remittances from Miami.
There have also been plenty of doubts about state-run businesses' capacity to keep a stable and varied supply of goods. For example, Roberto voiced a concern, and I'm sure he's not the only one who has this doubt. He told us that he received remittances from abroad via AIS cards from the FINCIMEX company, and via Western Union, for years. He explained "that he has only received CUC up until now, as they keep the dollars and euros. I used some of those CUC to cover my needs and I'd slowly deposit bits into a CUC account I had at BANDEC bank."
"Now, with these measures, my CUC account isn't good for anything, it can't buy things on the new network that has been set up for hard currency only. I don't get it. I believe a lot more vision was needed when dealing with this issue. I feel dispossessed. I won't trust banks like I used to, as my CUC stopped being the equivalent of the dollar just like that." "Really good measures but will public sector workers who don't receive remittances or can't put 400 or 500 CUC on a card, be able to buy these products?" Pedro wondered.
These opinions revealed another side of the controversy: people are suddenly facing something new that greatly sets Cuban population groups apart, access to this market being a clear factor. Of course, distinctions already existed and these measures just make them a lot more visible. Public policies that promote the elimination of these socio-economic gaps within the Cuban population are still missing.