Caridad's Photos at the Chaplin Theater
By Irina Echarry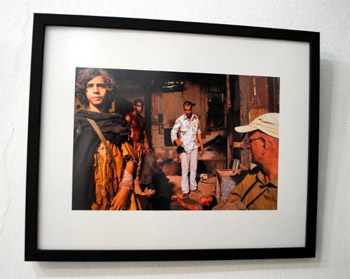 HAVANA TIMES — It's not the first time that Caridad had thought of showing her work in an exposition, but for different reasons it never came about. "Why spend so much in the preparation of a showing of my photos?" was the question that the HT photographer had always asked herself.
So many ideas remained just that until she took a job as the Still Photographer for the recently premiered film by Tomás Piard titled "Los desastres de la Guerra" (The disasters of war) and they told her that they could do a showing of the photos.
Caridad didn't have a lot of faith that the expo would actually come to fruition, not for a lack of good intentions of the film team, but for a lack of resources that any institution in our country usually claims.
But the institutions and life surprised her and the show is now hanging. The title is "Los que llevaban la luz" (Those that took the light), with Caridad's photos in 30×40 format on a wall of the Chaplin Theater in Havana.
While the images didn't come from a personal concept, she enjoyed capturing them on her first time working on a movie set, as she likes challenges.
Caridad would have liked to have been at the opening of her show but she is currently in Caracas… taking photos. The expo can be seen through Monday, October 1.

Click on the thumbnails below to view all the photos in this gallery. On your PC or laptop, you can use the directional arrows on the keyboard to move within the gallery. On cell phones use the keys on the screen.