Central Havana's Slow Death
The architectural heritage in this municipality has been in a critical state for several decades. Hurricane Irma just did away with what was weak enough to crumble now.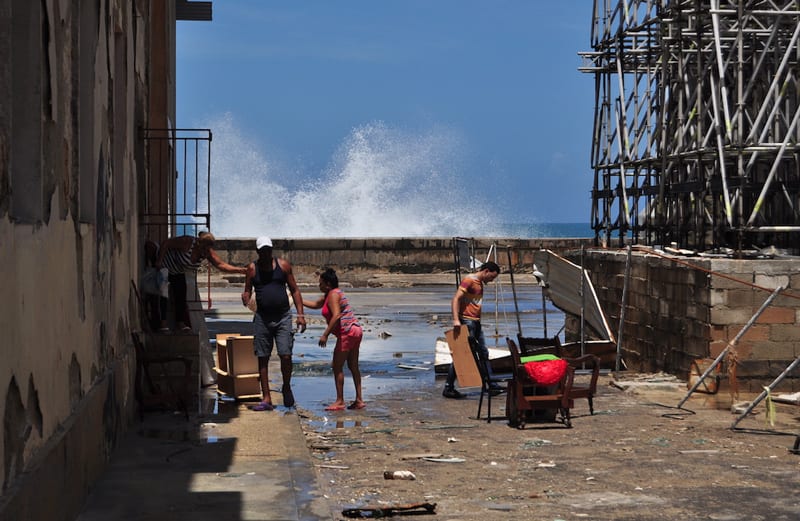 By Elaine Diaz  (Periodismo de Barrio)
HAVANA TIMES — Eduardo Campos was born in 1946 and he should have died on September 9, 2017. He was saved by his fear of his own house.
At no. 744 on Animas Street, between Gervasio and Belascoain Streets in Central Havana, a building's roof partially collapsed where brothers Roydis and Walfrido Antonio Valdes Perez used to live. We know that they both came from the Frank Pais neighborhood in the province of Granma, that they were 54 and 51 years old, that Roydis was sick, and that on September 9th, a part of the building's roof that lay above their heads broke off and killed them while Hurricane Irma swept through the capital's neighboring areas.
No. 744 doesn't really stand out among the other buildings on Animas Street. It only has two storys and its balconies aren't in a better or worse condition than those that can be found in the rest of the block. If somebody didn't point out the place and tell you that "there's where it happened", only a few people could imagine that this building was in greater danger of collapsing than the rest of the buildings in Central Havana. Now, there are 4 families who are still there, Eduardo reminds me, "although there is always one or two people more hidden in a room."
Nobody says house or apartment when they talk about the place they live in at no.744. We know very little about the building's interior because the danger of imminent collapse has prevented people from going inside. Eduardo calls it "a room". Other people wouldn't even call it that.
Eduardo's "room" was what he was assigned after he got divorced and he moved from his apartment in Alamar's zone 9, seven years ago. When the hurricane swept through, he wasn't there, he was at a cousin and niece's house. You can't go into his room because "it's the same as where the other two were killed. The rooms were right next to each other," he says. The spiral staircase which gave access to the place where he slept collapsed and he's been waiting on the pavement in front of the building ever since then.
On Monday September 11th, the first secretary of Cuba's Communist Party in the municipality walked through the area and promised to evacuate every family. They were given breakfast and lunch. At 3pm later that day, Eduardo was waiting for a bus that would take him to his future shelter.
No. 744's history of hurricanes dates way back. Eduardo remembers that "they had come on several occasions to evacuate people, but the residents didn't want to go because they wanted a better offer." After being evacuated, you end up in a temporary shelter and there is nothing less temporary in Cuba than a shelter. After long extended waiting times, the State gives out homes in apartment blocks located in the capital's outskirts and with such challenges that they already have signs of damage before people even move into them.
The people know this and that's why they don't accept to go. This or it's because they think they can put their lives on the line, the government's insane focus during the hurricane; although we still don't really know whether this is because of their respect for human lives or to stress that nobody in Cuba died or that, even if people did die, this number would be much smaller than in other Caribbean islands or the United States itself.
Sometimes preserving human lives becomes a slogan which reminds me of what a collective taxi driver who covers the Playa – Havana route told me on Tuesday September 12th. "There is a mamey tree in my yard," he says, "and before the hurricane I couldn't find anyone to take it out." The taxi driver, who could afford it, looked for the cutter on his block, a legal self-employed person. When a neighbor saw the reckless cutter, without a harness or rope, she called the taxi driver on the phone and told him that she had called the Party secretary, that the Party secretary had been told that not a single human life could be lost and that even though the pruning car wasn't going to pass through the area because there were other more important things to do, nobody should climb up trees.
"And who would have given me back my roof if the mamey tree had knocked it down?" the taxi-driver said with crushing logic.
During the hurricane, the country ordered its citizens that "it was forbidden to die." Roydis and Walfrido Antonio Valdes Perez ignored this order. Before the hurricane, every citizen in danger is ordered to evacuate. Alberto Manzano Martinez, another one of the fatalities, ignored this order. If preserving lives wasn't, sometimes, a slogan for political propaganda, the State would understand that evacuating isn't just a question of putting everyone on a bus on the corner of San Lazaro, but rather a certain exercise that doesn't begin three days before the hurricane is about to strike.
People don't evacuate because they were afraid of losing the little they have. In a country where even spare parts are hard to come by, it's difficult to persuade a human being that the little they have is so little that they can leave it behind. That's why it was hard for families living on the blocks near the Amejeiras hospital to abandon their homes. So much so, that Maria Lombillo swears that nobody went by her house. "Nobody, nobody came here, evacuate? pshhhh." Even her brother, a young 20-something-year-old man shouted out to her: "My dear, they did come here and you said that you weren't going to evacuate."
Residents at no.744 have probably spent their entire lives living at no.744. That's why they were afraid and didn't evacuate. Not Eduardo though. He realized that "being there was to hand over your life" and he wanted them to take him "wherever". Before the hurricane, he was so afraid of his house that he used to sleep in Maceo park, approximately three blocks away from the building. Eduardo comes from Alamar, a grey urbanization that was built reluctantly. The longest standing buildings in Alamar are 47 years old. When Alamar, which was built with the worst materials and least-skilled hands, is 60 years old, it will be like Central Havana.