Chavez Campaign Closes in Caracas
Photo feature by Caridad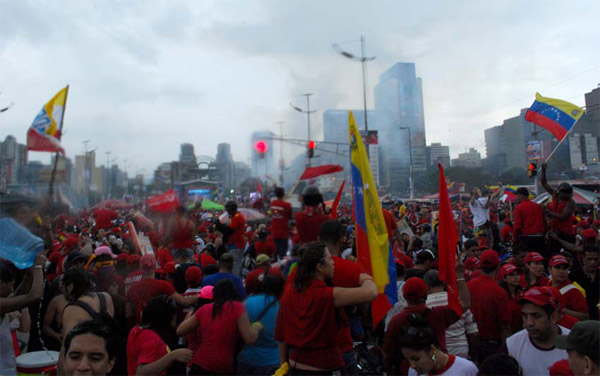 HAVANA TIMES – Supporters of opposition candidate Henrique Capriles in Caracas had their chance last Sunday, on Bolivar Avenue, which they filled and showed that they are more organized in this election.
Thursday was the turn for supporters of President Hugo Chavez, in the same wide avenue, but also on the adjacent Lecuna, Baralt, University and Avenida Mexico.
A little after noon the weather played a trick on them, or may have been good to cool off from the heat… it rained for more than two hours, very intense at moments.
Many found shelter and continued their rumba (literally banging drums and dancing).
But the vast majority remained in the street soaked, with music, flags and slogans, looking forward to seeing the caravan led by Chavez, who they hope will be reelected for a new six year term on Sunday October 7th.
No one denies that these elections are very important for Cuba. With the close relationship between the Venezuelan president and Fidel Castro, the South American country became Cuba's leading trade partner and Chavez, the government's number one political ally.
Cuba receives an estimated 100,000 barrels of oil per day from Venezuela in exchange for the services of between 30 and 40 thousand doctors, teachers, sports coaches and other specialists, which staff Chávez's social missions.
Capriles says he will maintain the social programs but renegotiate the conditions he considers unfavorable for Venezuela.

Click on the thumbnails below to view all the photos in this gallery. On your PC or laptop, you can use the directional arrows on the keyboard to move within the gallery. On cell phones use the keys on the screen.