Colombian Embassy in Cuba Working to the Max
Cubans must now go to Colombia to file their family reunification papers at the US embassy in Bogota.
By Milagros Lopez de Guereno (El Tiempo)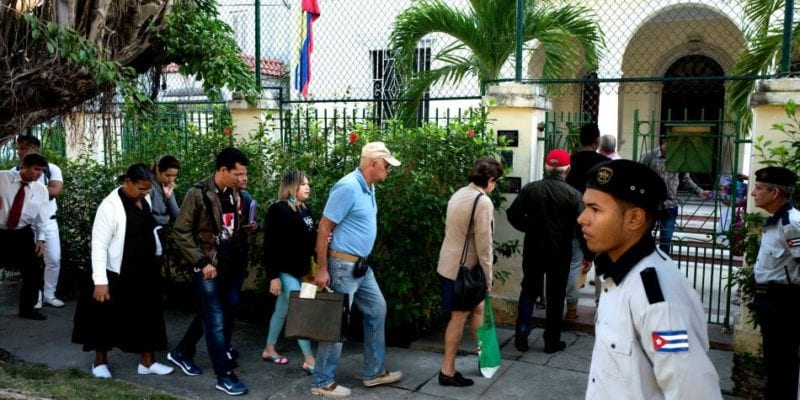 HAVANA TIMES — The US Embassy in Havana has stopped issuing visas to Cuban citizens after the US Department of State announced, last September, that it would withdraw the majority of its staff at the embassy on the island because of some alleged "sonic attacks" against diplomats and their families.
In the face of protests by Cubans, who depend on getting a US visa so as to join their families on a permanent basis, Washington, in agreement with the Colombian government, decided to move this paperwork to its embassy in Bogota in mid-October.
This was a hard blow to the Cuban people because if the process was already expensive and difficult to process beforehand, now they have to do this twice.
Even though setting up this process took a while, the Colombian Embassy in Havana began to feel the repercussions of the decision in late December, even more obvious at the start of this new year.
While the US Embassy was still issuing these visas, Colombian consulate officials were processing a maximum of 40 tourist or work visas per day, without any build-up.
Now, with nearly the same number of people working (a consul and three consulate officials), they see somewhere between 150 and 300 Cubans per day, many of whom have come from other provinces.
In order to get a visa for Colombia, Cubans must first present a letter that proves that they have already have their appointment at the US Embassy in Bogota scheduled.
Internet, a problem
However, limited internet access is not only making booking an appointment difficult (in other consulates in high demand appointments being sold on the black market have been reported), but also learning about what is needed to travel to Colombia is difficult, which is why the majority of applicants need to go back to the consulate two or three times in order to complete their application.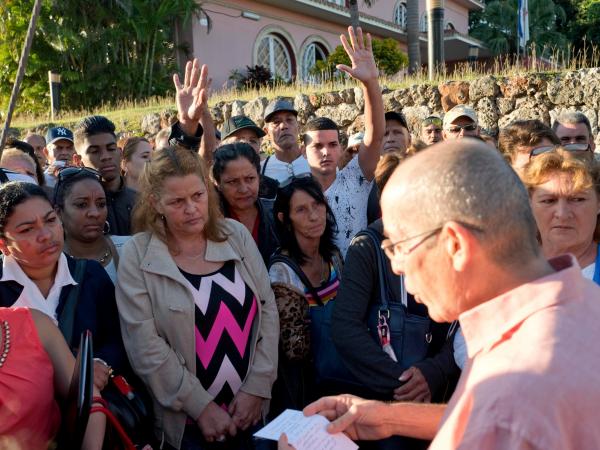 Some people have spent all night in front of the embassy in order to be one of the first to be seen, Yamara Anciano Morales told EL TIEMPO that she had traveled from Camaguey to help her aunt.
"I rented out a car to come here. I arrived Monday, then they called me and told me to come and I hope they see me. But, coming and going is so expensive and difficult. I don't have anywhere to stay here. If they see me tomorrow, I going to have to find somewhere to stay, pay for food and for the car again," she told me.
Most people highlighted the attention consular officials give them.
"They have treated us really well here. The people who see us have made a superhuman effort and are seeing people until 4, 5, 6, 7 PM. We are very happy with this," Oneida Cabrera Rodriguez stated, who lives in "rural Villa Clara", about 250 km outside of Havana, and she had to come back three times because she didn't have all the documents she needed.
"I'm here to pick up my visa and I should be traveling to Bogota on the 15th," Cabrera added. She will go to the US Embassy there in order to appear at the family reunification procedure that one of her sons applied for. "I don't really know what will happen there. It takes them three or four days to give me the visa and I don't know whether they've approved my case or not," she said.
Onelia Ortiz Fernandez also highlighted the work of the Colombian consulate's staff. "I have seen them working non-stop until 10 PM. There's no way of paying them for the work that they are doing."
Other sources have claimed that officials have been flexible with the requirement of having the minimum required (2,000 USD) in bank accounts, of those who are traveling to Colombia for other reasons.
In the case of those who have found themselves forced to travel in order to apply for a US visa, they haven't stopped them from traveling if they only have 1500 USD, for example.
The consulate charges 40 euros for starting the process, then, only if the visa is granted, another 130 euros is charged. This differs greatly from the US consulate's procedure, which makes applicants pay 160 USD even if the result was negative.
The number of people applying to travel to Mexico has also increased because this country processes special visas for Cubans who want to travel to visit their families for a short time.
The Trump administration found a solution by turning to the support these two ally countries have given, after the US withdrew its diplomats from Havana.
In the meantime, Cubans are complaining and saying that, due to Trump's interest in rolling back good bilateral relations, they are the ones who are paying, and in cash (airplane tickets and accommodation in an unknown country).