Colombia's Peace Judiciary Tasked with Uncovering the Truth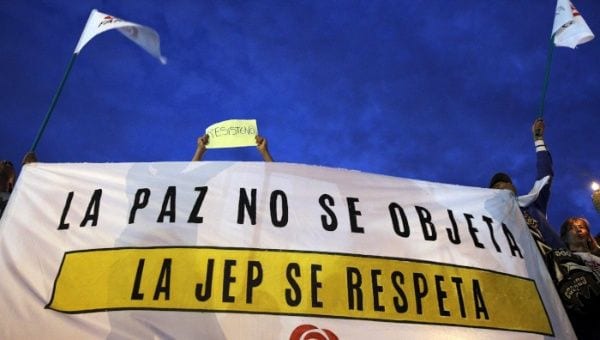 HAVANA TIMES – Colombia's Special Jurisdiction for Peace (JEP) was created after then president Juan Manuel Santos signed a peace deal with FARC, the country's biggest guerrilla movement, in November 2016, reports dpa news.
The JEP is tasked with establishing responsibilities for crimes committed in the context of the 52-year armed conflict.
They include extrajudicial executions of civilians by the army, kidnappings by guerrillas, sexual violence and the killings of thousands of members of the leftist party Patriotic Union.
Former guerrillas and soldiers who submit to the JEP and tell the truth will be given milder sentences than the ordinary judiciary would hand them.
The sentences can amount to between five and eight years in prison or community work. Those who do not reveal the truth can be jailed for up to 20 years.
More than 9,000 former guerrillas and over 1,900 army members have so far submitted to the JEP, which started operating in January 2018.
The transitional justice system is investigating events that affected more than 800,000 victims, but has issued no sentences so far.
President Ivan Duque and his conservative Democratic Centre party see the JEP as being too lenient on ex-guerrillas and want its functioning to be modified.
Duque has asked Congress to approve changes, some of which would toughen the rules on the sentencing of war crimes, exclude sexual crimes against minors from being judged by the JEP, and facilitate the extradition of former guerrillas wanted by the US on charges of drug trafficking.
The Chamber of Representatives has already rejected the changes, and the Senate is expected to follow suit.
If, however, the Senate approves the modifications proposed by Duque, the final decision will be taken by the Constitutional Court.
Duque says he is seeking justice for the victims. But critics accuse him of trying to undermine the JEP in an attempt to protect politicians and army commanders responsible for human rights abuses.
Most of the victims of the "false positives" scandal were killed during the 2002-2010 presidency of Duque's mentor, Senator Alvaro Uribe, the critics point out.
Armed conflict in Colombia has left more than 260,000 people dead since 1958, according to the governmental National Centre for Historical Memory. Over 7 million people have been displaced.