Command Economies Don't Promote Development, Cuba is No Exception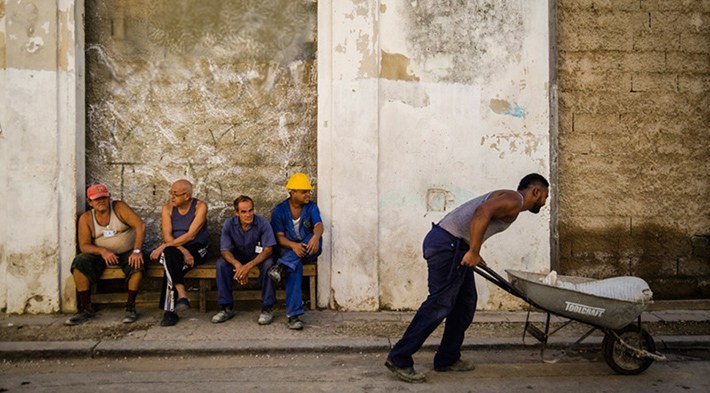 By Rachel D. Rojas (Progreso Weekly)
HAVANA TIMES – Cuban authorities announced the existence of a new group of legalities on August 30 concerning cooperatives, which are being allowed on an experimental basis. They are intended to "improve the management system of non-agricultural cooperatives (CNA)." This new package of regulations contains a Decree-Law (366), a Decree (356) and two Ministry of Finance and Prices Resolutions (361 and 362). They will take effect in November of this year.
According to Yovana Vega Matos, head of the Entity Improvement Area of the [Communist Party's] Guidelines Implementation Commission, during this "experimental" phase no new cooperatives will be created in order to prioritize and concentrate efforts on the consolidation of the existing ones.
Seven years after they were initially approved, this new Decree-Law was published and whose objective is "to establish the norms that regulate, on an experimental basis, the constitution, operation and extinction of cooperatives in non-agricultural sectors of the national economy, hereinafter known as cooperatives" that more or less reflect the understanding by the authorities as to the space given these forms of management of the national economy. Their experimental nature is therefore, again, reaffirmed.
But economist Oscar Fernández says that "an experiment of this kind should not last seven years." He argues that if there are no stated objectives and indicators by which to measure their performance, then one cannot speak of an experiment. And so far, there have been no results or data published on the steps taken from their inception in 2012.
According to official press reports, development of new CNAs has had a gradual uptick: of 126 cooperatives established in 2012, when they were first approved as experimental, there are more than 400 currently operating in the country.
However, the February analysis published by the Inventory Project, based on data offered by the National Statistics and Information Office (ONEI), shows that in 2018 only two new Non-Agricultural Cooperatives (CNA) were approved, and that the number of new CNAs has declined dramatically since 2015. And it appears that one of the few places were new CNAs have been established in the past seven years is in Havana province. The downturn of new cooperatives is nothing new.
The new rules indicate that CNAs are constituted voluntarily, but even in the official press there is talk of "the bodies that constitute them," which is not the same as authorizing their creation, and thereby obviating the international conceptualization and the first of seven principles by which cooperatives are guided, agricultural or not, and which the Cuban regulations seem to skirt: willfulness, participation, autonomy, independence, etc.
Fernández feels that the new package of measures represents a step back, even when you consider the previous regulations. There are several points that hinder the CNAs development, such as the fact that they cannot define their social purpose. "State companies already have ways to define their social purpose. Since 2014, their requirements are defined by the state, but they are allowed to define for themselves everything else they'd like to accomplish and can do with their productive potentials. And that was a big change, because before that the social objective even defined the currency that they could use for commerce," explains Fernández. CNAs still do not possess that possibility, "which is totally inconsistent with the nature of a cooperative that should make its own of decisions."
On the other hand, the Decree-Law regulates "the price and rates of commercial products and services produced by cooperatives in accordance with the provisions of the Minister of Finance and Prices." That is in spite of Resolution 361 of this ministry that states, "The sales price of CNA products are determined by them, according to the supply and demand." And then, in an obvious contradiction, it states that said entity "can set prices and rates, fixed or at a maximum, of the products and services of non-agricultural cooperatives, which require central regulation." The Resolution also states that the provincial boards of directors may approve maximum and minimum prices for the products and services of the CNAs, even if they are not centrally regulated.
Another limitation is how decisions are made. Decree-Law 366 states, for example, that "the Council of Ministers establishes the activities of production of goods and provision of services that are authorized to be managed by cooperatives."
For the creation of a cooperative one needs, among other requirements, first the approval of the Council of Ministers to begin the experiment. And then there's a Resolution that authorizes it, signed by the head of the body of the Central Administration of the State or the OK by the Provincial Administration Council.
Cooperatives created before the new regulations are now authorized to enter into new contracts outside the province where they were created, but only "if they have been authorized on a national level," and the incorporation of new members is limited according to criteria established by Decree-Law 366. In addition, the creation of branches or brigades outside the province where they reside is prohibited, even if their national reach has been authorized.
In the case of the Construction Cooperatives, the second largest group of those in existence, they are now prohibited from incorporating new members and hiring workers or services to carry out activities that are included in their social purpose. Only the Minister of Construction is empowered to approve activities outside these cooperative's social and legal residence.
In this regard it is assumed that a cooperative should not work in several places at the same time, and therefore must be controlled. "The normal thing is that any kind of business be able to do this in order to grow, expand, develop its services," explains Fernández.
According to Cubadebate, deviations — such as "misappropriation of resources and income," corruption (including state entities), hiring of a salaried force outside the law, deficient accounting records, inequities in the economic management, as well as what management is paid (up to 32 times higher) and the rest of the partners, and an upward trend in prices — persist in the economic steps taken by CNAs .
But another important factor is that cooperatives occupy "a unique place in the Cuban productive landscape," according to economist and Progreso Weekly columnist Ricardo Torres, even when they are still assumed to be experimental.
He writes that "in that legal limbo [a cooperative] cannot grow. CNAs operate in a highly distorted environment, from the price structure of their products, to resource allocation mechanisms which follow the central planning model. Internally they cannot solve all the problems created over the years by Cuban businesses. In addition, although they seemed called upon to provide a combination between the social and the private, the truth is that there is no such culture in Cuba. The process for its creation has remained highly restrictive. Most served as fire extinguishers for insolvent entities."
Cooperatives will be able to express their full potential, explains Torres, "when the great imbalances of the Cuban model are noticeably reduced, there is a transparent legal framework, the playing field is leveled for all productive actors, and the absurd restrictions for the development of productive forces are eliminated."