Compelling British Films at this Year's Havana Film Festival
Arielka Juárez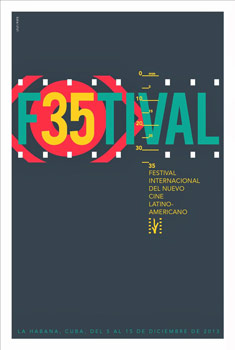 HAVANA TIMES — A broad range of foreign films will be screened at the Otras Latitudes ("World Cinema") section of this year's Havana Film Festival, to be held from December 5 to 15. This time around, Otras Latitudes treats us to films from Germany, Great Britain, Canada, the Czech Republic, Spain, Poland and South Korea.
Eight dramatic features, three of them directed by Andrea Arnold (Red Road, Fish Tank and Wuthering Heights), make up this year's British Film section.
Andrea Arnold (1961) began her career as a ballerina, appearing on several British television programs. At the age of eighteen, she became the host of two children's shows. Her work in these programs during the better part of the eighties made her something of a familiar face in England's weekend morning television.
In the nineties, Arnold left television and, already past thirty, enrolled in film school, where she completed a number of short films.
In 2003, she completed Wasp, a twenty-six minute short about a single mother who lives in a poor neighborhood in England with her four children, asked out on a date by a young man. The short film was screened at several festivals and gradually earned Arnold the attention of critics and a number of awards. The year of its release, the film won the Best Short Film Award at the Stockholm Film Festival. In 2004, it would win awards in the Toronto, Palm Springs, Filmstock and other festivals.
In 2005, it won an award at the Sundance Film Festival and, a few weeks later, won an Academy Award for Best Short Film. On claiming the Oscar, Arnold used an idiomatic expression that contrasted starkly with the glamour of this ceremony, saying: "As we say in England, this is the dog's bollocks."
In 2006, as part of The Advance Project, Arnold shot Red Road, her first feature film. The initiative, launched by Lars von Trier, Lone Scherfig and Anders Thomas Jensen, consists in having three filmmakers direct features that tell different stories involving the same characters.
Red Road was a success at several festivals, including Cannes, where it secured the Jury Award in 2006. That same year, the film also garnered Arnold the British Academy and Television Award (BAFTA) for best debut of a British artist.
The film tells the story of Jackie, a girl who lives alone and works at the Glasgow town hall. Her job consists in watching security monitors showing surveillance footage captured by cameras set up around the city. One day, to her immense surprise, on one of the monitors, she sees a man she thought she would never see again. Soon, she finds out he has just been released from prison for good behavior. Jackie has no choice but to confront him.
Three years later, in 2009, Arnold completed her second feature film. Fish Tank followed in the footsteps of her opera prima, securing a Cannes Jury Award, BAFTA for Best British picture and three nominations at the European Film Awards (Best Picture, Best Director and Best Actress) that year.
Fish Tank tells the story of Mia, an unstable teenager who doesn't manage to fit in the school system and is rejected by her peers. Growing up in a broken and dysfunctional home, she lives with her younger sister and mother. Mia's mother leads the life of a young, carefree woman, entering into and leaving romantic relationships, without caring about the impact this has on her daughters.
On a warm summer day, Mia's mother takes home a mysterious stranger named Connor. As the plot unfolds, Mia, feeling protected and understood by her mother's boyfriend, begins to develop an attraction towards Connor. What began as a pleasant experience for Mia, however, ends up as yet another disappointment in her life.
Fish Tank Trailer

In 2011, Arnold directs Wuthering Heights. Here, Arnold's first film based on a script she didn't author, the director chose not to use the adaptation of Emily Bronte's novel.
The film spelt a change of setting and style for the director, who leaves England's suburbs for the first time in her filmmaking career.
Anxiously awaited by the public, the film was not very well received by critics (not an uncommon phenomenon in the world of adaptations of literary works, where expectations are very high).
"This impressionistic take includes some strikingly authentic visuals, but the acting is lackluster and the languorous story often sinks into tedium with its focus on the minutiae of country life.
"The story is reduced to its most primitive state as it sidesteps subtext and much of the actual original text." Claudia Puig: USA Today 
Despite harsh reviews, Wuthering Heights secured the Best Cinematography Award at the Venice Film Festival, and the Best Cinematography Award (as well as a special mention for outstanding young cast) at the Valladolid – Seminci Festival in 2011.
Another interesting feature film to be screened in the British Film section this year is Ben Drew's III Manors. III Manors tells the story of Kirby, a former drug-dealer who is released from prison after serving a 15-year sentence. Now free, he wants only three things: to take back his turf in the business, have sex with women and take revenge on the gangsters who disrespected him. A humiliating altercation with his former protégée, however, unleashes a chain of violence, vendettas and deadly reprisals that shake up the community of drug-dealers, pimps and even innocent people in Kirby's world.
Ben Wheatley's Sightseers, also to be screened this year, secured the Best Screenplay award at the British Independent Film Awards, Mar del Plata Festival and Sitges Festival, where the lead, Alice Lowe, also walked away with a Best Actress award.
Sightseers tells the story of Chris, a young man who wants to show his introverted girlfriend Tina his world through a trip across the British Islands on his beloved Abbey Oxford caravan. What starts out as the ideal vacation soon becomes a humorous and rather disturbing odyssey for the couple.
Sightseers Trailer
Andy de Emmony's West is West, has been selected by the Berlin, Toronton and London film festivals and has secured excellent reviews.
Set in Manchester, northern England, in 1975, West is West follows the Khans, a family struggling to survive. Sajid, the youngest, is going through a profound teenage crisis, intensified by his father's insistence that he stick to Pakistani tradition and by group of bullies at school. In a last attempt to "fix things", Sajid's father decides to send him to Punjab, where his first wife and the daughters he abandoned 35 years before live. Shortly afterwards, the father's second wife arrives from Salford, accompanied by a small entourage, and takes on the task of bringing some order to the family's chaotic life.
Otras Latitudes will also screen Ken Loach's The Angels' Share. Ken Loach is a veteran film and television director known for his socially-conscious realism and for exploring socialist issues. His films are an attempt at documenting how economic reforms or neoliberalism affect the working class.
In this film, Ken Loach tells the story of Robbie, a young, first-time father living in Glasgow who is unable to break free from his criminal past. Crossing paths with Rhino, Albert and young Mo, he is spared going to prison and receives a community work sentence. Henri, the community worker assigned to them, becomes his mentor and trains him in his secret skill…the art of tasting whiskey.
Between breweries and tasting sessions, Robbie discovers he has a genuine gift for tasting whiskey and that he is quickly able to identify the most exceptional and expensive vintages.
The film obtained the Special Jury Award at Cannes, was nominated for best Music at the European Film Awards and for Best Foreign Film at the Ceasar Awards in 2012.
The Angels' Share Trailer
To close this spectacular British Film section, Otras Latitudes will treat us to Peter Millan's NEDS (Non-Educated Delinquents). The film takes us back to 1973 Glasgow. There, John McGill is about to start high school. An intelligent and sensible boy who is eager to learn, he is the victim of circumstance: his family is very poor and his father, whom he hates, is an abusive alcoholic.
The teachers pick on him from the very start because of his older brother Benny's criminal background. The "Neds" ("non-educated delinquents") are bad boys who carry guns and consume cheap drugs, listen to glam rock and engage in sex, violence and criminal complicity. They are considered both monsters and heroes by the locals. Benny's reputation protects John, who, denied opportunities, decides to lead the life of a criminal. Suddenly, however, John is presented by an unexpected and extraordinary opportunity to redeem himself.
Released in 2010, the lead Connor McCarron received the Golden Oyster at the San Sebastian Film Festival that year.
This year, the Havana Film Festival's British Film section brings us stories that are not to be missed.
To learn more about the Festival, screenings, accreditations, conferences and venues, visit the official web-page of the 35th Havana Film Festival.