Concerns over Homophobic Acts of Violence Surface Again in Cuba
An alleged hate crime, that is already being handled by the competent authorities, has once again sparked debate around this problem and the pressing need to finally recognize LGBTI rights.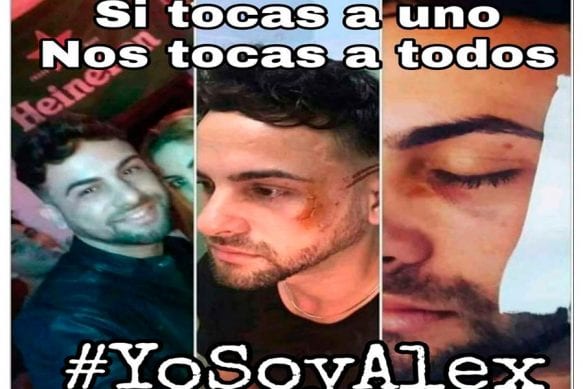 HAVANA TIMES – The report of an alleged violent act of homophobia in Guira de Melena has revived repeated demands on social media to take perpetrators to court as soon as possible and to pass stricter anti-discriminatory laws in Cuba.
Sources from the state-run National Center for Sex Education (CENESEX) have confirmed that on January 21st, the Legal Services Department received a complaint about this case from the victim, actor and set designer Alex Garcia, and passed this information on to the Attorney-General's office and the National Office of Cuba's Revolutionary Police Forces.
They also said that they had received a response and are moving ahead with the investigation of this shameful event.
Background
Numerous alleged hate crimes have emerged on social media, in a country where there isn't a framework to specifically identify and condemn crimes motivated by prejudice against a person's race, sexual orientation, gender identity, etc.
The last reported case emerged in July 2017, when CENESEX announced that it was reviewing a case of homophobic violence against a young man from Moron, in the interior Ciego de Avila province.
The organization then argued that "these displays of violence confirm the need to continue promoting a social, cultural and political debate in Cuba about every individual's right to live and express their sexual orientation and gender identity without fear of being rejected or even physically assaulted, like they were in this case."
Ever since 2007, CENESEX has been organizing yearly educational campaigns focused on the prevention of homophobic and transphobic violence in different social environments, such as families, the workplace and schools.
Thanks to Riuben Alarcon, a social activist and quick-change artist who plays the popular character Margot Parapar, the news emerged on social media that very same day with photos of the injuries the victim sustained to his face.
Alarcon posted on his Facebook page that a young man, who he said was a friend, was assaulted by three young men in the early morning of January 20th, in Guira de Melena, 40 km south of the Cuban capital.
"They jumped him, for no other reason than him being gay and saying this, they cut his face with a bottle and beat him without mercy," he wrote.
He also criticized the local police for "still letting the perpetrators run loose and on the fringes of the law, while my friend was sent home and told to come back on Monday so they could decide how serious the attack had been, not knowing or being able to predict if he would be threatened or attacked again."
Then, Alarcon removed the name of the young man who was beaten claiming that "he was terrified", but then his real name emerged and campaigns of support for the victim have been created using the slogan "I am Alex".
Hundreds of comments follow the different posts and news reports about the case, condemning this violence and calling for discrimination related to sexual orientation and gender identity to be tackled, an issue that has been at the heart of Cuba's current constitutional reform process.
Context
This complaint has come at a difficult time, marked by tensions surrounding the possibility that Cuba is paving the way for same-sex marriage or at least a legal union between two people of the same sex.
Ever since the initial constitutional draft included an amended definition of marriage as the "union between two people", extremist groups joined together to protest against it in its popular consultation phase and have taken the change to this proposal in December (which will now be submitted to a referendum vote on February 24th) as a victory.
The current wording in Article 82 moves the definition of marriage to the Family Code and establishes that this should be redrafted in the next two years and then be submitted to a new referendum vote.
Different peaceful movements and social media platforms have been reporting these clashes ever since, especially between LGBTI activists and neo-Pentecosal extremists, who have been the most visible face against same-sex marriage.
In his Facebook post, Riuber Alarcon said that "some wrongly named "religious pastors" (…) have been promoting some campaigns talking about immoral acts, about stoning or burning people, among other barbaric acts. After these religious campaigns, a series of violent acts have been perpetrated against the gay community."
Many researchers and LGBTI (lesbians, gays, bisexuals, trans, and intersexuals) activists have drawn people's attention to what they believe to be an open demonstration of extremist, macho, homophobic and discriminatory positions by these civic society groups.
According to Alarcon, this proves "to what extent and what reach they have by inciting the country to be against the legal rights of equality as a citizen, but particularly as a human being."
Reactions
In the face of this news, dozens of internet users reacted angrily, demanding that the government take immediate action and bring these perpetrators to justice without any delay.
Aniel Hidalgo, Osvaldo Dumenigo and Andy Rumbaut agreed with them, demanding "that the Law fall with all its might upon these aggressors."
Gleisy Perez said that "nobody has the right to physically or verbally attack or harass anyone," while Jancel Moreno believed "it necessary to denounce these acts and take action together."
Activist Isel Calzadilla believes that "it's horrible that cases like this one exist and that homophobia has been energetically revived. We all need to come together and demand respect and safety, we are all human beings.
And, Yasiel Alejandro questions the absence of reports of this nature in Cuban state-controlled media and asked if a massacre like the mass shooting in a LGBTI club in Orlando, Florida on June 20th 2016 (which killed 50 people and injured 53) has to happen for the media to finally open its eyes.
Dachelys Valdes believes "that laws regulating any form of discrimination are needed and the State realizing the vulnerable position they are putting us in by not taking a stance."
Meanwhile, Emilio Marrero summarizes and says: "The first thing the government needs to do is pass a law against Homophobia."