Cuba at the Premier 12 Baseball Event: Another Stripe for the Tiger 
By Ronald Quiñones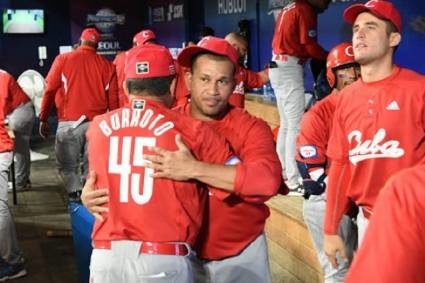 HAVANA TIMES – A very popular phrase in Cuba says: What does the tiger care about one more stripe, and it seems that Cuban baseball has fallen into the same indifference of the tiger with respect to its stripes. Making a fool of itself again and again, tournament after tournament, rival after rival doesn't seem to matter.
Once a clear dominator of the international scene, Cuba has fallen more and more in mediocre planes in the world arena, and its opponents are not the usual powers, but even unknown teams, made up of veterans or with young players.
The Cuban squad only lasted three games in the recent Olympic qualifying Premier 12 tournament, and in two of them they were shutout (3-0 against Canada and 7-0 against South Korea). The event is still continuing, but Team Cuba is long gone.
Null offensive was what prevailed once more, because in the three games they only scored in one inning, in addition to an extra inning run against Australia played with the IBAF rule (it starts with two runners on base).
What are fans saying at Havana's Central Park
To collect opinions on what happened on South Korean soil we went to the Central Park sports corner, and there we met first with Yurisander. "I said it before the tournament started. We should avoid shame. This was the most accessible group for qualifying, and not even that way. I was referring to the Olympic Games, that it would be better not to go. As a Cuban it hurts, but in the end the agony is worse, because we are still waiting for victories that never come, nor will they come if we continue as we are.
In general, the greatest discontent was with the batting, because the Cubans were dominated by pitchers who did not bring impressive numbers and made them look like stars.
"The opposing pitchers dominated effortlessly, because the Cubans did their work for them in the batter's box, swinging at balls they couldn't reach with two bats. The Premier is over for Cuba, and they did not have one extra base hit. They finished with 28 strikeouts, more than nine per game, and only four walks, they were too desperate," says Rafael.
Meanwhile, Armando went a little further and talked about specific players. "Not a month ago, (Alfredo) Despaigne and (Yurisbel) Gracial were stars in the Japanese League and now, as a third and fourth bat, they finished with one hit in 24 at-bats between them and eight strikeouts. Other experienced players such as Frederich Cepeda and Erisbel Arruebarruena were also annulled. It was assumed that these were the big bats of the Cuban lineup, but they went for nothing. Our pitchers weren't bad, but they walked too many batters."
"We continue to produce talented players, but they don't perform on the national teams when they are called. We have been asking for changes for years, starting with Higinio Vélez (president of the Federation for a decade), but nothing happens. We see that contracting out players in other Leagues is good, but it is not the solution to all evils. They have just realized that we need the players who play in the big leagues and in other countries contracted on their own, such as Leslie Anderson, Ariel Miranda or Dayan Viciedo, who also play in Japan, and others in the Caribbean Leagues. I know that we could not count on everyone in all tournaments, especially those in the MLB, but I think that with a good tournament results, at least they would change the image and make the squad here believe that they can do it. They have become accustomed to losing and that psychologically it is the worst for an athlete," says Carlos Manuel.
"When Miguel Borroto was made the manager he said he was going to demand the players give their best, but we saw the same apathy as always. Likewise, the nerves when things do not go well from the first inning, the failures in tactical plays as bunting. He was going to play modern ball and only sent a runner once to steal, the rest were bunts, almost all bad. Now he returns home and says that they lacked preparation, that they did the best they could and could not be asked for more. However, before starting the tournament he said that everything was fine," recalls Miguel Ángel.
Rodney also emphasized managerial mistakes. "Freddy Asiel Alvarez is a pitcher with international experience, who was even the main card of ours on other occasions. How for the decisive game could they consider him as a relief for Jossimar Cousín, who has almost never pitched at this level? Likewise, in the previous game he had the best of Cuba in recent years, Lazaro Blanco, and he didn't open with him either. He was lucky that he won that game in relief, but it was another bad strategy. "
"We had 30 players and we used the same ones in all the games, the bench didn't move. They were the same mistakes, one after the other, swinging at bad balls, and they didn't call them out from the dugout to stop doing that. William Saavedra is a man tested in international events and was just there to watch, just like Pavel Quesada. In short tournaments a player who doesn't hit must be benched, you can't wait for him to react, as its too late, and that's what happened. In addition, in the case of Gracial it has been shown before that he has little heart, it happened even with Matanzas in the National Series, batting third was too much for him. It's a shame that Australia classified for the Super Round, with all due respect. A team full of old players, and even so it took Cuba an extra inning to beat them," reflects José Luis.
The disappointment prevailed once again among the fans, who despite the blows received, still dream of good performances from their national team. This time they even had to get up early to see some of the games from Seoul, just to go out with their heads down.
Soon the Cuban players will have other opportunities to get the ticket to the Tokyo 2020 Olympic Games, but looking at the panorama, that now seems like a goal outside the reach of this generation.