Cuba Baseball: New Look Season & WBC
New "Classic" Preparations Undercut "Classic" Cuban League Season
by Peter C. Bjarkman*
HAVANA TIMES — A new Cuban League season opened play at the end of November and it did so with a strange new look – sixteen teams (down one from last season) and a single-league structure (a change from the recent Occidental League and Oriental League format). Part of the motivation for such drastic revamping is perhaps an issue of naked economics. In a country with a sagging economy, transportation of 17 ball clubs to all corners of the island over a five month period was an increasing burden on an already stretched INDER (Cuban Sports Institute) budget.
Some of the motivation likely had to do with a popular long-standing complaint about current league structure. Many on the island have long doubted that there was still enough top level talent on the island to fill more than 425 top-level roster slots.
Certainly another heavy prompt for the face-lifting was the upcoming World Baseball Classic III on tap for early March, with its inevitable month-long halt to normal domestic league action. But in the end, whatever the reasons for a redefinition of the Cuban League might have been, one thing is already crystal clear. Fans looking in on the new season from outside the island will be surprised if not altogether shocked to discover a very unfamiliar and even unsettling Cuban League pennant-race structure.
"Classic" Season Scrubbed
The new Cuban League format has done away with a staple of league organization that has reigned for more than a quarter of a century. Gone now is the familiar two league (two division) structure in place for most of the current decade and also the four-group framework that preceded it. In its place is a sixteen-team one-league format that has not been witnessed in twenty-plus seasons.
One has to reach back through half of Cuban League history to the 1986-87 campaign (National Series #26) to find the last National Series pennant race featuring all clubs (18 at the time) lumped into a single-league structure. That year featured a 12-game round-robin playoff format that was won by the Vegueros ball club representing Pinar del Río and (ironically) managed by current league technical commissioner Jorge Fuentes. Teams played a regular-season schedule that year featuring 48 games per club.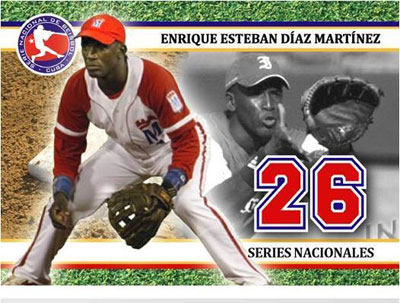 The long-popular multiple league (or multiple division) National Series framework was first introduced in the winter of 1987 (NS #27) with a regional-split into groups then known as the Zona Occidental (nine teams) and Zona Oriental (also nine teams). The four-team and 12-game post-season format was maintained and Vegueros once again walked off with the eventual league title.
This structure was continued for the next five winters – through National Series #31 (1991-92). For National Series #32 a radical restructuring brought a new look featuring four divisions with the unimaginative labels of Group A, Group B, Group C, and Group D (four clubs in each group).
The new structure accompanied the dropping of a pair of league ball clubs (Forestales and Citricultores) and the relabelling of two more (Henequeneros became Matanzas and Vegueros was renamed for its home province of Pinar del Río). The season was expanded to 65 games and the novel new format also featured (for the first time) post-season play built around MLB-style quarterfinals, semifinals and finals that eventually matched the top clubs of the eastern and western sectors. With the changes implemented for the 1992-93 campaign the modern-era league structure of the past two full decades originally came into being.
The next drastic overhauls came with the expansion of the league schedule to 90 contests in 1997-98 and then a return to the pair of eight-team regional leagues (Zona Occidental and Zona Oriental) for the celebratory Golden Anniversary 2010-11 season (NS #50). Last season (2011-12) saw the slight modification to an imbalanced 17-team league brought about by the splitting of Habana Province into two new clubs (Mayabeque and Artemisa) in order to accommodate the island's newly revamped governmental structure.
One wrinkle that highlighted National Series #51 was the necessity for one club of the odd-numbered circuit to remain idle for each three-game series. But throughout all these shifts over the last quarter-century Cuba has always featured full-scaled "interleague play" with every club meeting each of its rivals an equal number of times (one three-game set at home and one on the road in recent seasons). With 17 rather than 16 teams participating last winter, the schedule was upped to 96 contests for each ball club.
With this season's single-division format we now return to the look of Cuban baseball in the 1970s and early 1980s, but with one major and highly significant wrinkle. The season has been split into a pre-WBC two-month qualifying round of 45 games per team and a post-WBC eight-team title round of yet-unnamed length.
When competition is suspended for the All-Star Game in early February, exactly half the league will be eliminated and only the top eight clubs will continue on in the post-WBC championship round of late-March and April. One great mystery surrounding the current campaign is the precise length of the season's second half; and fans will also remain in limbo until at least early February because no schedule of games is possible until the eight first-round qualifiers are determined.
But if there is one major flaw in the new 45-game first-half schedule now in place it has to be the abandonment of anything that looks like a balanced schedule. Each club still plays the other fifteen, but only for one three-game set; this leaves some teams with three extra games at home and others with the extra three matches on the road. Also (at least according to the officially published schedule), with their special Opening Day inaugural match, last year's finalists Industriales and Ciego de Avila are left with an extra game on their docket. Fans in Santiago de Cuba have to be more than a bit disappointed that they won't be receiving a home-series visit this year from arch-rival Industriales.
Advantages of the new experimental system are several, and yet the drawbacks seem to be even more obvious. On the positive side of the ledger, one motivation may well be purely economic as already mentioned. Cutting the number of games each team will play over the first two months means far less travel. To cite several illustrative examples, Havana-based Industriales will make only two swings to the eastern part of the island during the short season's first segment. The Lions will not visit either of their main rivals, Villa Clara and Santiago.
With the exception of the single ceremonial opening game, Industriales will also not visit last year's title-round rival Ciego de Avila either. Victor Mesa's popular and suddenly potent Matanzas outfit will make no December or January visit to the capital city of Havana. A second half scenario with only eight competitors limits travel expenses even further. One small miracle of recent seasons is the amount of resources Cuba has been able to spend on baseball given the nation's sagging economic fortunes. But those resources (or lack of resources) may now finally have tipped the circuit in a radical new direction.
There have also been numerous cries during recent campaigns for a more compact league featuring annual powerhouses like Industriales, Villa Clara and Pinar del Río and devoid of such also-rans as Holguín, Isla de la Juventud, and the usually woeful Metropolitanos Warriors. One theory is that such a structure would lead to better domestic competition, but one has to wonder about the soundness of that theory given the revival last season of long-time doormat Matanzas, plus the recent surges of usual also-rans like Guantánamo, Las Tunas, Granma, and last year's champion Ciego de Avila Tigers.
A second complaint has been that the recent thinning of talent has worked to damage the preparation of top national team players – especially the top national team offensive stars. The players themselves have often voiced the latter complaint. Freddie Cepeda has remarked to this writer on several recent occasions that the overnight adjustment to deliveries from top professional pitchers now being encountered in international tournaments is a severe handicap after a season of facing numerous Cuban League starters and relievers who are lucky to top 85 mph with their best fastballs.
But there are of course notable drawbacks accompanying any scheme for a reduced six-team or eight-team league. One negative would obviously be the elimination of local baseball for a large portion of the island's devoted fanatics. To take away the hometown team from Holguín, Ciego de Avila, or Mayabeque would be to cut community spirit and remove what now remains the lone community-based entertainment centerpiece of these smaller regional outposts.
The half-century tradition of local provincial ball clubs runs deep and is one of the main strengths of Cuban baseball. That fact has been demonstrated with the abject failures of several recent abortive attempts at staging a short-season summer-time Super League (2001-2005) via the collapsing of traditional province-based ball clubs into a handful of regional squads. When teams called Centrales, Orientales, and Habana took to the field a few years back, the stadiums remained largely empty and the nightly island-wide television audiences quickly opted for telenovelas as a far more engaging form of evening entertainment.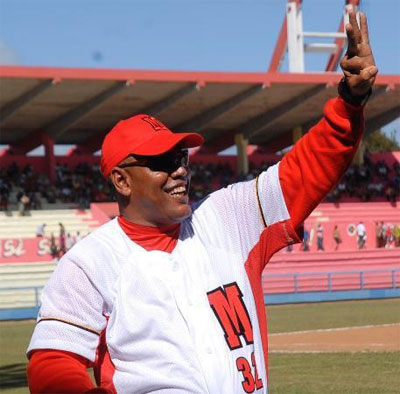 This year's experimental structure thus appears, on the surface at least, to be an obvious effort at having it both ways – a full slate of provincial teams at the outset dovetailed with a more competitive eight-club second-half title round. The upcoming MLB Classic has seemingly provided a perfect excuse for such a novel split season. But what will actually happen when only eight teams return after the break, especially if the Cuban squad fares poorly in Japan and new cries arise about the continued slide of Cuba's national pastime?
The league brass now has to be keeping its collective fingers crossed that some of the more popular clubs (those representing the largest provincial populations) don't face elimination before the phase two competition opens. One can only imagine the severe drop-off in fan interest if Industriales, Villa Clara, Pinar del Río and Santiago de Cuba (the traditional winners with the largest fan followings) are no longer on stage in April.
And it is hard to see how national team fortunes will be greatly improved if some of the top stars are left sitting idle once play resumes in April and May. What will be the impact on the development of several projected national team starters if aces like Artemisa's Yadier Pedroso and Miguel Lahera are forced to take to the sidelines for a full half-season? Can we image a league championship round that doesn't feature the slugging of both Granma Stallion Alfredo Despaigne and Cienfuegos strongman José Dariel Abreu?
Of course the biggest stars will still be around since new league provisions will now allow the eight qualifiers to draft five supplementary players from eliminated ball clubs. But this only adds further room for controversy and confusion. As the second half of the campaign approaches the biggest issue in the minds of Industriales or Villa Clara fans might well be a question of who will have the opportunity to draft Despaigne or Yadier Pedroso or Alexander Mayeta for the season's closing round. The problem here is that the biggest boasting point for Cuba's purer style baseball in the past has always been that star ballplayers never switching loyalties or change their home team uniform.
There are a few other odd appearances to the current revamped league. Numerous key players are already missing, although they remain on the island; voluntary retirements (Rolando Meriño, Santiago and Luis Borroto, Villa Clara), injuries (Héctor Olivera, Santiago and Jorge Luis Barcelán, Metros/Industriales), disciplinary suspensions (Miguel Alfredo González, Artemisa and Yenier Bello, Sancti Spíritus), and other less obvious reasons (Jorge Alberto Martínez, Matanzas and Alex Guerrero, Las Tunas) have already left some top performers languishing on the sidelines.
And also now missing is one of the island's most traditional clubs – the Havana Metros. True enough that the Metros have not been competitive in recent years – have rarely been competitive throughout their quarter-century history. And Metros did play in one of the league's least aesthetic and most dilapidated venues at seedy Changa Mederos Stadium.
Many have complained over the years (and with good reason) that the league commissioners in the capital city simply used the Metros roster as an unofficial farm club for the more popular hometown Industriales team. But Metros teams were always colorful and occasionally pesky, and they were a traditional league staple by any measure. The Metros loyal fan base had also increased considerably of late – especially last season during the dramatic run-up to Enriquito Diaz's much celebrated new career base hits record.
An additional loss resulting from the demise of the Metros club is the notable absence of 26-season veteran Enriquito Diaz – a capital city fan favorite who played squarely in the limelight last season while he tracked down the lifetime hitting mark once belonging to bygone-era hero Antonio Pacheco. It is perhaps only a cruel irony that the last season to display a single-league format (1986-87) was also the very year in which Enriquito made his rookie-year debut with now-moribund Havana Metros.
So often overlooked during his remarkably durable quarter-century career, Diaz has now suffered a final embarrassment since he has been stripped of a traditional retirement ceremony paralleling one recently staged in Pinar del Río for Pedro Lazo.
Never was Diaz nobly relegated to the bench simply because his legs could no longer circle the base paths; instead he had his entire league team pulled ignobly out from under him. And had the tireless Enríque Diaz been able to play but one final league-record twenty-seventh swan song season fans might also have been treated to witnessing the rare sight of a 44-year-old grandfather still active in league play – an inspirational grandfather still spry enough to serve as his squad's everyday leadoff batter.
The season's opening two weeks have already served notice that fast-starting Matanzas under the guidance of national team manager Victor Mesa may well now be the best club in the league. The first dozen-plus games have also demonstrated an apparent overall league parity that will keep fans entertained and also keep league officials in mortal fear of a possible spring campaign with no team competing from Havana, Santiago, and Pinar – the league's three main hot beds of fan enthusiasm.
Obviously now missing from the scene is the enthusiasm normally attached to two league pennant races (with more than a single group of fans able to boast "we're number one!"); replacing it will be a rather odd two-month short sprint toward merely qualifying for April and May "tournament"-style playoff action. And through it all the novel league structure is almost certain to draw as much heated debate as the 16-team pennant chase itself.
"Classic" Preparations Main Concern
If the new league structure seems certain to create its share on controversy, the Cuban technical commission will nonetheless be largely shielded from second guessing by the mere fact that most fan attention is already being redirected toward full scale preparations for a third MLB-sponsored World Baseball Classic. No baseball-crazy country takes the "Classic" quite as seriously as do the Cubans.
Since the entire Cuban baseball enterprise is obsessed with the prestige to be garnered via international play, the MLB "Clasico" has quickly replaced the now-dead IBAF World Cup (suspended after the 2011 Panama event) and the also temporarily suspended Olympic Games tournament as the crown jewel of island baseball ambitions.
Prospects of victory in the WBC is a huge factor in keeping star national team players loyal to the system and thus willing to sacrifice riches abroad for hero-worship at home. It is also a long-held dream of Cuban fans to see their cherished national squad competing against the world's best from the professional big leagues in a venue that qualifies as a true "World Series."
Baseball after all is the one field (quite literally) in which the Cuban sports establishment (and thus the entire Cuban social and political enterprise) can showcase the advantages of its socialist sports system. It is the arena (again no pun intended) in which Cuban loyalists can dream of "beating the Yankees at their own game" so to speak.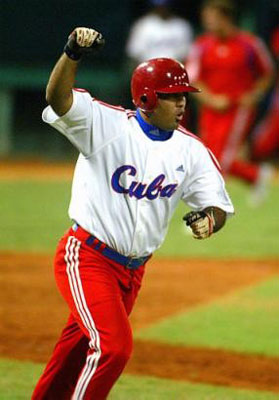 Just how seriously the Cuban baseball administration (to say nothing of the average Cuban fan) takes the WBC is clearly demonstrated by the fact that for a third time the domestic league will be suspended in mid-stream in order to prepare a national team for the prestigious event. It is not even conceivable that MLB club owners would be willing to orchestrate such a league suspension – it is the unwillingness of MLB owners to close down their revenue stream for even a few weeks that in fact prevents the increasingly popular "Classic" from being staged at a more appropriate time in either June or July.
But Cuban baseball from the start has always been focused on national team events and in some important respects the National Series has from the outset been little more than an annual "spring training type" ritual aimed at training and selecting national team rosters. (One recent example of that fact is the use of the controversial tie-breaking "Schiller Rule" system merely because it is a staple of international play.)
The WBC stakes loom exceedingly large for Cuba this time around. A painful seven-year dry spell has now elapsed since the once invincible Cuban juggernaut last claimed a gold medal at a recognized top-flight world championship event (the last one coming at the 2005 IBAF World Cup in Holland). No one (except maybe this writer and a handful of the island's truest faithful) took Cuba very seriously at the outset of the first WBC back in March 2006. But the underdog Cubans surprised the world on that inaugural occasion by upending the Dominicans, Puerto Ricans and Venezuelans and reaching the title game in San Diego.
In 2009 the results were far less spectacular, with the team bowing out in the second round after consecutive whitewashings by the pitching-rich Japanese Samurai squad. But the crack Cuban WBC team of 2009 may have in fact been a shade better than the one that challenged Japan in the inaugural title game. It was the schedule that did in the Cubans the second time around; a second-round venue in Miami might have provided more opportunities for victory (against the Americans and Venezuelans) than the one offered by consecutive outings against Daisuke Matsuzaka and Hisashi Iwakuma.
The schedule looks a bit more favorable this time out, even if the islanders are once again matched up in the initial two rounds with their recent nemesis – the two-time defending champions from the Japanese League. Cuba will open tournament play in Asia and not Puerto Rico for rather obvious "political" reasons. An ideal first round scenario might have been a reprise of 2006 with four Caribbean powers facing off in at Hiram Bithorn Stadium in San Juan. But yet another Cuban visit to Puerto Rico would inevitably have meant complications that MLB organizers don't wish to tackle.
In March 2006 witnessed several ugly incidents involving anti-Cuba demonstrators in the Hiram Bithorn Stadium grandstands; and MLB also struggled with delayed US approval of visas for the Cuban team and press delegation. And a second-round appearance in Miami (required of the teams slated for San Juan) in front of a huge anti-Castro exile community would have likely meant still more serious embarrassment for MLB officials who wish to banish any hint of politics from their showcase spectacle.
Cuba therefore opens in Fukuoka's Yahoo Dome where Brazil and China provide very beatable opponents – opponents as soft as any teams in the entire WBC field outside of perhaps Italy and Spain. If we assume that Team Cuba does move on to Round Two in Tokyo (alongside the host Japanese), then Victor Mesa's charges must also eliminate either Korea or The Netherlands (the most likely survivors from Round One in Chinese Taipei). This will not be an easy task by any wild stretch, but it will be no tougher an assignment than that of facing a potent trio comprised of Team USA, the Dominicans, and Venezuela (or possibly either Puerto Rico or Canada) that will gather in Miami.
A scheduled lid-lifter game in Fukuoka versus upstart Brazil cannot help but raise memories of yet another epic clash on the world tournament stage precisely one full decade in the past. At the Havana-based IBAF World Cup in September 2003 the Cubans were nearly dealt one of their most devastating and embarrassing losses in national team history at the hands of a spunky if underrated Brazil squad and the Herculean efforts of starting pitcher Kleber Tomita.
That dramatic game was ultimately saved with lightning speed by stellar national team rookies Yulieski Gourriel (lead-off ninth-inning triple) and Kendry Morales (walk-off two run homer). It was the national team coming out party for Yulieski and also the Cuban League swan song for Kendry (who would soon be in hot water with the Cuban Federation over several disciplinary infractions).
It was one of the most memorable games I have ever witnessed firsthand – and there have indeed been many such thrilling matches during my decade and a half of closely following the Cuban Red Machine in international venues. But none quite top that nail-biter versus Brazil.
Team Cuba's recent early-November exhibition tour across Asia demonstrated that there is definitely much serious work still to be done in strengthening Victor Mesa's squad for the crucial March games in Fukuoka.
A single run (coming on a late homer by Yulieski Gourriel) in two full games against talented Japanese pitching will simply not be enough to conquer the hosts on their home turf once the WBC battles begin.
But the five games with the Taiwanese and Japanese also hinted that Team Cuba will most likely be once more just as competitive as ever. Clutch hitting (especially from Cepeda, Gourriel and Despaigne at the heart of the order) and solid starting pitching (from more than just Freddy Asiel Alvarez) will be vital keys to success.
The bullpen seems improved (with the emergence of youngsters like Leandro Martínez and Pablo Fernández, it is no longer a matter of turning exclusively to either Norberto González or the now-departed Pedro Lazo), and the batting order is still potent if not always satisfyingly explosive. It will in the end perhaps be a matter of just how quickly Cuban bats adjust to the stellar-level pro pitching that will inevitably be once again mustered by the Japanese, Koreans and Dutch.
(*) Peter C. Bjarkman is author of A History of Cuban Baseball, 1864-2006 (McFarland, 2007) and is widely recognized as a leading authority on Cuban baseball, both past and present. He has reported on Cuban League action and the Cuban national team for www.BaseballdeCuba.com during the past five years and is currently completing a book on the history of the post-revolution Cuban national team.