Cuba Baseball Playoffs Open with Four Intriguing Matchups
Peter C. Bjarkman*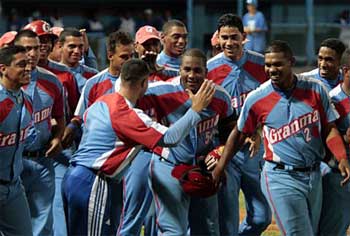 HAVANA TIMES, April 23 — The just-concluded fifty-first edition of the Cuban National Series was packed with plenty of unprecedented twists and a full measure of substantial surprises. Now a renewal of post-season action promises to prolong this special brand of Cuban baseball excitement.
Most attention likely will be focused squarely on the Occidental League where Matanzas is this year's true Cinderella team and also where Havana Industriales enjoys the island's most rabid fan following.
Yet if Oriental League games may not spur quite as much enthusiasm in the capital city – at least during opening quarterfinal round matches – the eastern sector clashes may in the end provide the more heated rivalries and the greater possibilities for some mild if not major surprises.
Matanzas makes its first post-season appearance in more than a quarter-century of Cuban League playoff competition; home run heroes Alfredo Despaigne and José Dariel Abreu carry their hefty slugging onto island baseball's most glamorous stage; colorful Victor Mesa has yet another shot at proving that he can manage just as successfully in the post-season has he so often has with Villa Clara during an earlier decade of regular season competitions; infrequent playoff entrants Granma, Las Tunas and Ciego de Avila set out to finally grab some championship glory of their own.
Indeed there are plenty of fascinating story lines to keep fans on the edges of their seats from one end of the island to the other. Well, almost from one end to the other, since the extreme ends of the map represented by last year's champion Pinar del Río and perennial powerhouse Santiago de Cuba won't be part of the playoff festivities this time around.
Two seven-game quarter-final series will kick things off Tuesday evening in the Occidental League with Sancti Spíritus traveling to Matanzas for a primetime 8 pm match in Victoria de Girón Stadium while Cienfuegos visits Industriales in Latin American Stadium three hours earlier. A pair of Wednesday evening games in Villa Clara and Las Tunas will inaugurate the Oriental League action on Wednesday night. Below are assessments of all four series as well as some insights into what might be expected from the first-round elimination battles.
Matanzas versus Sancti Spíritus

Season Series Results: Matanzas 5 wins (7-2, 9-1, 10-0, 4-1, 5-1); Sancti Spíritus 1 win (10-3)

Matanzas (58-38) Overview: The Crocodiles have been the biggest Cinderella story of Cuban baseball all season long and there is little doubt that Victor Mesa has re-earned his stripes with his "manager of the year" performance. But Victor was handed some very good cards to play when he inherited a roster of numerous young prospects only beginning to realize their full potential.
There are no true "headliner" stars in Matanzas but there are a number of sold performers, especially Guillermo Heredia who led the league in runs scored (and also batted .343), Yurisbel Gracial (15 homers, 115 hits) and Yasiel Santoya (.331, 49 RBI). This was one of only three teams (the only one in the Occidental League) that hit a composite .300-plus across the 96-game schedule.
But more impressive still has been a Matanzas pitching staff that registered the league's lowest opponent batting average (.262) and featured three double-figures winners: Yohan Hernández (11-3), Jorge Alberto Martínez (11-5), and Yoanni Year (10-3). The one looming problem here is the fact that since this is the first-ever Matanzas post-season appearance, there isn't a single player on Crocodile roster with even a single game of previous playoff experience. Mesa will quickly learn this week what his charges are made off.

Sancti Spíritus (49-46) Overview: Under new manager Ruperto Zamora the Gallos hung on down the stretch to earn yet another post-season appearance despite the severe handicap of playing without star slugger Freddie Cepeda. There is no arguing that – despite the immense tools of Yulieski Gourriel – Cepeda is the undisputed on-field leader and emotional heart of this team and his healthy return will be crucial to any post-season successes.
The middle of the Gallos lineup packs plenty of run-scoring potential, but it has been the starting pitching of veterans Ismel Jiménez (17-5, 2.48 ERA) and Angel Peña (11-4, 2.88) that has kept Sancti Spíritus in the midst of the hunt. Some important numbers seem to tell much of the story for this matchup: Matanzas has scored a hundred more runs than Zamora's club over the course of the season, but that might be in large part due to the fact that Cepeda missed a full third of the campaign. Both the Gallos down through the years, and also earlier teams managed by Victor Mesa, have been known for their unaccountable post-season collapses. This time around it might simply be a matter of who collapses first.

Series Assessment: This was the most one-sided regular-season series of any of the post-season pairings. The Gallos (Roosters) scored as many as two runs in only one game, their lone 10-3 win at home in late February. Sancti Spíritus has not drawn much notice this winter outside of the pitching heroics of Ismel Jiménez, and the club's post-season ticket may have been written mainly due to the season-long slump of Pinar del Río. But any team with Cepeda, Gourriel, Yenier Bello and Eriel Sánchez at the heart of the order is capable of causing substantial grief for any opponent. Victor Mesa will have to continue his magic if the Matanzas "dream season" is going to escape an early post-season upset disappointment. Prediction: Matanzas in six games
Industriales versus Cienfuegos

Season Series Results: Industriales 3 wins (4-1, 3-1, 2-1); Cienfuegos 3 wins (5-3, 3-2, 11-5)
Industriales (55-41) Overview: Industrials has bounced back well this season behind rookie manager Lázaro Vargas after last winter's disappointing outing under Germán Mesa. But the Blue Lions have a rather large "Achilles' heel" in their shaky front line pitching. Only Odrisamer Despaigne (13-8, 2.60 ERA and a league-best 128 Ks) and Frank Montieth (8-4, 3.91) have proven to be reliable starters; the Industriales combined staff ERA (4.79) is more than a run higher than that of series rival Cienfuegos. The Lions have featured their share of slugging, especially from catcher Lisbán Correa and outfielder Yasmani Tomás who have each contributed 16 round trippers.
But Correa is something of a defensive liability behind the plate (Frank Camilo Morejon has a much better glove but not as robust a bat). The team is also slow of foot and stole only 20 more bases that Cienfuegos leaguer-leader Lázaro Rodríguez himself managed to pilfer. One huge plus side for Industriales is the presence of three veterans – Alexander Mayeta, Rudy Reyes and Yoandri Urgellés – who sport a history of coming up big during the added pressures of post-season games.
Cienfuegos (54-42) Overview: There are many plusses on the Cienfuegos side of the ledger. First and foremost there is José Dariel Abreu, a one-man offensive wrecking crew. Erisbel Arruebarruena owns the flashiest if not the most reliable glove among league shortstops and also hits well (.320, 19 doubles) and runs the bases (10 steals) with some authority. This is one of the very few clubs in league history featuring teammates – Lázaro Rodríguez and Yoelvis Leyva – who each robbed more than 20 bases. Ageless Norberto González (13-8, 3.00 ERA) is still the island's best left-handed starter and Noelvis Entenza (11-7, 3.74) proved solid as the number two man in the rotation. Closer Duniel Ibarra saw his league-record for saves go by the wayside this winter but nonetheless managed to log over 20 in that department for the second straight year. One negative is a lack of heavy hitting surrounding Abreu at the heart of the order and it is thus tempting for opponents to always pitch around the Elephant's most potent slugging weapon.
Series Assessment: The season series split right down the middle with each team winning twice at home and once on the road; all six games were close except the one 11-5 Cienfuegos blowout in Cinco de Septiembre Stadium in late December. If Abreu hits the way he is capable of hitting and if Industriales doesn't get some quality work out of its secondary starters Darwin Beltrán (10-7, 4.75) and Ian Rendón (5-6, 4.95) this series might not last quite as long as most of the Havana partisans are expecting. Prediction: Cienfuegos in six games
Villa Clara versus Granma
Season Series Results: Villa Clara 3 wins (3-2, 9-4, 8-5); Granma 3 wins (8-4, 8-3, 8-0)
Villa Clara (58-38) Overview: Somehow (mainly because of a boatload of solid pitching) the Orangemen under first-year manager Ramon Moré managed to match Matanzas with the league's top victory total. But Villa Clara doesn't feature the expected profile (on paper at least) of a legitimate championship ball club. There is not a single hitter in their entire lineup that can boast a resume with more than a dozen homers or as many as 60 runs batted in.
Yet if there are no individual "studs" featured in the tame batting order there is plenty of balance, with nine .300 hitters on the full roster and a composite .299 team mark. And when it comes to pitching the Orange have the best arsenal in the entire 17-team league. Alain Sánchez (12-3, 2.69 ERA) was the only double-figure winner but four other regular starters all contributed plus-side winning ledgers. And Moré's pitching staff boasts a rarity for the current-era Cuban League – two top starters (Robelio Carrillo and Misael Siverio) that both throw from the left side of the hill.
Granma (54-42) Overview: For several years now Granma has featured a team handicapped by the league's worst fielding and sloppiest base-running; Granma hangs around in most of its games merely by outslugging the opponents. Despaigne is a multi-dimensional offense all by himself, but even with the loss of Yoennis Céspedes, Despaigne is hardly the only weapon in the Stallion arsenal. Clean-up hitter Yordanis Samón paced the circuit in base hits and also batted .363 (third in the league); Samón was also fourth-best in RBIs and game-winning hits. Ramon Tamayo (13) and Luis Ferrales (11) also both reached double figures in long balls and Urmanis Guerra hit above .300. But pitching was hardly a bright spot: while Alexei Alarcón (10-2) and Leandro Martínez (11-4) both rang up stellar won-lost ledgers, Martínez (2.62) was the only regular starter with a sub-4.00 ERA.
Series Assessment: This was another evenly split series, with each team interestingly enough winning only once at home yet twice on the road. Only one of six matches (the earliest one at Villa Clara in the opening week of the season) was a nip-and-tuck affair. Granma (mainly thanks to some dramatic slugging from Despaigne) survived much longer in the post-season last year than anyone expected, and "el Caballo de los Caballo" will have to produce in a big way once again to offset his team's disadvantages in pitching and defense. Villa Clara featured the best club ERA (.3.40) in the entire league this winter and the Orangemen staff includes half-a-dozen arms that also logged more than 80 innings apiece. Admittedly the Stallions for their part owned the league's second best club batting mark at .302 (trailing only Las Tunas) and were the only team to hit over 100 homers. The universal wisdom, however, is that good pitching – in this or any other league – almost always sinks good hitting in post-season baseball. Prediction: Villa Clara in five games
Las Tunas versus Ciego de Avila
Season Series Results: Las Tunas 4 wins (4-3, 16-1, 4-3, 6-4); Ciego de Avila 2 wins (6-5, 9-2)
Las Tunas (54-41) Overview: Just about every year there is a post-season surprise and Las Tunas definitely has the potential to match what upstart Pinar did last year and what underdog Industriales accomplished one year earlier. If the Las Tunas Leñadores (Woodcutters) hold a slight advantage it comes with their deep if not outstanding pitching headed up by Yoelkis Cruz (13-6, 3.72 ERA), Yudiel Rodríguez (10-8, 4.07) and solid closer Rigoberto Cabrera (12 saves, 2.79).
Juan Miguel Gordo's club can also generate plenty of offense from a balanced lineup featuring Joan Carlos Pedroso (the ninth most proficient home run producer in league history), Alexander Guerrero (21 homers, fourth in the league this season), and veteran Danel Castro (who enjoyed a great comeback season as runner-up to José Dariel Abreu in the batting race). Also not to be overlooked are table-setting right fielder Andres Quiala (with 118 base hits) and slugging catcher Yosvani Alarcón. Veterans Castro (18 seasons) and Pedroso (15 seasons) have not benefitted from much post-season experience over their long careers, but this could be their opportunity for one grand final hurrah.
Ciego de Avila (54-42) Overview: Roger Machado has several large weapons in his arsenal and two of the largest are Vladimir García (perhaps Cuba's best pitcher at the moment) and Yadier Rabi (the island's most durable young arm out of the bullpen and National Series #51 league leader in pitching appearances). Machado was forced to use García on the season's final day in the effort to reach the playoffs and that move will likely cost one start for the Tigers ace in the quarterfinal round – perhaps a decisive factor in a short series.
On the other hand Machado has never been afraid to use García often and also on very short rest. The Tigers manager has often been criticized, in fact, for displaying little confidence in his overall pitching outside of Vlad García, and therefore of going to the well far too often with his overused mainstay. Ciego doesn't have as many outstanding bats as Las Tunas but they do feature Rusney Castillo. Castillo was the league-leader in doubles and a potent .332 hitter, but also the only Tiger slugger to reach double figures in homers (16). As a team Las Tunas outhit Ciego by 30 points overall (.304 to .272) and outslugged them by 30 homers and such a distinct power deficiency could spell Ciego's doom.
Series Assessment: Las Tunas held the regular season edge, winning twice at home and twice on the road. They also overcame Vlad García the one time they faced him, but relief ace Yadier Rabi and not García took the loss in that February game in Julio Antonio Mella Stadium. There is no question that García must get a couple of starts (and win them both) and Rabi must be solid out of the pen to offset the Woodcutter's large advantage in raw power. Las Tunas seemingly has everything going for it in this series, but you can always throw "the book" out the window at playoff time. Also Roger Machado is a much craftier skipper than many in Cuba give him credit for being. This series will likely drag on a lot longer than some of the pundits might surmise. Prediction: Las Tunas in six games
In brief, none of the four series are especially easy to call and all four promise the possibility of expected suspense and unanticipated surprises. It should all be a true delight for fans and a true test for the remaining octet of teams vying to survive the heat of championship competition. Let the games begin.
—–
(*) See Peter C. Bjarkman's posts on his MLB blog.