Cuba: Bicycles May Be on a Comeback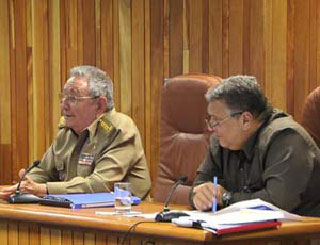 HAVANA TIMES — Faced with a serious public transportation crisis, the Cuban government will implement emergency measures to improve passenger mobility in Havana. One of these measures is encouraging the use of bicycles, a symbol of the dark days of severe economic hardships experienced during the island's "Special Period".
Officials who participated at a recent Council of Ministers meeting chaired by President Raul Castro focused a part of their debates on the transportation system's continued failure to meet objectives and went on to discuss a campaign aimed at restructuring this system in Havana, according to an extensive report published by official newspapers on Monday.
The use of bicycles as a means of alleviating Havana's severe public transportation crisis was one of the proposals advanced by Cuban Vice-President Marino Murillo Jorge, architect of the island's recent economic reforms and head of the Permanent Implementation and Development Commission.
Public transportation issues notwithstanding, Raul Castro told the gathered ministers that Cuba continues to make economic progress and that the results of this are beginning to show: "We are moving more quickly than that imagined by those who criticize the allegedly slow pace of our reforms, and forget the difficulties we face," the Cuban president declared.
Citizen Mobility
Murillo declared that measures to promote the use of bicycles by residents of Havana aims at increasing "citizen mobility" through this means of transportation and announced that the government "will evaluate the possibility of selling spare parts needed to maintain the bicycles at subsidized prices."
Official talks surrounding the use of bicycles invariably bring to mind the economic crisis that lashed the island following the collapse of the socialist bloc and the suspension of Soviet subsidies at the beginning of the 1990s.
At the time, the Cuban government purchased a total of 1.5 million Chinese bicycles in an effort to address the drastic problems that the so-called "Special Period" had brought about in urban transportation. It is estimated that, in Havana alone, some 700 thousand people employed this vehicle on a regular basis to get to work and move around the city during the long decade of economic hardships.
Held last Friday, the Council of Ministers meeting was organized in anticipation of the upcoming regular period of sessions of Cuba's National Assembly of the People's Power, to be held at the Havana International Conventions Center on July 6.
The ministerial cabinet analyzed Cuba's general public transportation problems, which, according to the official report, were primarily brought about by "the technical deterioration of the vehicles and poor management by the Ministry of Transportation and its provincial headquarters, which have been unable to guarantee a prompt supply of parts and spare pieces."
Murillo focused on a description of restructuring measures aimed at the city of Havana, stating its public transportation system has been "unstable, inadequate and low-quality" for years.
Unpaid Fares and Thefts
According to Murillo, the initiative aims at identifying such measures that can improve the country's means of public transportation under Cuba's current economic conditions.
Murillo's report, presented to members of the Council of Ministers, acknowledged such problems as the evasion of fare payments by passengers and the theft of daily takings, perpetrated by a number of public transportation employees with impunity.
"In addition, the management of bus companies, including the Havana Bay ferry system, faces serious deficiencies, exacerbated by the irregular and limited use of trains," the report states.
Murillo added that privately-owned transportation services are also poorly managed, expensive and, in many cases, offered with vehicles that do not meet the required technical conditions.
"The main supplies used in these activities, such as fuel and spare parts for vehicles, are purchased on the black market, whose main supplier is the State," Cuba's Vice-President pointed out. He also acknowledged the problem of traffic jams during rush hours, the sorry state of streets and highways, the inadequate state of many bus stops and deficiencies in public lighting at these locations.
Emergency Measures
The campaign approved by Cuba's Council of Ministers recognizes the need to "prioritize mass public transportation, which are the most efficient and most easily accessible form of public transport." The measures proposed include the following:
Keep Cuba's basic public bus and railway transportation systems under State control.
Look for organizational schemes that can prevent fare evasion and the theft of company takings by transportation employees.
Introduce a new, improved payment scheme for employees and managers.
Set up complementary transportation cooperatives with city coaches, school buses (currently used in different areas of public transportation), transportation for State company employees and private cabs.
Design an incentives mechanism, to include bonuses, tax exemptions and even subsidies, without thereby increasing fare prices.
Create the Head Office for Public Transportation of Havana and re-structure the Metropolitan Bus Company (Empresa de Omnibus Metropolitanos), implementing a new organizational model for the latter.
Create a mechanism whereby self-employed transportation service providers purchase fuel from the State using debit cards.
The creation of another group of 71 non-agricultural cooperatives, to provide State and non-State services alike, was also approved at the meeting. These include 22 retail, food and service cooperatives, 16 small-scale industries, 12 construction associations, two food manufacturing plants, two transportation and 17 ornithology cooperatives.
A first group of 112 State and 12 non-State cooperatives will begin operations in Havana, Mayabeque and Artemisa this Monday, in such areas as construction work, agricultural and livestock product sales, recycling, public transportation, sheet metal work, car washing and tire repair.
Decreased Annual Growth
The first item on the meeting's agenda was the presentation of a first semester report on the fulfillment of the goals established by Cuba's national economic plan. Economy and Planning Minister Adel Yzquierdo Rodriguez reported that the growth of Cuba's Gross Domestic Product (GDP) for the first semester was 2.3 percent, a figure higher than the one reported in last year's first semester.
According to Yzquierdo's report, social services continue "at levels similar to those reported in 2012" and the remaining economic sectors grew by 2.9 percent.
It is estimated that yearend growth will be between 2.5 and 3 percent, beneath the 3.6 percent planned. This is owed, according to Yzquierdo, to the influence of the "international situation in Latin America."
The most significant economic setbacks identified by the production report occurred in the sugar industry, where production fell short of official goals by 192 thousand tons of crude sugar as a result of "deficient use of installed capacities, the breakdown of harvesting equipment and low industrial efficiency."
A six-thousand ton bean production deficit, caused by a general drop in Cuba's agricultural productivity, was also reported at the beginning of the year.
Raul Castro: "Absolute Compliance"
Yzquierdo added that, despite setbacks, the country has saved some US $168 million thanks to the purchase of several products at lower prices in the international market. That said, he also added that, owing to "mismanaged" dealings with producers, an additional US $46 million in products had to be imported.
President Raul Castro took the floor to address the issue of construction work around the country and stressed the urgent importance of demanding "absolute compliance" in this industry.
Castro spoke critically of shanties that have been constructed without government authorization in peripheral urban areas, where the most elementary hygienic and sanitary conditions are missing, and laid the blame for recent cholera and dengue outbreaks on these illegal practices.
Minister for Finances and Prices Lina Pedraza Rodriguez told cabinet members that, as the semester comes to a close, the State budget shows "a slight surplus", primarily derived from taxes.
The minister added, however, that a study of income tax statements submitted in 2012 reveals that tax-payers are "declaring figures lower than their actual incomes and evading taxes, practices which have resulted in losses of several million Cuban pesos."
Children and Taxes
Raul Castro again took the floor to demand stricter discipline in tax-related matters, and called on officials to ensure that "children begin to be taught, at school, the importance of taxes in the redistribution of wealth."
Cuba's Tax Law and its Regulations came into effect around the country last January.
Following these statements, Vice-Chair of the Permanent Implementation and Development Commission Leonardo Andollo Valdes expounded on two proposals aimed at updating the financial mechanisms of Cuba's Central Bank (Banco Central de Cuba) and the Ministry of Domestic Trade (MINCIN).
With respect to new credit policies, the meeting reported that, as of April this year, over 145 thousand loans had been granted to the population, for a total of more than 900 million Cuban pesos (some US $ 37.5 million).
The meeting also reported that, since January, non-rationed sales of liquid gas has been implemented, on an experimental basis, on Cuba' Isla de la Juventud. This measure will be implemented in Havana and Santiago de Cuba in July.