Cuba Broadcasting Still Dishing Out Paychecks
Since the annoucement of a change in US Policy towards Cuba
By Tracey Eaton  (alongthemalecon.com)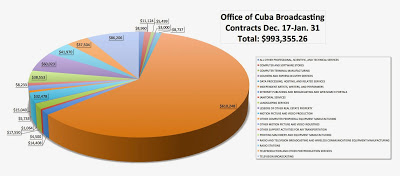 HAVANA TIMES – The Office of Cuba Broadcasting, or OCB, has signed more than 100 contracts worth nearly $1 million since the U.S. and Cuba on Dec. 17 announced they would begin renewing diplomatic ties. (List of contracts is below).
Records show that $8233.34 went to the Phoenix Air Group, which is paid to store Aero Martí, a plane that doesn't fly anywhere.
Aero Martí was meant to broadcast a TV station into Cuba, but the Cubans jammed the signal and the plane was grounded (See "Grounded TV Marti plane a monument to the limits of American austerity").
The OCB has paid the Phoenix Air Group $4,087,706 since June 1, 2010.
The agency continues spending tax dollars on the storing Aero Martí at a time when the national debt is more than $18 trillion and the federal budget deficit exceeds $478 billion (See National Debt Clock).
Money spent on the Aero Martí is a tiny fraction of the OCB budget, which was $26.3 million in fiscal year 2013.
On Jan. 28, Cuban President Raúl Castro demanded that the U.S. government stop broadcasting TV and radio signals into Cuba in violation of international law. Castro told the Third CELAC Summit in Costa Rica:
As I have repeatedly stated, Cuba and the United States must learn the art of civilized co-existence, based on respect for the differences which exist between both governments and cooperation on issues of common interest, which contribute to solving the challenges we are facing in the hemisphere and the world. However, it must not be supposed that, in order to achieve this, Cuba would renounce its ideals of independence and social justice, or abandon a single one of our principles, nor cede a millimeter in the defense of our national sovereignty.

We will not invite, or accept any attempt to advise or exert pressure regarding our internal affairs. We have earned this sovereign right through great sacrifices and at the price of great risks.
The reestablishment of diplomatic relations is the beginning of a process which can progress toward normalization of bilateral relations, but this will not be possible as long as the blockade exists, or as long as the territory illegally occupied by the Guantánamo Naval Base is not returned (Applause), or radio and television broadcasts which violate international norms continue, or just compensation is not provided our people for the human and economic damage they have suffered.
A list of the OCB contracts signed since Dec. 17 are below:
| Vendor Name | Date Signed | Action Obligation ($) | NAICS Description |
| --- | --- | --- | --- |
| XEROX CORPORATION | 30-Dec-14 | $38,553.40 | PRINTING MACHINERY AND EQUIPMENT MANUFACTURING |
| FEDERAL EXPRESS CORPORATION | 14-Jan-15 | $3,000.00 | COURIERS AND EXPRESS DELIVERY SERVICES |
| SPRINT COMMUNICATIONS COMPANY L.P. | 30-Jan-15 | $4,500.00 | COMPUTER AND SOFTWARE STORES |
| AT&T MOBILITY LLC | 14-Jan-15 | $769.99 | DATA PROCESSING, HOSTING, AND RELATED SERVICES |
| AT&T MOBILITY LLC | 14-Jan-15 | -$9,689.65 | DATA PROCESSING, HOSTING, AND RELATED SERVICES |
| AT&T MOBILITY LLC | 14-Jan-15 | $182.97 | DATA PROCESSING, HOSTING, AND RELATED SERVICES |
| SHI INTERNATIONAL CORP. | 18-Dec-14 | $5,499.00 | COMPUTER TERMINAL MANUFACTURING |
| CARAHSOFT TECHNOLOGY CORPORATION | 18-Dec-14 | $6,623.85 | COMPUTER AND SOFTWARE STORES |
| M A FEDERAL, INC | 19-Dec-14 | $5,732.65 | OTHER COMPUTER PERIPHERAL EQUIPMENT MANUFACTURING |
| DIGITAL VIDEO GROUP INC. | 30-Jan-15 | $37,633.35 | RADIO AND TELEVISION BROADCASTING AND WIRELESS COMMUNICATIONS EQUIPMENT MANUFACTURING |
| PHOENIX AIR GROUP, INC. | 31-Dec-14 | $8,233.34 | OTHER SUPPORT ACTIVITIES FOR AIR TRANSPORTATION |
| G B TRACTOR SERVICE | 30-Jan-15 | $17,550.00 | LANDSCAPING SERVICES |
| LADY SLIPPER INC | 30-Jan-15 | $4,500.00 | JANITORIAL SERVICES |
| EVERETT PRODUCTIONS, LLC | 23-Jan-15 | $11,520.00 | INDEPENDENT ARTISTS, WRITERS, AND PERFORMERS |
| FUENTES, YANEL | 27-Jan-15 | $11,520.00 | INDEPENDENT ARTISTS, WRITERS, AND PERFORMERS |
| MONTOYA, JOSE M | 8-Jan-15 | $1,024.00 | TELEPRODUCTION AND OTHER POSTPRODUCTION SERVICES |
| MONTOYA, JOSE M | 27-Jan-15 | $20,480.00 | TELEPRODUCTION AND OTHER POSTPRODUCTION SERVICES |
| MISCELLANEOUS FOREIGN AWARDEES | 30-Jan-15 | $4,875.00 | INDEPENDENT ARTISTS, WRITERS, AND PERFORMERS |
| MISCELLANEOUS FOREIGN AWARDEES | 30-Jan-15 | $4,125.00 | INDEPENDENT ARTISTS, WRITERS, AND PERFORMERS |
| MISCELLANEOUS FOREIGN AWARDEES | 30-Jan-15 | $4,875.00 | INDEPENDENT ARTISTS, WRITERS, AND PERFORMERS |
| MISCELLANEOUS FOREIGN AWARDEES | 30-Jan-15 | $4,875.00 | INDEPENDENT ARTISTS, WRITERS, AND PERFORMERS |
| MUNOZ, LUIS | 30-Jan-15 | $4,875.00 | INDEPENDENT ARTISTS, WRITERS, AND PERFORMERS |
| MISCELLANEOUS FOREIGN AWARDEES | 30-Jan-15 | $4,875.00 | INDEPENDENT ARTISTS, WRITERS, AND PERFORMERS |
| MISCELLANEOUS FOREIGN AWARDEES | 30-Jan-15 | $2,700.00 | INDEPENDENT ARTISTS, WRITERS, AND PERFORMERS |
| MISCELLANEOUS FOREIGN AWARDEES | 30-Jan-15 | $2,100.00 | INDEPENDENT ARTISTS, WRITERS, AND PERFORMERS |
| MISCELLANEOUS FOREIGN AWARDEES | 30-Jan-15 | $2,100.00 | INDEPENDENT ARTISTS, WRITERS, AND PERFORMERS |
| MISCELLANEOUS FOREIGN AWARDEES | 30-Jan-15 | $3,250.00 | INDEPENDENT ARTISTS, WRITERS, AND PERFORMERS |
| MISCELLANEOUS FOREIGN AWARDEES | 30-Jan-15 | $2,100.00 | INDEPENDENT ARTISTS, WRITERS, AND PERFORMERS |
| MISCELLANEOUS FOREIGN AWARDEES | 30-Jan-15 | $3,250.00 | INDEPENDENT ARTISTS, WRITERS, AND PERFORMERS |
| ORLANDO GONZALEZ ESTEVA | 28-Jan-15 | $3,840.00 | INDEPENDENT ARTISTS, WRITERS, AND PERFORMERS |
| MISCELLANEOUS FOREIGN AWARDEES | 27-Jan-15 | $2,080.00 | INDEPENDENT ARTISTS, WRITERS, AND PERFORMERS |
| PATTERSON PROFESSIONAL CORPORATION | 27-Jan-15 | $845.00 | INDEPENDENT ARTISTS, WRITERS, AND PERFORMERS |
| ARCEO, DANIEL D | 27-Jan-15 | $16,640.00 | INDEPENDENT ARTISTS, WRITERS, AND PERFORMERS |
| ALVAREZ, HILDA | 27-Jan-15 | $4,800.00 | INDEPENDENT ARTISTS, WRITERS, AND PERFORMERS |
| COSSIO, MIGUEL | 27-Jan-15 | $3,520.00 | INDEPENDENT ARTISTS, WRITERS, AND PERFORMERS |
| BALLSAL TV PRODUCTION CORP. | 22-Jan-15 | $24,064.00 | INDEPENDENT ARTISTS, WRITERS, AND PERFORMERS |
| FIOL, IGNACIO J. | 22-Jan-15 | $13,312.00 | TELEVISION BROADCASTING |
| GUIMAR GROUP INC | 22-Jan-15 | $9,360.00 | INDEPENDENT ARTISTS, WRITERS, AND PERFORMERS |
| DIAZ, ERICK | 27-Jan-15 | $8,320.00 | MOTION PICTURE AND VIDEO PRODUCTION |
| ZORAYDA, INC. | 22-Jan-15 | $15,600.00 | INDEPENDENT ARTISTS, WRITERS, AND PERFORMERS |
| LOPEZ, RENE | 8-Jan-15 | $320.00 | INDEPENDENT ARTISTS, WRITERS, AND PERFORMERS |
| LOPEZ, RENE | 27-Jan-15 | $17,920.00 | INDEPENDENT ARTISTS, WRITERS, AND PERFORMERS |
| GONZALEZ, ODETTE | 27-Jan-15 | $17,408.00 | MOTION PICTURE AND VIDEO PRODUCTION |
| ALONSO M DALINA | 26-Jan-15 | $9,240.00 | INDEPENDENT ARTISTS, WRITERS, AND PERFORMERS |
| CAMEJO, CARLOS | 26-Jan-15 | $3,000.00 | INDEPENDENT ARTISTS, WRITERS, AND PERFORMERS |
| ALPIZAR, JOSE L | 27-Jan-15 | $22,176.00 | TELEVISION BROADCASTING |
| BLUE PELICAN, CORP. | 8-Jan-15 | $640.00 | TELEVISION BROADCASTING |
| BLUE PELICAN, CORP. | 27-Jan-15 | $17,920.00 | TELEVISION BROADCASTING |
| BARUSA CORP. | 28-Jan-15 | $16,896.00 | INDEPENDENT ARTISTS, WRITERS, AND PERFORMERS |
| FAIRPLAY GRIP LIGHT | 28-Jan-15 | $15,040.00 | OTHER MOTION PICTURE AND VIDEO INDUSTRIES |
| ORLANDO GONZALEZ ESTEVA | 29-Dec-14 | $7,200.00 | INDEPENDENT ARTISTS, WRITERS, AND PERFORMERS |
| ORLANDO GONZALEZ ESTEVA | 27-Jan-15 | $23,040.00 | INDEPENDENT ARTISTS, WRITERS, AND PERFORMERS |
| MARTINEZ, PATRICIA | 29-Dec-14 | $5,760.00 | RADIO STATIONS |
| MARTINEZ, PATRICIA | 14-Jan-15 | $690.00 | RADIO STATIONS |
| MARTINEZ, PATRICIA | 27-Jan-15 | $19,440.00 | RADIO STATIONS |
| PAEZ, MARIA E | 27-Jan-15 | $6,845.00 | INDEPENDENT ARTISTS, WRITERS, AND PERFORMERS |
| BALDA, ADA | 28-Jan-15 | $14,040.00 | INDEPENDENT ARTISTS, WRITERS, AND PERFORMERS |
| PACHECO CABANAS, IVETTE | 28-Jan-15 | $14,400.00 | INDEPENDENT ARTISTS, WRITERS, AND PERFORMERS |
| MORELL, JOSE R | 27-Jan-15 | $9,600.00 | INDEPENDENT ARTISTS, WRITERS, AND PERFORMERS |
| MARTINEZ, RAFAEL JAVIER | 13-Jan-15 | $280.00 | INDEPENDENT ARTISTS, WRITERS, AND PERFORMERS |
| MARTINEZ, RAFAEL JAVIER | 29-Jan-15 | $16,800.00 | INDEPENDENT ARTISTS, WRITERS, AND PERFORMERS |
| AGUADO, ENRIQUE | 28-Jan-15 | $14,407.68 | INTERNET PUBLISHING AND BROADCASTING AND WEB SEARCH PORTALS |
| DARIAS, IDOLIDIA | 28-Jan-15 | $13,400.00 | INDEPENDENT ARTISTS, WRITERS, AND PERFORMERS |
| MARTINEZ, JORGE PEDRO | 28-Jan-15 | $16,080.00 | RADIO STATIONS |
| HUERGA, YOLANDA | 28-Jan-15 | $10,800.00 | INDEPENDENT ARTISTS, WRITERS, AND PERFORMERS |
| REYES GONZALEZ, ADRIEL | 29-Jan-15 | $17,520.00 | INDEPENDENT ARTISTS, WRITERS, AND PERFORMERS |
| MATAMOROS, SEVERINA | 29-Jan-15 | $10,640.00 | INDEPENDENT ARTISTS, WRITERS, AND PERFORMERS |
| SERRANO, WALDO J | 29-Jan-15 | $12,800.00 | INDEPENDENT ARTISTS, WRITERS, AND PERFORMERS |
| ARCE, RAUL | 28-Jan-15 | $2,200.00 | INDEPENDENT ARTISTS, WRITERS, AND PERFORMERS |
| OMAR LOPEZ | 28-Jan-15 | $6,912.00 | INDEPENDENT ARTISTS, WRITERS, AND PERFORMERS |
| MISCELLANEOUS FOREIGN AWARDEES | 28-Jan-15 | $1,300.00 | INDEPENDENT ARTISTS, WRITERS, AND PERFORMERS |
| PINEY, GRACE | 28-Jan-15 | $12,800.00 | INDEPENDENT ARTISTS, WRITERS, AND PERFORMERS |
| MISCELLANEOUS FOREIGN AWARDEES | 29-Jan-15 | $6,912.00 | INDEPENDENT ARTISTS, WRITERS, AND PERFORMERS |
| ORLANDO GONZALEZ ESTEVA | 28-Jan-15 | $1,625.00 | INDEPENDENT ARTISTS, WRITERS, AND PERFORMERS |
| RODRIGUEZ, GUSTAVO | 28-Jan-15 | $2,028.00 | INDEPENDENT ARTISTS, WRITERS, AND PERFORMERS |
| PEREZ, JORGE IGNACIO | 29-Jan-15 | $7,680.00 | INDEPENDENT ARTISTS, WRITERS, AND PERFORMERS |
| LUIS GONZALES | 28-Jan-15 | $8,960.00 | INDEPENDENT ARTISTS, WRITERS, AND PERFORMERS |
| TABARES, CARIDAD | 28-Jan-15 | $9,035.00 | INDEPENDENT ARTISTS, WRITERS, AND PERFORMERS |
| ELIAS, NANCY | 27-Jan-15 | $12,025.00 | INDEPENDENT ARTISTS, WRITERS, AND PERFORMERS |
| GARCIA, LUCIA | 14-Jan-15 | $510.00 | INDEPENDENT ARTISTS, WRITERS, AND PERFORMERS |
| GARCIA, LUCIA | 27-Jan-15 | $16,320.00 | INDEPENDENT ARTISTS, WRITERS, AND PERFORMERS |
| ROQUE, CARIDAD | 27-Jan-15 | $6,720.00 | INDEPENDENT ARTISTS, WRITERS, AND PERFORMERS |
| GARCIA, JUAN J ALMEIDA | 27-Jan-15 | $8,320.00 | INDEPENDENT ARTISTS, WRITERS, AND PERFORMERS |
| HIDALGO, MAGDELIVIA | 27-Jan-15 | $6,912.00 | INDEPENDENT ARTISTS, WRITERS, AND PERFORMERS |
| ARJONA, EXILDA | 27-Jan-15 | $6,400.00 | INDEPENDENT ARTISTS, WRITERS, AND PERFORMERS |
| ROJAS ROSABAL, LUIS | 27-Jan-15 | $13,200.00 | INDEPENDENT ARTISTS, WRITERS, AND PERFORMERS |
| OMAR LOPEZ | 28-Jan-15 | $6,720.00 | INDEPENDENT ARTISTS, WRITERS, AND PERFORMERS |
| PEREZ, JORGE IGNACIO | 28-Jan-15 | $6,400.00 | INDEPENDENT ARTISTS, WRITERS, AND PERFORMERS |
| LAZARO R DOMINGUEZ | 28-Jan-15 | $8,960.00 | ALL OTHER PROFESSIONAL, SCIENTIFIC, AND TECHNICAL SERVICES |
| ORLANDO G PENA | 28-Jan-15 | $6,600.00 | INDEPENDENT ARTISTS, WRITERS, AND PERFORMERS |
| DESCARGA DEPORTIVA | 28-Jan-15 | $6,400.00 | INDEPENDENT ARTISTS, WRITERS, AND PERFORMERS |
| BAHIA AMERICA CORP VISUAL AND WRITTEN SOLUTIONS | 22-Jan-15 | $20,480.00 | TELEVISION BROADCASTING |
| RIOS, ALEJANDRO | 22-Jan-15 | $6,500.00 | INDEPENDENT ARTISTS, WRITERS, AND PERFORMERS |
| GARCIA, JUAN J ALMEIDA | 28-Jan-15 | $8,320.00 | INDEPENDENT ARTISTS, WRITERS, AND PERFORMERS |
| CHARLES PRODUCTIONS US, INC. | 23-Jan-15 | $19,500.00 | INDEPENDENT ARTISTS, WRITERS, AND PERFORMERS |
| MISCELLANEOUS FOREIGN AWARDEES | 23-Jan-15 | $22,100.00 | INDEPENDENT ARTISTS, WRITERS, AND PERFORMERS |
| SILVA, JUAN I | 23-Jan-15 | $2,700.00 | INDEPENDENT ARTISTS, WRITERS, AND PERFORMERS |
| VIEWFINDER PRODUCTIONS | 19-Dec-14 | $0.00 | MOTION PICTURE AND VIDEO PRODUCTION |
| VIEWFINDER PRODUCTIONS | 23-Jan-15 | $6,750.00 | MOTION PICTURE AND VIDEO PRODUCTION |
| EL MIKIMBIN CORP | 28-Jan-15 | $6,400.00 | INDEPENDENT ARTISTS, WRITERS, AND PERFORMERS |
| MISCELLANEOUS FOREIGN AWARDEES | 12-Jan-15 | $2,250.00 | INDEPENDENT ARTISTS, WRITERS, AND PERFORMERS |
| GONZALEZ, GRICEL | 23-Jan-15 | $12,800.00 | INDEPENDENT ARTISTS, WRITERS, AND PERFORMERS |
| PENA, OSCAR | 28-Jan-15 | $1,625.00 | INDEPENDENT ARTISTS, WRITERS, AND PERFORMERS |
| FILMSMITH INTERNATIONAL | 23-Jan-15 | $16,000.00 | TELEPRODUCTION AND OTHER POSTPRODUCTION SERVICES |
| PUERTO RICO PUBLIC BROADCASTING CORP | 17-Dec-14 | $11,677.50 | TELEVISION BROADCASTING |
| HUMAN CIRCUIT, INC. | 8-Jan-15 | $22,389.43 | RADIO AND TELEVISION BROADCASTING AND WIRELESS COMMUNICATIONS EQUIPMENT MANUFACTURING |
| MARCANO, JOSE ALEJANDRO SANTELLI | 9-Jan-15 | $600.00 | INDEPENDENT ARTISTS, WRITERS, AND PERFORMERS |
| HERNANDEZ, MAITE | 9-Jan-15 | $2,560.00 | INDEPENDENT ARTISTS, WRITERS, AND PERFORMERS |
| HERNANDEZ, MAITE | 28-Jan-15 | $16,384.00 | INDEPENDENT ARTISTS, WRITERS, AND PERFORMERS |
| KENMORT PROPERTIES | 15-Jan-15 | $356.50 | LESSORS OF OTHER REAL ESTATE PROPERTY |
| KENMORT PROPERTIES | 29-Jan-15 | $707.25 | LESSORS OF OTHER REAL ESTATE PROPERTY |