Cuba Concert Bridges Differences
By Dalia Acosta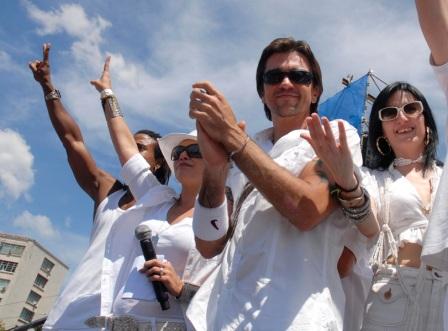 HAVANA TIMES, Sept. 21 (IPS)  – Although it was the target of threats from radical Cuban exiles and the focus of controversy and opinion polls from the moment it was announced, Colombian musician Juanes' idea of staging his "Peace without Borders" concert in Cuba proved a success at promoting understanding, in spite of differences.
Over one million people, most of them dressed in white, for peace, and sheltering from the sun under multi-colored umbrellas, crowded into Revolution Square in Havana, the scene of many political rallies in the last 50 years. This time, however, they were not shouting slogans and waving placards but singing and dancing euphorically.
Although one 35-year-old concert-goer said he found singing about peace in the abstract "too vague," a 30-year-old said Cuba "needs more concerts like this, in the Square, so we can switch off and forget about our problems for a while."
"The cultural barriers are down. All the artists' words were from the heart. They said 'Cuba' and I swear I was shaking with emotion; I felt more Cuban than ever," 20-year-old Amaya Terry told IPS via Twitter.
"Cuba," in its widest national sense, was the word most frequently repeated by the long list of guest artists that included Miguel Bosé, Víctor Manuel and Luis Eduardo Aute from Spain, Jovanotti from Italy, X Alfonso of Cuba and the Orishas group, appearing in their home country for the first time since they left the island 10 years ago.
In contrast to forewarnings from the most radical Cuban exile sectors in the United States, especially in Miami, and in other countries like Spain, not a single comment of explicit support for the Cuban Revolution or its leaders Fidel and Raúl Castro was uttered onstage Sunday afternoon.
Cuban singer-songwriters like Silvio Rodríguez, Amaury Pérez and Carlos Varela simply sang their songs. Most of the political messages came from invited artists from other countries, like Puerto Rican salsa singer Olga Tañón, Bosé, or Juanes himself.
"The peace concert has been held, and anyone who doesn't like it can lump it," said Juan Formell, leader of the Van Van orchestra, in the most direct allusion by a representative of Cuba to the aggressive atmosphere and negative attitudes that surrounded the organisation of the event in this Caribbean nation.
Reconciliation: that and none other appeared to be the main message of this free concert in Havana, at a moment in history often defined as a time of change. "It's time to change," in fact, were the first words spoken by Tañón at the event, and the phrase was later repeated several times by Juanes.
"Music should be able to travel as freely as air, no matter what we think, no matter what our religion. Above and beyond all our differences, we are all brothers and sisters. The future is in your hands: let's change it for the better," said the 38-year-old internationally renowned Colombian singer, visibly moved by the size of the mass audience.
"One united Cuban family," he shouted after over four hours of playing, referring to the many families who have been separated for decades by the conflict between their country and the United States, hardly ever seeing each other and subject to the whims of politics as well as pressure from radical groups.
Hours earlier, Tañón sent a kiss to a young Cuban woman from her father "who hasn't seen you in 20 years."
Although without explicitly stating support for dissidents who wanted him to express solidarity with political prisoners on the island, Juanes dedicated one of his songs to all those "deprived of their liberty, wherever they may be."
The "Peace without Borders" concert in Havana was held on the eve of International Peace Day, celebrated Monday Sept. 21.
According to the winner of 17 Latin Grammy awards, "times have changed" since his first "Peace without Borders" concert, held Mar. 16, 2008 next to the international Simón Bolívar Bridge uniting Colombia and Venezuela. The United States is now "seeking dialogue and other alternatives," he said.
Asked about the event in Havana, another politician who was not mentioned Sunday afternoon, U.S. President Barack Obama, said the mega-concert was organized without Washington's stamp of approval.
"The United States is not a concert promoter. I don't think it's about us giving it our blessing or not. My understanding is that he's a terrific musician. He puts on a very good concert," said Obama in an interview broadcast Sunday by Univisión, the U.S. Spanish-language television network.
"I certainly don't think it hurts U.S.-Cuban relations, these kinds of cultural exchanges," he said, but added, "I wouldn't overstate the degree that it helps."
The greatest demand of the Cuban artists and public was that "Peace without Borders" should be only the beginning of moves to facilitate cultural exchanges between both countries, instead of an isolated event, as has happened with "musical bridges" in the past.
Such was the case of Havana Jam, a sort of cultural crusade organized in March 1979 by the Columbia record label. With Cuban jazz band Irakere as the host group, the Karl Marx theatre in Havana held a three-day recital featuring U.S. performers like Billy Joel, Stephen Stills, Kris Kristofferson and Rita Coolidge.
Twenty years went by before political circumstances allowed a similar event. On Mar. 28, 1999, the same theatre welcomed a veritable parade of U.S. and Cuban artists who had worked together for several days at a creative workshop titled, "Musical Bridge – Puente cultural".
Although access to those concerts was limited by the capacity of Cuba's largest theatre, which seats 5,000 people, Cubans aged around 40 remember other concerts for mass audiences in Revolution Square, but none of them, perhaps, like Sunday's.
"Peace is not the absence of contradictions. It's another dimension. Peace is equality, and equality is justice and rights. Peace doesn't mean we all think the same, in unison. The people of Cuba deserve this concert," Lizette Vila, head of the Palomas project which promotes a culture of peace on the island, told IPS.
Lizette Vila, head of the Palomas project which promotes a culture of peace on the island, told IPS.