Cuba Has New All-Time Hits Record
by Peter C. Bjarkman*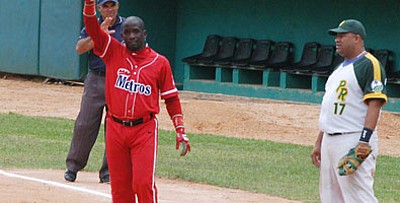 HAVANA TIMES, March 7 — When Enriquito's record-breaking safety finally arrived this afternoon in Pinar's Capitan San Luis Stadium it almost seemed anticlimactic when judged against what preceded it. The long-awaited base hit that nudged Enrique Diaz above Antonio Pacheco didn't carry quite the same dramatic flair as the record-tying single of the previous afternoon – the earlier smash had been doubly historic since it had also broken up a late-inning no-hit pitching masterpiece by Pinar right-hander Reinier Verano.
Today's safety – number 2357 – also doesn't seem to carry quite the same luster since it will only stand as a record number until the next base knock off the bat of the new record holder; hit number 2356 seemed a bit more potent since it had matched a gilded number that had been etched in the Cuban record books for a full decade.
Record hit number 2357 came with Enrique's second trip to the plate in the top of the third inning and was stroked off a delivery from Pinar southpaw starter Julio Martínez – a ringing single to left field that plated Yoel Mestre with the game's first run. But if today's smash didn't have quite the same dramatic overtones, the record-breaking line drive was certainly historic enough in its own right. It left Enrique Diaz with a coveted place atop a record book page where his number one status is almost guaranteed to stand unchallenged for some considerable time to come.
The most notable fact about the newly reshaped Top Ten list lodged in the Cuban record book is the oddity that a full half of the island's most productive batsmen (Enriquito included) never claimed a single National Series batting crown (nor one in the late-year Selective Series either).
Wilfredo Sánchez (1977), Omar Linares (1992) and Luis Ulacia (1987) are the only trio to also wear Selective Series batting crowns. Enriquito and Victor Bejerano are the only pair on the prestigious list with lifetime batting marks below .300, though Enrique for his part is still flirting with the cherished .300 career standard.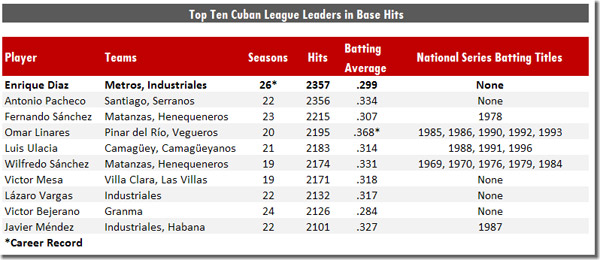 Enriquito's record hit will now take its indelible place in Cuban lore. The number of hits and the size of the lead over Pacheco and the rest of the field will now continue to expand for at least another month and perhaps even another season. The record will remain safe for a number of years as no one in the top ten is currently active.
The new challenger on the horizon will most likely be Yulieski Gourriel (1248 hits over 10 seasons entering the current campaign), but Gourriel still has considerable ground to cover. He trails the new mark by nearly 1100 and will therefore have to maintain his current 120 hits/year pace for another full decade in order to overhaul Enrique.
Diaz's new record therefore holds every likelihood of remaining unchallenged for equally as long as the previous mark by Pacheco (set back in 2002). Enriquito spent a quarter-century getting to the top of the mountain and it now appears he will have a number of additional years to celebrate his newfound status as Cuba's number one hit producer.
—–
*Cuban baseball expert Peter C. Barkman has his regular column at Baseballdecuba.com.