Cuba in Disastrous Initial Caribbean Series Outings
Peter C. Bjarkman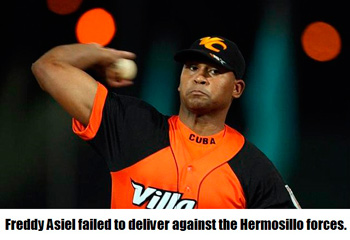 HAVANA TIMES — So far it hasn't been very pretty for the Cuban partisans and it is indeed quite an arduous task to find any small positives in Cuba's initial two outings at the fifty-sixth edition of the Caribbean Series.
Early prognostications (including my own) suggested that any successes for the Villa Clara ball club on Isla Margarita would have to be a product of the team's formidable stable of solid starting pitchers, but so far the Cuban pitching has been anything but adequate to the challenge.
Three top national team starters – Freddy Asiel Alvarez, Ismel Jiménez and Norge Luis Ruiz – have labored through 7.1 innings and been pounded for 15 base knocks resulting in a dozen enemy runs (11 earned).
The usually solid Cuban defense has already committed four errors (a pair of wild throws by outfielder Despaigne and pitcher Alvarez in the opener, plus a pair of infield boots by Gourriel and Borrero on night number two). And while the offensive hasn't been entirely dormant to date, each game has witnessed only one serious Cuban uprising (two runs in the fifth against Mexico and four in the same frame versus the Venezuelans) during the full 18 innings so far played.
The results have therefore been all-too predictable: two one sided defeats, a huge and embarrassing underperformance in what was early-on billed as a triumphant return to the showcase Series after more than a half-century's absence, and a daunting hole out of which Ramón Moré's ball club must now climb in order to avoid Cuba's second sub-.500 performance in thirteen total outings.
The third-place 1955 Almendares team managed by American Bobby Bragan stumbled to a 2-4 mark, ironically also on Venezuelan soil in Caracas. In order to evade a truly humbling winless scenario, and more importantly to survive into the semifinal round, this year's Cuban outfit must now upend either Puerto Rico (Tuesday) or the Dominican Republic (Monday).
A single victory could still bring a playoff slot at week's end, but only if the team Villa Clara manages to defeat also drops both its matches with Mexico and host Venezuela. This is the lone possible scenario on which fading Cuban hopes now cling, although admittedly it is not a very promising one.
Several curiosities attached themselves to Villa Clara's lid-lifting outing versus Mexico's Hermosillo Naranjeros on Saturday evening in Guatamare de Porlamar Stadium. Both competing clubs wore uncommon orange jerseys and bore nicknames touting a local provincial industry of orange harvesting.
The Mexican outfit boasted in its starting lineup a pair of ex-Cuban League "defectors" in the persons of infielder Yuniesky Sánchez (Matanzas, also a member of the Spanish entry in the most recent World Baseball Classic) and outfielder Luis Yadier Fonseca (Isla de la Juventud). And of greater historical significance, this was only the second Cuban squad to perform in the Series with a pure lineup of domestic players only.
The other all-Cuban entry was the unbeaten championship 1960 Cienfuegos club managed by Antonio Castaños which boasted an all-Cuban lineup after major league officials had barred North Americans from the Cuban league in the immediate aftermath of the Castro Revolution.
Since the 1970 launching of the renewal second phase in Caribbean Series play no winter league champion from either Mexico, Puerto Rico, Venezuela or the Dominican Republic has ever featured a roster composed solely of home-grown and home-trained baseball talent. Imported mercenary talent is the name of the game in Latin American winter league competitions.
If Cuba's rare all-domestic line-up offered an opening night novelty for Caribbean Series play it certainly didn't add a winning formula. The import-heavy Mexicans (with two Americans and two Cubans among the eight position players) quickly jumped on ace starter Alvarez for a pair of first-inning tallies, then wasted little time in salting the contest away with two more in the fourth and a devastating five-run explosion in the fifth.
The Cubans briefly crept back into the game with a pair of long-balls off the bats of Alfredo Despaigne (a solo shot leading off the second) and Yuniet Flores (a two-run blast in the fifth). Both homers were surrendered by Hermosillo's big-league starter Alfredo Aceves (30-14 lifetime with the New York Yankees and Boston Red Sox), but the five-run fifth-inning cushion was enough to allow Aceves to coast through seven frames in claiming the victory.
Cuba's bullpen only seemed to pour gasoline on an already raging fire in the middle frames when Ismel Jiménez surrendered a door-opening fifth-inning double to ex-Cuban Leaguer Sánchez (following by a run-producing single and another tally-producing sacrifice fly). His replacement Roberto Carrillo was also slammed for three fifth-inning safeties including a round tripper by center fielder Chris Roberson (the ultimate Mexican hitting star with four base knocks – two of the extra-base variety – and four RBIs on the evening).
Cuba's lone additional tally came in the visitor's ninth off reliever Mario Mendoza when DH Ramon Lunar singled home Alfredo Despaigne with a futile marker that was a classic case of "too little too late."
Saturday's slow start was duplicated Sunday evening against Magallanes when Moré's club again dug itself an early hole after grabbing its only brief lead in the top of the second (thanks to an RBI infielder roller off the bat of backstop Yulexis La Rosa).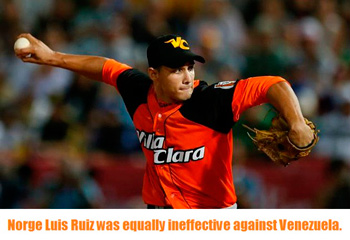 The host Navegantes immediately knotted the contest in the home half when Adonis García's two-out single up the middle plated a run, but further disaster was temporarily dodged when a second base runner (Ramón Hernández) was gunned down at the plate on the very same play.
If 19-year-old starter Norge Luis Ruiz escaped one uprising in the second he also quickly crumbled in the third in the face of a three-run onslaught highlighted by a two-run single off the bat of Hernández. Endy Chávez's two-run long ball stroked against Jonder Martínez in the fourth was enough to effectively put the game well out of reach, although the Cubans did tighten things temporarily with a four-spot in the top of the fifth.
The hitting stars in Cuba's lone effective rally were Yordan Manduley (a two-run triple) and Yulieski Gourriel (a follow-up RBI double). The game was eventually iced when the Navegantes struck twice more against relievers Diosdani Castillo and Vicyohandri Odelín on the strength of three well-placed base knocks and a timely sac fly off the bat of first baseman Mario Lisson. The official pitching victory went to reliever Deolis García (who worked only the sixth frame) and closer Jean Machi was credited with the save.
Falling behind early, constantly battling from behind, committing four sloppy errors in two outings, surrendering 27 hits over 16 innings, and having neither of your starters work beyond the fourth inning – none of those scenarios hold the keys to any reasonable chance for victory.
Cut it any way you like and it is evident that the Cubans have been so far rather thoroughly outclassed by their rival winter league opponents. And from at least an historical perspective, the two most challenging rivals are still yet to come.
There have admittedly been some unsettling off-the-field circumstances surrounding the two disappointing opening contests. Saturday's inaugural match kicked off more than a full hour late due to the tardy pageantry of long drawn-out opening ceremonies; the Cubans then entered Sunday night's affair against bitter rival Venezuela perhaps a bit rattled by an ugly afternoon incident involving a thwarted small-scale tourist attack at their team hotel. But none of this off-the-field distraction was sufficient to erase the fact that so far the Villa Clara squad has failed rather miserably to arise to the occasion of the on-the-field challenge.
And there have also been a few rather tantalizing mysteries surrounding these opening two games. It was assumed in most quarters that Ismel Jiménez (top Team Cuba starter for the Japan WBC last March) would be on tap as either a Game 2 or Game 3 starter; yet surprisingly Ismel was quickly and ineffectively rushed into emergency use in the early innings of the opener as skipper Moré's first bullpen option.
There had been considerable speculation as well that Cuba's young starting pitching (especially Freddy Asiel and Norge Luis) might receive a huge boost from being handled by wily veteran Ariel Pestano, now back in the Villa Clara fold. It was after all Pestano who was behind the plate for all 40-plus-straight scoreless frames engineered by Freddy Asiel during last year's post-season championship run.
But Pestano did not get the starting nod in either contest and has made but a single token Game 2 ninth-inning appearance so far. It may not be long before the hue and cry may once more be raised (justly or unjustly) about a much-speculated shunning of Ariel Pestano by his former manager Victor Mesa (now again on hand in Venezuela as the team's technical director).
In short, what was earlier ballyhooed as a potentially glorious return by the long-absent Cuban forces to the Caribbean Series field has in the space of a mere two days now rapidly degenerated into something of an unanticipated nightmare. And it is a nightmare that will only grow worse on the home front if Cuban pitching and Cuban slugging doesn't suddenly rise to the occasion with at least one solid outing and with at least a face-saving backdoor entry into this weekend's semifinal championship round.