Cuba: Mobile Data Packages and Connection Strategies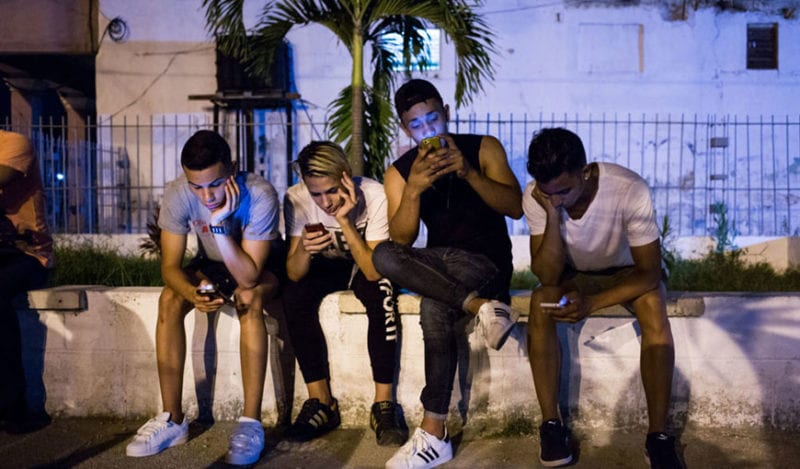 By Glenda Boza Ibarra (El Toque)
HAVANA TIMES – "Turn off automatic updates. Turn off autoplay of videos. Don't authorize apps to download content. Install "lite" versions of apps. Turn on mobile data saving functions. Stop apps from updating in the background. Install a firewall… Then, buy a data package."
This was what 59-year-old Migdalia was told when she asked her neighbor what she needed to do to get Internet on her phone.
"Just imagine my face when I was given all these instructions," she says. "I've not even had my phone for a year now and I only know how to make calls, check my emails and send messages."
Migdalia says that her neighbor's instructions made her feel old and useless. "Just as well he saw my shock and put everything I needed on my phone. Now, I can connect with my children in Uruguay regularly."
Ever since December 2018, when ETECSA launched its Internet service with mobile data, 1,870,000 users (35% of Cuba's active phone lines) have connected in this way.
The extremely expensive service has meant that Cubans have found ingenious ways to save money and make their packages last longer.
LIGHTER VERSIONS OF APPS, LITERALLY
"Today, cell phones are made to be connected to the Internet. When apps are connected to the Internet, they update on their own and many people don't know how to control this," points out Yunior Gutierrez, the owner of Movil 3G in Las Tunas.
He tells us that many people came to him in the first few days because their data was being used in less than a week. They immediately understood that there was a new way to do business. "For 2 CUC, we install apps to manage mobile data usage and to control Internet connections. Firewalls are what we use the most, as well as others that allow you to use less data such as Datally, Datamanager."
Facebook, Messenger, Instagram, Twitter, Firefox, in their "Lite" versions, are some of the apps that all Cuban phones with Internet access using mobile data have (or should have).
According to ETECSA's own statistics, 5,000 new users are signing up to this service every day and, in late February, 40% of them had an active package.
With this gradual increase in internet users, Cuba's software developing community has made the most of this to launch various apps that use mobile datas, whether they use your location (Bajanda, Sube, Taxi Libre) or to help users manage their packages.
"DatosCuba" is an example of the former, an intuitive app that allows you to manage data and buy the mobile data service.
"There was only an iOS version of the app. We made one for Android phones and it has been downloaded over 10,000 times on the platforms it's available on," network manager and one of the developers, Osvel Alvarez Jacomino, told us.
"However, it did work fine throughout the first month but we have had reports of irregularities in some places and at certain times of day," Carlos Javier Acosta Miranda, another one of the app's developers, explained.
Other older apps that are popular among Cubans, such as ETK and QvaCall, have updated their versions so users can now see how much data they are using.
WAYS AROUND
While it's true that access has increased among the population (56% of Cubans connect to the Internet today, when only 30% connected four years ago), the majority still connect at their workplaces and schools/universities. Surfers' experiences on the web are limited to .cu (Cuban) domains only, in some cases, and some sites are blocked, according to what the government decides.
"I read elTOQUE and other pages using a proxy (a server that allows you to access blocked sites)," Pedro says, a student at UCI. "Management at schools, institutions and companies censor sites they believe belong to the press, social media, free international email services, etc."
There are also other websites that have been blocked in Cuba because of US restrictions. Making a mockery of (internal and foreign) blockades in Cuba, users practically need to use a proxy server or a virtual private network (VPN).
"Sometimes, web administrators discover what the VPN or proxy server that is being used the most in a certain place and then these are also blocked," the future I.T. engineer continued. "Luckily, there's always one available to help you out.
Cubans also take advantage of their mobile data to share it and use it on both their phones and computers. Firewalls such as Tethering, TinyWall or GlassWire are the programs most used on Windows.
"It's very easy to share the connection and work on your laptop," a user on the Telegram network said. The bad thing about this is that you need have all your firewalls configured properly so that your computer doesn't consume all of your data package in a matter of minutes when you connect to the Internet," he warned.
In an appearance on Buenos dias, Eliecer Zamada, the head of the wireless group at ETECSA, said that one of the tricks that users use to connect up to the Internet, is to use devices that only have access to the 2G network.
"Many users have devices that have 3G and, when they register on our page, they receive a message that allows them to buy packages," the official explained.
This "scam" of the telecommunication monopoly's service is one of the latest services that private cellphone business owners are offering.
"I use my own phone to put Internet on mobile phones," a telecommunications engineer said. "Many people complain about the slow connection, but it's an alternative for people who don't have a 3G phone. Plus, there are areas outside of larger cities where there isn't a lot of traffic and 2G works fine," he pointed out.
Zamada himself confessed, on national TV, that he was taken aback by this phenomenon: "It wasn't something that we could analyze and plan for because this isn't a common practice in the rest of the world."
INTERNET… BETTER YET, "INTERNET"
According to the Alexa ranking, the top 5 visited sites by Cubans include Google, Facebook and Youtube. 60% access these sites on their computers, whether that's at internet rooms, schools/universities or work.
Almost nobody uses their mobile data connection to use these popular services freely. Doctor Magdalena Rivero believes that Internet access using mobile data in Cuba is practically a joke.
"When I bought this service for the first time, I thought it would be a more satisfying experience," she says. "I was on a mission in Africa years ago and there I could watch videos on YouTube and download them, surf websites freely, etc. Now, I can only send messages to my daughter in Italy and check Facebook. I don't believe we can call this the "Internet"."
Yusnely Llano Gonzalez, the Director of Wavelength Management at Etecsa highlighted the fact that mobile data services are charged by volume (how many megabytes you consume) while, permanent Nauta accounts (WIFI, internet rooms, Nauta Hogar) are charged based on time.
"That means that if a customer wants to consume a lot of megabytes (downloading or uploading videos, etc.) we advise them to move to a Nauta account," she advised.
"You have to spend money left, right and center if you want to connect to the Internet," I.T. graduate Nixys Baez says. "I go to the WIFI spot when I don't have any other choice because it isn't comfortable there and you don't have any privacy."
"My mobile data doesn't even last me 20 days. I use them to make videocalls and to keep in touch with friends and relatives, more than anything else.
Although many users say they consume their mobile data before the 30 days they are valid, others claim that if Etecsa allowed them to manage them properly, every package could be stretched out to last a couple of months.
"Why are they forcing us to consume our megabytes in 30 days?" users ask on Cubadebate. "I can easily stretch out my 1 GB [package] to last 3 months, using 300 Mb per month."
Similarly, ETECSA customers are asking why they can't use some of their top-ups from abroad to buy packages or be able to sign up for the mobile data rate.
"I can't afford these packages," Angela, a History student at Cienfuegos University, tells me. "With the email grant (50 Mb for 1 CUC), which needs to be used up in a month, I check Nauta, I connect to ToDus and I chat with people I know abroad on Siju (an instant messaging app that works via Nauta email accounts)."
Doing the math, other users would prefer to not have any credit on their phone and buy a mobile data package instead. Calls via messaging platforms such as Whatsapp and Telegram are a lot cheaper than those normally made using Etecsa's voice services.
"The math is simple. If you have a 3G phone, you can save credit using the Internet," says Gabriela M. Fernandez, a writer on the Fonoma blog.
"Today, many "telcos" (a term used to refer to a large telecommunications company) often offer free SMS messages and calls, or significanly cheap, tempting family plans or offers for international communication. But, competing with Whatsapp et al. has never been the solution," she concludes.
YOU DISCONNECT SO I CAN CONNECT USING MOBILE DATA
In the beginning, many people stressed the quality of the Internet service using mobile data. Even though people were constantly complaining about the price everywhere, users said that the connection speed was "acceptable".
Even so, most people connected at certain times of the day, on certain social media networks, in order to save data.
"I connect using my data three times a day," a user called Venom commented on Telegram. "I load apps like Whatsapp, Messenger, Twitter and Telegram and I get all the notifications through simultaneously. I then disconnect. Then I read them and answer. Then I connect again for a few minutes and my answers get sent. I disconnect again. A few hours later, I do the same thing."
"It seems hard, but people can save their data this way," he continues. "It's only complicated when the connection is bad because then it takes a long time for notifications and messages to come through first, and then to send."
In recent weeks, the quality of Internet connections using mobile data has been declining, especially in densely-populared areas. Radiobases are saturated and this leads to an irregular and slow connection, not only using mobile data, but also for calls and sending messages.
"The number of users has grown exponentially and in recent days, randomly. The Control Center has begun to detect spikes in high traffic outside the parameters," Arelys Gonzalez Fernandez, the director of Etecsa's institutional communication, told Granma.
"We are working at 160% of our capacity," Eliecer Zamada explained. "In order to counter this situation, we are beginning to install microlocalized radiobases in areas of high demand."
He added that they have also been running 4G trials in northern Havana in an attempt to divert some of today's traffic.
Yusnely Llano Gonzalez, the Director of Channel Management at Etecsa, asked customers to trust them and assured that constant investments will allow them to improve traffic quality in the network.
"Services have always started out with high prices (activating a line, Internet access, etc.) and then they fall," she pointed out. "The time will come when we will launch other packages with other features."
Do we have to wait to see… or to connect?