Cuba Opens WBC with 5-2 Win Over Brazil
By Circles Robinson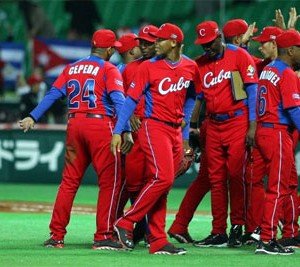 HAVANA TIMES — Hitless into the fifth inning of its debut WBC III contest, Cuba was locked in a 0-0 tie with Brazil thanks to the work of starter Ismel Jimenez. Then the islander's shortstop, Erisbel Arruebarruena, broke the ice with a single and also accounted for the first run of the game, reported Baseballdecuba.com.
Arruebarruena, 22, is one of Cuba's new faces in Classic play. He had a big first game as he followed with a two-run bases-loaded single in the sixth that gave Cuba some insurance runs that proved needed.
Jimenez picked up the victory going 4.2 innings (the first round WBC pitching limit is 65 throws) with good control including 6 strikeouts. He allowed 4 hits including a double and one hit batter.
The most complicated inning for Jimenez was the bottom of the second when he gave up a one out double to Tiago Magalhaes and a single to Juan Carlos Muñiz to put runners on the corners. But the right hander managed to strike out Diego Franca followed by Muñiz being thrown out by Eriel Sanchez trying to steal second.
Andre Rienso was the Brazilian starter that had the Cubans hands tied although he did have some early control problems allowing two walks in the first inning. After a walk leading off the third inning to Alfredo Despaigne, Rienso retired nine batters in order until Arruebarruena started the Cuban rally in the fifth. Rienso ended up going 4.2 innings allowing two earned runs on one hit, four walks and a hit batter.
The Cubans scored three more runs in the sixth off relievers Gabriel Asakura, Hugo Kanabushi and Kesley Kondo, led by a run scoring infield grounder from pinch hitter Raul Gonzalez and the two-run single by Arruebarruena.
Brasil had its best inning in the bottom of the sixth after putting the first two runners on base against reliever Freddy Asiel Alvarez on a walk and fielding error by first baseman Jose Abreu.
A passed ball allowed the runners to move to second and third and a single by Daniel Matsumoto knocked in the first run. Third baseman Reginatto scored the second run one out later to end the game's scoring.
Twenty-Three year old reliever Raciel Iglesias picked up the save for Cuba pitching well over the last three innings. He gave up a would be double to Cuban-born, nationalized Brazilian, Juan Carlos Muñiz, who missed touching first base and was called out. From that moment on Iglesias cruised striking out five and allowing only one hit.
With the loss, Brazil, which lost another tough game 5-3 to Japan in its opener, is eliminated but leaves a very good impression in its first WBC appearance. They still have a game against China in hopes to pick up a first victory.
Cuba's next game is on Monday afternoon (2:30 a.m. ET) against China followed by its final round one contest on Wednesday vs. Japan at 5:00 a.m. Cuban time. A win over China would qualify Cuba for the second round of WBC play.
OTHER GAMES
In other WBC games played on Sunday, Chinese Taipei shut down Holland with a 8-3 victory, allowing only one hit. Meanwhile, Japan defeated China 5-2 in what was a closer game than expected.