Cuba: Playing Chess with Living Pieces
Photo Feature by Janis Hernandez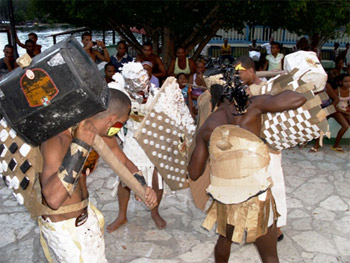 HAVANA TIMES — On Granma Cay, an islet in the middle of Santiago de Cuba Bay, sits a fishing village isolated from city living. Nevertheless this hasn't stopped the residents from enjoying artistic life. To see their community projects — with their costumes and props — people take boats to get there.
This time the cay's inhabitants welcomed the Allegro Theatre Company. With their fertile imaginations and enthusiasm, the group demonstrated that even with their limited resources they could create art – and create it well.
They combined several elements: body painting, physical theater, "happenings" and performance to produce an interesting drama in which they played a game of chess using the bodies of the performers.
The two players, who came from among the audience, had to move their human chess pieces by ordering them around on the board. The figures, according to where they were placed, took on attitudes of attack or defense.
Through this, the audience and the actors interacted until the final checkmate ended the show.
Here we present this photo feature with shots that evidence the sense of humor of these artists as they combine the visual and the performing arts.

Click on the thumbnails below to view all the photos in this gallery. On your PC or laptop, you can use the directional arrows on the keyboard to move within the gallery. On cell phones use the keys on the screen.