Cuba Policy Pads Many Pockets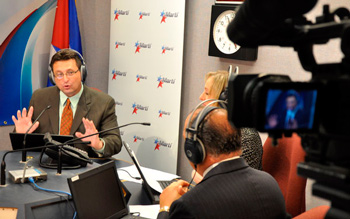 HAVANA TIMES — When people ask why does the US trade embargo and travel ban on Cuba exist more than 20 years after the end of the Cold War one of the most savvy answers is pointing to all the individuals and groups that benefit from hundreds of millions of black hole funding without having to show much in return.
Tracey Eaton, who publishes the alongthemalecon website has done extensive research following the money trail of funds allotted by Congress and other US government sources, supposedly to force "democracy" on neighboring Cuba.
Yesterday he published one more example of how so many people have a vested interest in a no-change policy towards Cuba that goes against the grain of polls that show how a growing majority of US citizens, even Florida residents, think it is time to normalize relations with the Caribbean island.
Fat Salaries for Cuba Broadcasting Employees
By Tracey Eaton (alongthemalecon)
Even during tough economic times, the Office of Cuba Broadcasting has lavished big salaries on its employees in Miami.
Its 119 employees earned an average of $99,275 in 2012. Their salaries totaled $11,813,725, which was 42 percent of the OCB's $27.9 million budget.
Employees' average salary of $99,275 amounted to $395.51 per day (based on 251 working days in 2012). That's easily more than double the monthly salary of most U.S. government-financed dissidents in Cuba.
The figures, which are the latest available, do not include $48,000 in bonuses or money paid to contractors in the U.S., Cuba and other locations. (See full list of salaries below).
The Office of Cuba Broadcasting isn't the only government operation that pays well. US government salaries have soared above that of private-sector workers over the past decade. As a result, according to the Cato Institute:  "The average federal civilian worker now earns 74 percent more in wages and benefits than the average worker in the U.S. private sector."
The top paid employee at the Office of Cuba Broadcasting in 2012 was the director, Carlos A. García-Pérez, who earned $170,000.
Rounding out the top 10 were:
    Patrick Folts: $155,500. Listed as chief engineer.
    Irvin Rubenstein: $155,500. Director of administration.
    Guillermo Santa Cruz; $155,500. A general manager who resigned in 2013 to join IMG.
    Feliciano M. Foyo, $145,701. George W. Bush nominated him to the OCB advisory board in 2002. He is a certified public accountant and treasurer of the Cuban Liberty Council. Luis Posada-Carriles, a former CIA operative convicted in Panama of attacks and bombings related to Cuba, has said Foyo was one of his financial backers.
    Adam M. Lindemann, $145,701. He is a co-founder of Mega Communications, a privately owned Hispanic radio company. His bio says he "grew up in a wealthy family and went to grade school in Manhattan…" Bush made him a member of the advisory board on May 28, 2004. It was a recess appointment, which some government watchdogs regard as controversial. (See "Recess Appointments Made by President George W. Bush").
José A. Costa Jr., $145,701. A Cuban-born businessman and member of the advisory board.

Joseph F. Glennon, $145,701. A retired Foreign Service Officer and advisory board member.
Robert H. McKinney, $145,701. Bush appointed McKinney to the board in March 2004. At the time, he was a banker, lawyer and chairman of First Indiana Corp. He told a reporter: "I have long been interested in the relationship between Cuba and the United States. I look forward to serving on this most interesting board."
Christina M. Sanson, $132,995. Listed as director of programs for Radio and TV Martí.
Salaries for the advisory board alone totaled $728,505. Appointments are for three years and members may serve multiple terms.
This is the full list of 2012 salaries for Office of Cuba Broadcasting employees in Miami. (See PDF).