Cuba Prepares for Rio 2016 Olympics
By Ronal Quiñones
HAVANA TIMES — Following the debacle of finishing fourth in medals at the Toronto Pan-American Games, Cuban sports look to the Olympic Games to be held in Rio de Janeiro from August 5 to 21 this year with some reservations.
Cuba closed the year 2015 closed with seven world champions, and the total number of gold medals won at the Brazilian capital should not exceed that figure, but they could well be less, for Olympic competitions are always more demanding, and history is full of world champions that ultimately failed at this most important of sporting events held every four years.
To date, there are 43 Cuban athletes who have qualified to take part in the summer Olympics, and the island aspires to put together a delegation of over 100 (270 athletes still aspire to participate). Of these, however, there's probably no more than 20 who truly have the talent to make it to one of the steps of the podium.
To date, the sports categories Cuba is to compete in are athletics (21 participants), target shooting (7), boxing (6), rowing (3), pentathlon (2), Greco-Roman wrestling (2), canoeing (1) and gymnastics (1).
In the case of athletics, the Cuban Sports Federation is asking athletes for performances superior to those required by the International Olympic Committee (IOC), such that they will compete among the eight best of their respective specialties. Ultimately, however, we have seen that these conditions are not met and, in order to have a larger delegation, Cuba tends to include everyone, even if they're unable to reach the finals.
According to Vice-Chair of the Cuban Sports Institute (INDER) Jorge Polo, Cuba's aim is to remain among the 20 top countries and, to achieve this, it must at least offer a performance comparable to that seen in London 2012, where it secured five titles, three silvers and three bronzes, ending up in fifteenth place.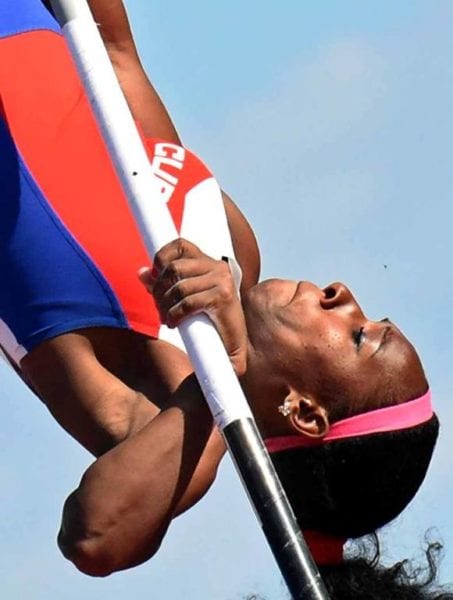 Boxing should once again earn Cuba its largest number of medals. In 2015, Cuba's so-called "flagship" sport managed to reclaim the title by team at the Doha World Championship, an award it hadn't secured for a decade. The island has serious contenders, such as three-time world champion Lazaro Alvarez (in the 60 kg division) and Julio Cesar La Cruz (81), as well as others who could bring home new medals, such as Arlen Lopez (75), Yasnier Toledo (64) and Yosbany Veitia (52), to name only the most prominent pugilists of recent times.
Another gold medal candidate is two-time Olympic wrestling champion and five-time world champion Mijain Lopez (130 kg), who was unable to take the crown in the most recent world championship. There, his compatriot Ismael Borrero (59) shone, but it remains to be seen whether he will be able to offer a similar performance in Rio. Cuba also hopes that, in freestyle wrestling, Reineris Salas (86), Livan Lopez (74) or Yowlys Bonne (66), all world champions in their respective disciplines, will be able to contribute to Cuba's medal total.
Cuba's most promising track and field athletes include disc-thrower Denia Caballero, pole-vaulter Yarisley Silva and triple jumper Pedro Pablo Pichardo. The rest will likely be there just to fatten up the crowd, as they say in Cuba.
The silver and bronze medals won by gymnast Manrique Larduet at the past world championship makes the island dream that, this year, it could finally have an Olympic medalist in this demanding discipline, but we will have to see how the 19-year-old fares under such pressure.
In the disciplines of Tae Kwon Do, target shooting and rowing, Cuba also appears to have potential, but the island will be hard pressed to win a gold in any of these, and that is the only medal that ultimately determines one's place on the board.
Though Cuban fans dream of seeing past glories return, they have their feet firmly planted on the ground, as we were able to confirm recently.
For Javier, a barman in Havana, the most important thing is to encourage the participation of Cuban athletes in all classifying tournaments. "This is the most important thing. We know that working with athletes from other countries or training abroad is more complicated, so at least going to classifying rounds should be guaranteed. The rules of many sports are constantly changing and you have to adapt, as well as study your opponents more closely. We've lost more than one medal at different competitions for lack of this."
"This whole thing started out badly," Hector Manuel says, "the selection process for several sports didn't start this year, and we've missed several tournaments that grant points for the world ranking. International contracts are very good, but we've only just started and we won't be able to take advantage of that experience in Rio. What's more, most contracts aren't for Olympic sports."
"I like the fact they've at least shied away from cheap triumphalism," Heidi comments. "Polo already stuck his foot in it in Toronto. We've moved backwards, and I don't think we'll ever have a performance like at Barcelona (where we came in fifth place)."
According to Rainer, Cuban high performance sports has recently run into difficulties at major competitions: "the lack of efficiency in the finals, lack of planning during training and scant psychological preparation. This is coupled with the fact many don't have access to optimal equipment and are at a disadvantage in this respect."
"Don't forget about talent theft," says Deiver. "Now that there are contracts abroad, that's stopped a bit, but there are many athletes and trainers who aren't making a contribution to Cuba, and that's being felt now."
"Look," Hector Manuel replies, "those are isolated cases. I don't think anything like that is happening outside of baseball today, the people who have left, none are potential Olympic medalists, and they probably aren't even practicing sports abroad. I'm sure all the athletes who stayed in Toronto simply wanted to live better. They weren't champions down here."
Opinions differ, but the facts will only be known in August. We can only be certain that Cuba will add some medals to its collection of 209, consisting of 72 golds, 67 silvers and 70 bronzes. How many of each it will win, that we will only know at the Olympics.