Cuba Relaxes Self-Employment Regs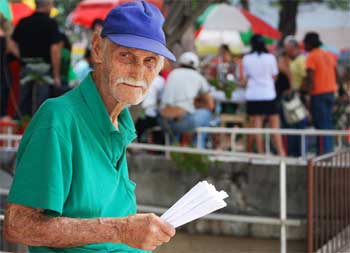 HAVANA TIMES, Sept. 11 — The Cuban government issued two ordinances that relaxed regulations, tax rates and licensing fees for "self-employed workers," an approach that seeks to absorb a half million people who will be laid off from government enterprises.
Among the measures adopted are the expansion of the number of authorized activities, the exemption of the elderly from paying into Social Security, fee reductions on some licenses, the waving of tax payments for some independent workers and changes made to facilitate the hiring of employees.
The measures seek to give a boost to this alternative form of work, which has tripled since this past October when its expansion was authorized. However, this same growth has generated greater competition and reduced the earnings of many self-employed individuals.
The measures taken
Perhaps one of the fairest changes is the one that relinquishes "female workers who are 60 years of age or older and male workers 65 years old or older from the obligation of paying into Social Security."  In fact, they will receive refunds for what they contributed into that system to date.
Another important measure, especially in terms of small business growth, is the one that "exempts the payment for fees accrued by small business owners for their first five workers hired between July 2011 and December 2011."
The government has also decided to reduce the monthly minimum tax on room rentals in private homes by 25 percent, in addition to authorizing owners to temporarily suspend payments on their licenses when carrying out repairs, something that will also benefit private transportation providers.
The capacity permitted in private restaurants has now been increased from 20 seats to 50, which will allow their capacity to grow at a time in which many of them are feeling the weight of competition, since most of the new businesses are in food services.
Transportation 
For independent businesses that carry out "the transport of cargo using draft animals, a minimum monthly consolidated tax of 30 pesos (about $1.10 USD) will be established," and when they provide services to the government they will be exempt from paying taxes.
Drivers who provide passenger transportation using horse-drawn wagons will be able to deduct up to 40 percent of their annual revenue as expenses, which will mean a decrease in their monthly minimum taxes.
This measure takes on great importance for transportation services because in the provinces, including their capital cities, the bulk of passenger transport is carried out by these horse-drawn wagons.  Moreover, there have already been some protests by drivers over the amounts required for taxes and licenses, which they considered excessive.
It's not like before 
The licenses and taxes that existed before this latest opening were for a limited number of people, around 100,000 people.  Some of these individuals — as the owners of restaurants and inns — earned relatively large sums of money that allowed them to pay what the government requested without problems.
However, the new reforms increased the number people engaged in independent work to around 300,000, thus increasing the competition and substantially reducing the profits of those businesses previously in operation, especially in sectors like the food services, transportation and room rentals.
The competition has been so fierce that the owners of private restaurants (popularly known as paladars) pay taxi drivers $10 USD for each diner they bring to their establishment.  Barely a few months ago they paid only half that amount, which is why their costs have gone through the roof.
The owner of a café, who in the past would end up with around $2,500 USD a month in profits, said to BBC Mundo that since the reforms, his revenues have decreased to less than half, something that seems logical since several other cafes have opened in the surrounding three-block area.