Cuba Seeks Greater Zeolite Production
Patricia Grogg *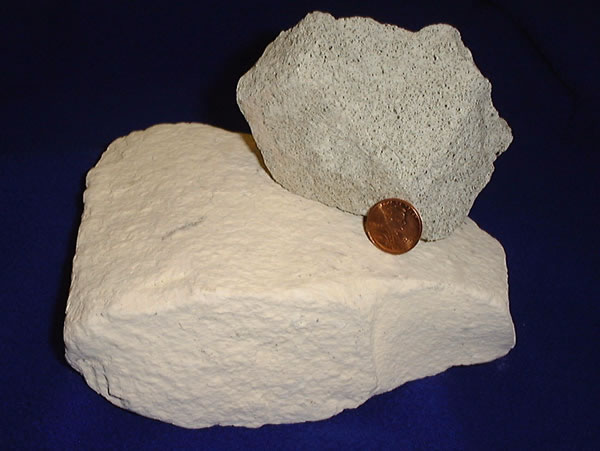 HAVANA TIMES, January 27 (IPS) – Possessing significant deposits, Cuba hopes to increase the exploitation of natural zeolitic, a mineral group whose properties and used in certain products and technologies that contribute to environmental protection.
Cuban expert Martha Velasquez says this non-metallic volcanic mineral group can play an essential role in present and future sustainable development.  Its varied uses range from the filtration of noxious gases in the environment to the recovery and improvement of soils, animal nutrition and as an additive to cement for the production of lighter-weight concretes used in construction.
The diverse applications of zeolite is due to its potential as a natural interchanger of ions, its high power of reversible adsorption (a process through which a solid is used to eliminate water from a soluble substance) and as a natural and "molecular sieve," which permits it to decontaminate toxic substances.
It is also able to exchange heavy metals —such as lead, nickel, iron and cobalt— and to purify polluted drinking water as well as residual water by appropriately pouring these into receiving bodies, said Velasquez, a specialist with the governmental research center associated with the mining and metallurgy industry.
Due to the low cost and versatility in the application of this mineral, zeolite also plays an important role in agriculture:  improving arable lands, achieving better results from chemical and organic fertilizers and as a base component for the development of fields and pastures.
In livestock breeding it is used as a food additive for different species and in animal holding pens.  When these pens complete their "useful life," the zeolite additive leaves a fertilizer enriched with ammonium and other nutrients that are beneficial for agricultural use, Velasquez pointed out.
According to official sources, 70 percent of the surface area cultivated in Cuba suffers from the impact of erosion, salinity or acidity.  Nonetheless, this resource is under-employed in agriculture on the island, which has yet to recover from the economic crisis of the 1990s following the collapse of the Soviet Union and the eastern European socialist camp, Cuba's principal economic and ideological allies.
The shock wave of recession also interrupted programs for the exploitation and development of zeolite, which peaked in the 80s.
Shortages of transportation, capital and other difficulties brought on by the crisis resulted in a nosedive in the use of zeolite, which had been on the road to mass application, especially in agriculture.
Velasquez indicated that today a plan exists for the resuscitation of the nation's agricultural industry, and that as this advances, the use of the zeolite will grow.  For this, "the issue of transportation is being studied along with its most economic alternatives," she affirmed.
Other specialists also insist that the increase in domestic food consumption is the top priority of the moment.
"We want to use those resources found within the country, but it's necessary that (users) request it, that we have confidence in Cuban zeolite and in the technology created. Unfortunately, many managers distrust national products," said an official in this industry during an interview with the Cuban press.
As part of the recovery plans, investments are being made in three currently operating plants in order to prepare these for an eventual increase in demand.  Also foreseen are improvements in more than a dozen deposits distributed throughout the country.
In 2008, some 600 tons of zeolite were exported, a figure that grew by close to 4,490 tons in 2009.  One of the buyers is Brazil, where it is applied to substitute highly polluting tertiary sodium phosphates in the production of detergents, among other uses.
The demand for this resource is high in the European Union, the United States, Canada and some Latin American nations. Moreover, noted institutions in Brazil and Japan have testified to the high quality of the natural deposits in Cuba, Velasquez pointed out.
"Ideally we could process the mineral within the country and sell it with greater value added, but the financing is necessary," another expert insisted.
Zeolite —"boiling stones" in Greek— have a structure similar to a cage, formed by tetrahedrons connected by oxygen atoms.  According to research, more than 50 types of these zeolite "frameworks" exist.  Clinoptilolite, a common zeolite mineral, possesses the most interesting properties in the filtration, adsorption and retention of cations (positively charged ions).
The mineral is found especially in areas where volcanoes and ash existed in prehistoric times. The United States, Australia, Turkey, Japan and China, in addition to Africa, are among the main producers of zeolite, though it's considered possible to find deposits on all continents.
According to data from Cuba's National Office of Mineral Resources, within the Ministry of Basic Industry, such deposits are distributed throughout practically all Cuban provinces.
*A Havana Times translation of an article originally published on January 26 by the Tierramérica Latin American newspaper network.