Cuba Shuns "Bunt", Venezuela No-Show
Peter C. Bjarkman* at the Haarlem Baseball Week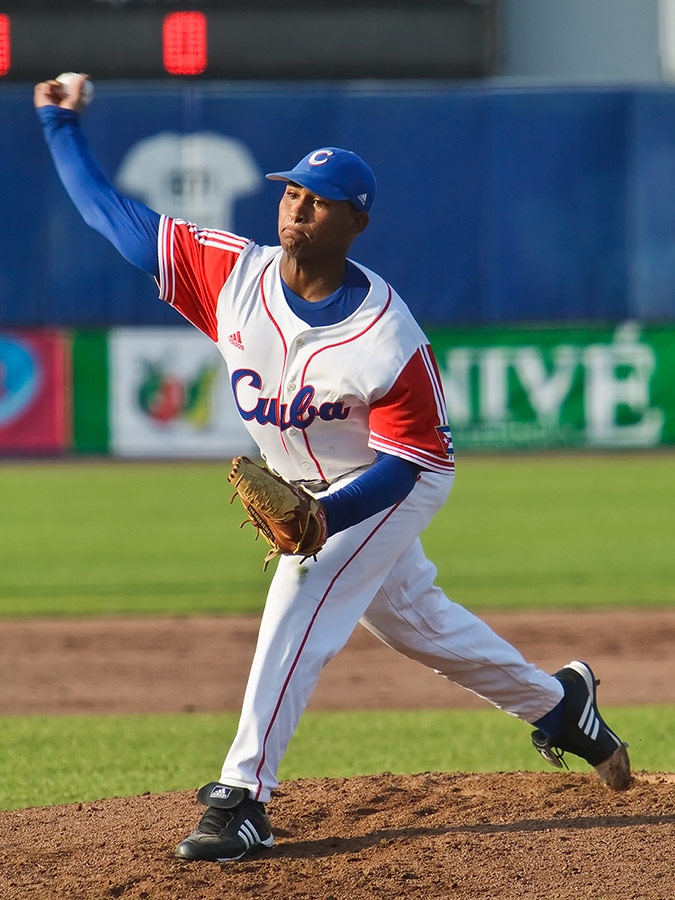 HAVANA TIMES, July 10 — Things never seem to proceed very smoothly at Haarlem's Baseball Week. Two years ago a wetter-than-usual July nearly sabotaged the event featuring Cuba's Beijing Olympic squad.  Several rainouts and the lack of a second playing field brought daily revamping of the original schedule; a distasteful result was the need to resort to a pair of triple headers, with several teams forced to take the field twice on a single day.
This time around the sun is shining, the baseball weather is nearly perfect, and yet the schedule is once again nonetheless proving to be highly malleable and disturbingly fluid.
The unforeseen disruption for this year's showcase Silver Anniversary event in Haarlem has been the disappearance of the ball club from Venezuela.  On the afternoon of Day Two the Venezuelans are still "no shows"—with the exception of a handful of ballplayers who are residents here in Holland while playing in this country's professional league.
Tournament officials have so far been frustrated in their efforts to contact Venezuela team representatives in Caracas, and it is still unknown if the Venezuelan Federation is experiencing visa issues, financial difficulties, or perhaps glitches in flight schedules.
What is known is only that patience is now running very thin in the Haarlem Honkbalweek community and the Venezuelan entry (which is scheduled to be managed by ex-big-leaguer Luis Sojo) is now likely to be scrubbed from the field if it does not appear before day's end on Saturday.
An immediate fallout of the Venezuelan disappearing act was the rescheduling of the Cuba-Japan opener for Friday evening (from Saturday morning), and also the shift of the USA-Japan match from early next week to Saturday morning.
Followers of our website at www.BaseballdeCuba.com have not been the only fans left in the dark by the "musical chairs" tournament schedule.  On the eve of the FIFA World Cup finals, the media in soccer-mad Holland has carried no updates on the Haarlem tournament, resulting in fans arriving at the Pim Müller Stadium to watch games that are not the ones that were originally on the docket.
Cuba opens with shutout win over Japan
Cuba nonetheless has adjusted well to the moderate chaos and opened their schedule by slamming Japan's university all-star team.  Germán Mesa's charges jumped on top in the bottom of the fourth Friday night when Alexei Bell's drifting two-out fly ball was misplayed in center field (resulting in a single and an error), allowing Donald Duarte to score from first. That turned out to be all the offense that was needed behind the 8-inning 4-hit shutout pitching of young Freddy Asiel Alvarez.
The lead was padded when Cuba scored in four of the final five frames. Bell and Yunier Mendoza proved to be the largest offensive stars, with three hits apiece, the latter chipping in three RBIs (the final two coming on a booming eighth-inning triple to the right-center field gap). Danel Castro and Rolando Meriño also knocked home early tallies.
An opening game on Friday afternoon saw Chinese Taipei squander numerous scoring chances and thus fall 3-1 to a more-fortunate-than-skilled American ball club of national junior college stars.  Taipei took an early lead but eventually stranded a dozen base runners, leaving the sacks jammed in both the second and sixth frames.
The Americans strung together a double, two singles and a sacrifice fly during a 2-run uprising that salted the game away in the home sixth. The inconsistent Americans would turn the tables on themselves, however, on Day Two when they gifted Japan a 4-2 victory with their own lack of opportunistic play. A badly botched rundown play and four infield errors contributed mightily to the Americans' second-day collapse.
Cuba's impressive tournament opener came on the heels of a rather rough road-trip start Thursday in Rotterdam.  Meeting the Dutch national team in a "friendly" match before a sparse crowd at Neptunus Family Stadium, the team performed sluggishly during a meaningless 3-2 defeat featuring seven of Cuba's nine pitchers (all in brief one or two inning tune-up outings).  The game got away from the visitors when Yoelkis Cruz  yielded three singles, a wild pitch, and a sacrifice fly during the crucial 2-run, game-deciding home club comeback.
This match meant little, of course, but one major negative was the loss of backup first baseman Yoennis Southerán. The Guantánamo reserve infielder separated a shoulder during a seventh-inning collision with second baseman Dan el Castro. Southerán—who is now lost for the tournament—had just entered as a defensive replacement for Mendoza when he ran into Castro while attempting to field a pop fly off the bat of the inning's first batsman, Jeroen Sluijter.
An interesting footnote to the Rotterdam "unofficial" game was the fact that Germán Mesa elected to have his team perform in their "numberless" blue batting practice jerseys. The sparse crowd and even sparser press corps—most having little familiarity with the majority of the Cuban ballplayers—thus experienced considerable confusion about what  ballplayers were actually on the field, especially after Mesa chose to change his pitchers almost every new inning.
By the third frame I was forced to relocate my own press box seat and assist the public address announcer and official scorer with identifications of the Cuban substitutes. It was another of the charming unorthodox moments that distinguish international baseball from the more staid North American professional variety.
The top story so far for Team Cuba has been the overall brilliance of outfielder Alexei Bell and first sacker Yunier Mendoza. Mesa changed his first night batting order (the one used against the Dutch)—flopping lefty-swinging Mendoza and righty-swinging Castro between the second and eighth slots against starting Japan southpaw Yudai Ohno—and Mendoza stepped up big.
In addition to his three safeties and game-icing triple, the Sancti Spíritus stalwart made a number of brilliant plays at first with his sure hands and soft glove. Bell, in turn, singled his first two at-bats versus the Dutch on Thursday, before whacking three more base hits during the official tournament opener. Alexei also scored both Cuban runs in the exhibition match, plus two more Friday versus Japan.
Also impressive was the opening night outing on the mound by Freddy Asiel Alvarez. The Villa Clara ace struck out 8 and issued only one free pass while coasting through eight dominate innings unscathed and completely unchallenged. The Cuban ace did hit two batters but also picked a pair of runners off first base to nullify potential scoring threats. While Mendoza was awarded "Player of the Match" honors by the Dutch press for his notable offensive display, Freddy Asiel was truly the difference in a game in which Japan never offered so much as a single scoring threat. Norberto González closed out last night's match with a quick one-two-three final frame.
One noteworthy feature of the Haarlem stay so far has been Germán Mesa's apparent abandonment of the "small ball" strategies which have recently plagued Cuban baseball.  Manager Mesa came under much criticism (both on this website and even among Industriales fans themselves back in Havana) during the past National Series stretch drive and post-season run for his "toca bola" style of game management.
Time and again Mesa squelched potential big innings by sacrifice bunting (even with his most productive batsmen) after leadoff singles or walks.  This "toca bola disease" often takes the bat out of the hands of two top sluggers, since even a successful sacrifice is often followed with the opposing manager intentionally walking the next batsman.
But Cuban managers of late have seemed to be in love with this falsely attributed Japanese style of "small ball" strategy.  Yet here in Haarlem Mesa has shunned the strategy in both early games—the Netherlands exhibition and Japan opener—even though he has already had several opportunities to turn in that direction.
With the Japan game deadlocked a zero, Duarte opened the home fourth with a single. Sluggers Rolando Meriño and Eriel Sánchez were then allowed to swing for the fences. An inning later when Mendoza also produced a leadoff base knock, Rudy Reyes merely faked a sacrifice bunt before lining out to left. But following singles by Ariel Sánchez and Danel Castro would open the door on a crucial two-run go-ahead rally.
When asked about the seeming shift in strategy, Mesa admitted to this writer a change of heart from his earlier tendencies toward conservative play. He told me he has become more willing to rely on his competent hitters to produce big innings, without giving up outs automatically only to put runners on second. Mesa seems especially confident in this strategy shift in light of the solid pitching corps he has brought to Haarlem. And the change ought to be welcomed by most of the fans back in Havana.
An early tournament highlight should come tomorrow morning with the always tantalizing showdown between Cuba and the current version of Team USA. These countries have a lengthy history of tension-charged matches—for example, "the Ben Sheets game" of the Sydney Olympics in 2000; a pair of remarkable Pan American Games finales (1987 Indianapolis and 1999 Winnipeg), and the last two IBAF World Cup title matchups (Taiwan in 2007 and Nettuno in 2009).
Of course this time around it won't be genuine front-line national teams on the field. But even Cuba B has enough "big guns" on offense and a lineup with enough international experience to overmatch a talented USA national junior college all-star contingent. And a victory for the Cubans will likely lock up a slot in next week's tournament semifinals.
*Peter C. Bjarkman is author of A History of Cuban Baseball, 1864-2006 (McFarland, 2007) and is widely considered a leading authority on Cuban baseball, both past and present. He reports on Cuban League action and the Cuban national team for www.BaseballdeCuba.com and also writes a regular monthly Cuban League Report for www.ibaf.com. He is currently completing a book on the history of the post-revolution Cuban national team.