Cuba Trip: A Strange Map and Rusted Shackles on a Desk
Yael Prizant*
HAVANA TIMES, Jan 27 — While a good friend was here, we spent some time 60 km southwest of Havana, in a country town called Artemisa.
Just getting out to the Cafetal Angerona (the remains of a 19th century plantation) was an adventure and on the way, our driver/friend Dimitri taught us a great expression – when we stopped to ask for directions, he called it "guajiromapa".
A guajiro is a person from the countryside – a Cuban hick – and, of course, un mapa is a map.  "Turn left after the ceiba trees." Guajiromapa.
The ruins of the coffee plantation were absolutely incredible, complete with a bell tower to end the workday and the remains of slave quarters.
But the most astounding part was when we stopped at the historical society in Artemisa to see photos and documents from the period.  A curator there explained that most of that stuff was in a museum in the next province, Pinar del Rio.
However, she showed us one spectacular artifact.  Sitting in a plastic bag, unprotected, on a shelf behind her old desk, were a pair of insanely heavy, rusted shackles used on captured escaped slaves.
The curator, an Afro-Cuban woman, simply took them out of the bag without much comment and placed them among the stacks of papers on her desk.  We stood there, speechless.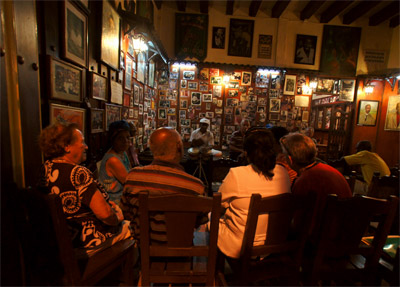 On a much lighter note, I heard three types of music Saturday night, within three hours time.
One was a fantastic free form clave circle on the malecon seawall that lasted for ages.
Another was 12 Cuban guys in their 70s, dressed in dapper suits, playing gorgeous Cuban son and boleros.
Tons of brass, guitars, drums, other percussion…. And the third was a stellar 3-piece group with a fabulous singer, doing tasty versions of Cuban classics.  Quite a night.
I'm meeting with Cuban poet Sinecio Verdecia Diaz, who works for a big cultural institution here (Asociación Hermanos Saiz).
He's tied in to all the cultural events in Cuba, public and off-the-grid, and wants to show me around.  He also asked for my help with some music his friends are working on – they need a singer who knows English.
—–
(*) This is the third of seven pieces by Yael Prizant. The author has been traveling to Cuba regularly since 2003.  At home in Indiana, USA, she is an Assistant Professor of Theatre at the University of Notre Dame. She has been translating the works of Cuban playwright Abel González Melo and hopes to translate more plays for production in English.
—–
In Cuba People Listen