Cuban Artist Esterio Segura's "The Tropical West"
at the Factoria Habana Gallery in Old Havana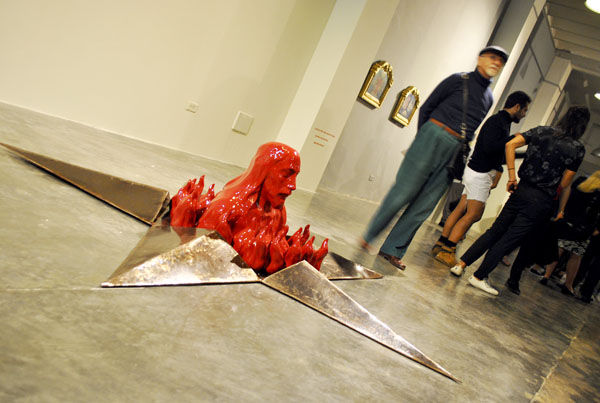 By Irina Echarry
HAVANA TIMES — On February 6, a large crowd gathered outside the Factoria Habana gallery located on 308 O'Reilly Street, Old Havana to attend the opening of Esterio Segura's solo exhibition Occidente tropical ("The Tropical West").
Many will likely recall the sculptures destroyed in the film Strawberry and Chocolate or the painting titled Santo de paseo por el tropico ("A Saint Out for Walk in the Tropics") at Havana's National Fine Arts Museum. Occidente Tropical affords us a glimpse at the works this artist (renowned both in Cuba and abroad) produced in the 80s and 90s. In addition to holding numerous exhibitions, Segura was co-curator of Las metaforas del templo ("The Metaphors of the Temple"), an exhibition held at the Center for the Development of the Visual Arts in 1993 which encompasses the pivotal moments of Cuban visual arts in the period.
Segura believes that one is responsible for one's fate, and that has been his driving force in the world of visual arts. This helps explain the numerous series he has produced. Occidente tropical was his first, when he began studying at Cuba's Higher Institute of the Arts. Segura does research, prepares sketches, draws out his ideas, but always returns to sculpture to express himself.
Those acquainted with the work of Esterio Segura know that his pieces reflect political concerns and, in this exhibition, he does not shy away from his philosophical, anthropological and historical preoccupations. Showing us the kitsch of Christian imagery and the aesthetics of socialist realism, sometimes relying on the absurd, the artist invites us to approach a past age, shaken by many social developments.
Segura's works will be on display until April 25.
Click on the thumbnails below to view all the photos in this gallery. On your PC or laptop, you can use the directional arrows on the keyboard to move within the gallery. On cell phones use the keys on the screen.