Cuban Arts and Crafts at the Fortress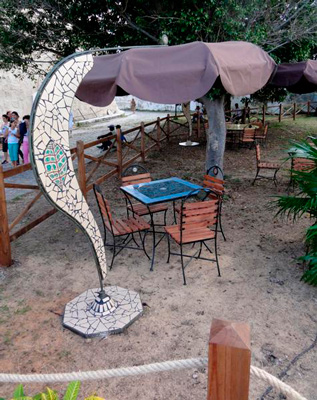 Daisy Valera
HAVANA TIMES— This year, the Cuban International Arts and Crafts Fair (FIART) is being held, not in its habitual venue at Havana's PABEXPO complex, but in the San Carlos de la Cabaña fortress located across the city bay – possibly as part of a strategy to increase sales.
The fair coincides with the Havana Film Festival, and its relocation could well lead to more visits by those who are frequenting the city's theatres.
Dedicated to Cuba's province of Pinar del Rio and to tobacco-related cultural products –with 21% of its stands occupied by foreign craftspeople and artists – FIART 2013 is the largest fair of its kind ever to be held on the island.
Textiles, shoe wear, furniture and interior design items are among the most noteworthy products on display this year.
Lamps in the shape of animals or made out of recycled coffee-makers and bottles, ceramic decorations from simple masks to elaborate statuettes and vases, traditional Cuban shirts and dresses showing elaborate fretworks and embroidered patterns – these are some of the products on sale at the 2013 fair.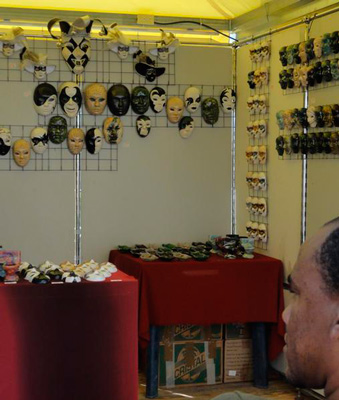 In one of the well-known, outdoor areas of the fortress, visitors run into a wooden cabin facing Havana's historic lighthouse and bay area. This rather unusual sight is the brainchild of the Dovela project, a carpentry group that has received the fair's best display award on two previous occasions.
Another striking display area is that set up by the Factoria Espacios group, which stands out for its minimalist furniture.
As in previous fairs, industrially manufactured and other lackluster products (assembled out of pre-fabricated pieces) are again on sale this year.
A conference dealing with craft making in Cuba's historic city of Trinidad and one addressing power relations within the island's fashion and crafts industries are two of the lectures scheduled for coming fair days.
The fair will also be the venue for the launching of a new publishing house that will specialize in the promotion of Cuban fine arts.
To close on December 22, this year's fair has taken one more step towards becoming the ideal space for the international promotion of Cuba's craft products.

Click on the thumbnails below to view all the photos in this gallery. On your PC or laptop, you can use the directional arrows on the keyboard to move within the gallery. On cell phones use the keys on the screen.