Cuban League Game Redefines Meaning of "Walk-Off Homer"
Peter C. Bjarkman*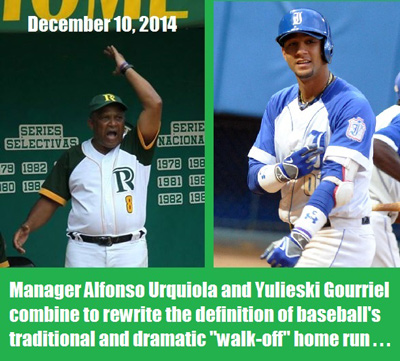 HAVANA TIMES — There have indeed been many bizarre, improbable, almost credibility-stretching games played in the Cuban League over the past half-century of "revolutionary" baseball. In fact it might well be claimed that if the post-1962 Cuban circuit is truly unique among the world's top professional leagues then it remains so above all else for its rare mixture of the improbable and unlikely with some of the most dazzling on-field action found anywhere in the baseball universe.
This penchant for the off-beat is precisely what makes Cuban baseball so intriguing – the rare meshing of some of the world's most talented ballplayers with game-action that at times appears to be scripted for a Hollywood screenplay or recorded on the fields of some nearby industrial softball league. Doubt this – then merely feast your eyes on some prime examples. The below list offers my five leading candidates among the Cuban League's weirdest and most haunting games. At least it did until last week; now room will have to be made for an early December 2014 contest in Havana that suddenly demands attention as the latest entry in the category of Cuban "Béisbol Absurdo".
But before we reprise the mind-boggling events witnessed on December 10, 2014, in Havana's Latin American Stadium, let's first review my earlier – if now suddenly outdated – list of top five candidates for the title of "weirdest" Cuban League event on record.
Danger Guerrero's "Homer That Wasn't" (May 22, 2009)
I was privileged to have a "ringside seat" behind home plate for this especial moment of "high-drama" confusion that transpired during a crucial first-round 2009 post-season game played in Pinar's Capitan San Luis Stadium. In the top of the second with runners on first and second and only one retired, Pinar ace Yunieski Maya faced Habana Province number-eight hitter – the ironically named catcher Danger Guerrero. Guerrero smacked a towering drive that just eluded the glove of leaping left-fielder Jorge Padrón; the ball caromed of the top of the concrete wall before landing harmlessly on the warning track. The closest umpire (working down the left-field line as part of the six-man playoff crew) gave an immediate and apparently premature signal that the blast was indeed a bases-clearing three-run homer. Guerrero circled the diamond unmolested with arms held high in celebration, while a stunned Padrón stood holding the ball he had quickly retrieved from the outfield grass. It seemed obvious to everyone but the badly positioned umpire that the ball had never left the stadium. It was also obvious (even to left fielder Padrón, who made no attempt to relay the ball to his infielders) that the ball was no longer in play, since a clear home run signal had already been given to create a "dead ball" scenario. The situation had been quickly put beyond any easy solution. There was no homer, even though one was called. How many runs actually scored? Should Guerrero be allowed to remain in the dugout, or must he return to the base paths? How was the play to be entered on the scoreboard or in the press box official score book?
The umpiring crew had almost immediately realized the huge error caused by the early homerun signal, and thus confusion already reigned on the field and in the dugouts (let alone in the grandstands and among a national television audience) even before Guerrero had stomped on home plate. The scoreboard now read 4-1 but the play could not likely stand without a game-protest by Pinar manager Luis Casanova and perhaps a full-fledged riot by the packed house of Pinar fanatics. In the middle of it all was crew chief César Valdés, a veteran umpire most famous for his internationally televised body slam of a political protester intruding onto the Camden Yards playing surface during an historic May 1999 Cuba-Orioles exhibition showdown.
During a subsequent lengthy debate involving the umpiring sextet and both managers, stunned Pinar players milled on the field of play, while both benches collected in front of their respective dugouts. There seemed to be only one obvious solution to the bizarre home run ruling: Guerrero would have to return to second base, while a second runner (the one originally on first) should be returned to third. Under this standard ruling of a ground-rule double only one run would score and one out would remain on the scoreboard. Yet it was not a comfortable solution, since there was no obvious reason for a ground-rule two-bagger. No fan had touched the ball, and also the ball had bounced into the playing area and not out of it.
But that would not be the ruling as it was handed down. In what seemed to be a blatant attempt by embarrassed umpires and ill-prepared league technical commissioners (supervising from behind home plate) to salvage the least damaging result for both sides, a decision was made that completely threw the rule book out the window. Two base runners ahead of Guerrero were both allowed to score, the logic being that both would have easily reached home while the ball remained in play. But since Pinar would have been the clear victim of this decision, it was also decided to rule Guerrero out despite his untouched line-drive off the top of the fence. But under what rule-book conditions, since the hitter did not step out of the batter's box, nor pass any runners or deviate from the base paths. How could the play now be entered into the scorebook? Apparently the scoring could only logically be notated as "UU" – "out by umpire's error unassisted" – an entirely unique ruling unparalleled anywhere in baseball's extensive archives.
In the end little damage was done. Habana Province handily won the game 10-6 (leaving neither manager any room for protest) and also cruised on to the league championship two weeks later. Perhaps all that suffered was the league's credibility – even if its reputation for the highly unexpected was obviously dramatically increased.
Baseball's Unique "Schiller Rule" Tandem No-Hit Game (March 13, 2012)
Once the "Schiller Rule" became a part of the league landscape it was only a matter of time until a whole new set of baseball oddities would be the result. And what precisely is the "Schiller Rule" (a logical enough question from anyone weaned exclusively on the MLB version of the sport)? It is the set of conditions put in place for Olympic play in 2008 (and soon a standby of all international tournaments, including the MLB World Baseball Classic) with the motive of shortening potentially schedule-wrecking extra-inning games. Now also a staple of regular season play in Cuba, this regulation (named for former International Baseball Federation president Harvey Schiller who introduced it) automatically places baserunners on first and second to begin each extra frame and also allows managers to readjust to any spot in the batting order to begin extended play in the tenth inning.
Enter the game of mid-March 2012 at Camagüey's Candido González Stadium – one that witnessed a 0-0 deadlock at the end of nine frames, with Holguín starter Raimer Navarro so-far owning a no-hit gem but still on the hill due to his own team's own inability to generate any runs. Boasting a two-year career mark of only 5-17, the 19-year-old Navarro had spread 8 walks across the first 9 frames and even hit a batter (he had only twice retired the side in order) but still had not yielded a single safety. When the game continued after the regulation nine innings it was not only the first hitless "Schiller Rule" game to arise in any known league or tournament, but also the first extra-inning no-hit affair in Cuban League annals (the circuit had witnessed 51 previous no-hitters, all of 9 innings or less). History was clearly in the making.
In the top of the tenth Holguín finally broke through with the one-run cushion needed for young Navarrro to complete his date with pitching immortality. With gift runners (thanks to the Schiller Rule) lodged on first and second to start the visitor's half of the frame, the single tally was plated via a highly expected sacrifice bunt (moving runners to second and third) followed by a weak roller into center field that drove home the go-ahead marker. Still on the hill and having surrendered only his third softly-hit safety, ill-fated Camagüey starter Frank Montejo escaped further damage by retiring the final two batter on an infield roller and infield pop-up.
Now the tension surged (before a slim crowd of less than 1,000) as Holguín rookie manager Felicio García opted to lift his no-hit pitcher Navarro (despite the rare date with destiny) for the bottom of the tenth and replace him with bullpen ace Pablo Fernández, one of the league's most effective closers sporting 15 saves and a season's 1.41 ERA. Perhaps any manager operating under normal playing rules might have let a starter cruising through a no-hit effort remain in action, but the rule-induced pair of baserunners and a slim one-run cushion seemed to dictate an unorthodox strategy. And it was a strategy that paid huge dividends. Fernández slammed the door in short order: the first batter rolled to first, the second struck out swinging, and the third flied harmlessly to right. The no-hit victory was history – and it was indeed "historical" by any standard imaginable. Even the altered rule book couldn't stand in the way of this one.
Yogui Guerra's "Coolest Home Run Ever" Walk-Off Blast (March 1, 2012)
If the reader is not already convinced about the odd impact of the Cuban League "Schiller Rule" tie-breaker format on baseball's record books and trivia collections, we next turn to a second game played in Granma's quaint bandbox Martires de Barbados Stadium less than two weeks before the odd no-hitter in Camagüey and also crafted under the same tie-breaker scenario. In this case Granma's Urmanis Guerra was the man of the hour and author of one of baseball's oddest long-ball feats. Havana Metros and host Granma were deadlocked at 2-2 after regulation; Metros then plated a pair of runs in the top of the tenth to grab a 4-2 advantage. In the home half Granma manager Indalecio Alejandrez elected to station his leadoff batter and two-spot hitter on first and second and begin a hoped-for rally with league home-run leader Alfredo Despaigne. Rather than walking the dangerous Despaigne to set up a force at every base, Metros skipper Luis Suarez elected to risk challenging the league's strongest hitter and escaped with a tame fly ball to center. Suarez had dodged one bullet but was not about to risk another and therefore next ordered pitcher Maikel Hidlago to issue a free pass to equally potent Yordanis Salmón (the league's base hits leader) thus loading the bases. Five-hole hitter Urmanis "Yogui" Guerra then promptly ruined Metros strategy by cracking the first pitch he saw over the left-field wall for the dramatic game-ending grand slam.
How special was this? Baseball historian David Fleitz – a lover of the game's true oddities – a few years back complied an on-line list of "Ultimate Grand Slams" – those of the walk-off variety that won ballgames in the home half of the final frame. Not long after Chris Jaffee also writing on-line for "Hardball Times" labelled a July 25, 1956 blast by Roberto Clemente as "Baseball's Coolest Homer Ever" since it was a bases loaded "walk-off" of the inside-the-park variety. But Fleitz and Jaffee were basing their arguments for walk-off oddities only on the rather narrow world of North American MLB games. An event like the one in Granma was certain to escape their notice.
Why is Guerra's homer now a leading candidate for designation as the "Coolest Ever"? Why is it the most unusual walk-off so far witnessed? Precisely because it now provides the answer to one of baseball's most arcane trivia questions: How can a batter smack a walk-off grand slam (any grand slam for that matter) when he is only the third batter to come to the plate during the fateful inning? (Conversely, how can the inning's only pitcher – in this case Maikel Hidalgo – face but three batters and end up yielding a grand slam?) Only two batters preceded Guerra, yet thanks to the pair of rule-gifted runners the grand slam had become a possibility. Chalk up yet another precedent-setting oddity for Cuba's tie-breaker-scenario "Schiller Rule" – certainly not the last, I am quite sure.
Baseball's Only Known Unassisted Triple Play by a Third Baseman (November 12, 1998)
Villa Clara third sacker Rafael Acebey earned one of the rarest of distinctions in baseball's seemingly endless archives when he turned the improbable trick of performing an unassisted triple play from his hot corner position. Never has a third baseman pulled off this feat in the big leagues, and there is no record of it occurring in Japan's professional circuits or in any of the Caribbean winter leagues either. With the bases jammed in Latin American Stadium, Industriales second baseman Juan Padilla (a national team regular) tapped a weak roller to third and then – rather than taking off for first – turned to argue with the home plate arbiter that the sharply hit bouncer had skipped down the third baseline in foul territory. The fast-thinking Acebey grabbed the bouncer, stepped on third (forcing Antonio Scull who was on second) and then chased and tagged third base runner Lázaro Vargas near home. Acebey then raced to the plate and tagged the confused Padilla (still standing in the box) to complete the rare triple killing. Once again, only in Cuba!
Alexei Bell Makes Grand Slam History in Season's First Inning (November 3, 2009)
Cuba's "Toy Cannon" Alexei Bell owns not one but three slugging rarities, each more unusual that the last. On April 18, 2007, Bell became the first Cuban Leaguer to blast two round-trippers in a single frame of a playoff game when he turned the trick at Guillermón Moncada Stadium versus Industriales. A mere calendar year latter (April 5, 2008) and in the same ballpark, the pint-sized Santiago slugger recorded three base knocks (one being a homer) in the same inning of yet another post-season contest versus Villa Clara. Three hits in a single frame is a rarity that has been accomplished but twice in the big leagues, but never during the MLB postseason. And then on Opening Day of 2009 – once again on his home playing field at Guillermón Moncada – Bell pulled off a rarity that is likely to stand unchallenged across for the ages.
Exactly one year earlier (on the heels of an MVP performance at the Beijing Olympics) the Santiago star had been kayoed on Opening Day when hit in the eye by a fastball delivery from Pinar's Yunieski Maya. Bell would return before season's end but could register only tepid offensive numbers; the injury also cost him expected spots in Cuba's starting outfield for both the March 2009 MLB World Baseball Classic and the September 2009 IBAF World Cup matches in Europe. Bell would then return with a vengeance for the season lid-lifter of National Series #49. In the home half of the opening inning he bashed a pair of grand slams – both off Camagüey starter Vicyohandri Odelin – in his very first pair of at-bats of the campaign. During the mercy-rule-shortened 24-0 romp Bell would register a league-record-tying dozen RBIs. It was an astounding start to a season in which Alexei would establish still another record-book entry with seven total grand slams on the year (three of the inside-the-park variety). The event was so earth-shaking it even made North American headlines with a brief mention on Keith Olbermann's then-popular MSNBC primetime new program. Consider the astronomically high odds against twice getting to the plate with the bases jammed in the same inning of play. Then consider the odds of that happening in the season's very first inning. Then tip your hat to Alexei Bell, owner of a triple crown among baseball oddities.
And now this past week still another oddball event – again a walk-off home run of the most unlikely and unprecedented variety – has staked its claim for a spot atop the growing inventory of classic Cuban League baseball oddities. Defending champion Pinar del Rio, in the midst of a disappointing losing campaign – rolled into Latin American Stadium for a crucial three-game set versus Industriales. The Tsunami Verde was in desperate need of a three-game sweep if any slim hopes might remain for a qualifying spot in the season's eight-team second-half championship round. Leading by a thin 3-2 margin in the home half of the eighth frame, and only five outs from taking command of the series, the Pinar squad would suddenly find the game and perhaps the entire season blowing up in their faces due to the rarest imaginable combination of events.
It began with slugging star Yulieski Gourriel launching a fat pitch from southpaw reliever Isbel Hernández deep into the left field corner grandstand, a towering fly ball that hugged the foul line as it soared twenty feet above the foul pool. Home plate umpire Lorien Lobaina immediately flashed a foul ball signal and Gourriel offered no protest while remaining in the batter's box awaiting the next delivery. Then the drama began as Industriales manager Lázaro Vargas requested that the umpire crew revisit Lobaina's call and review video under the league's new regulations patterned after MLB's controversial instant replay procedures. The result was a rapid collapse into indecision, controversy, and ultimate chaos.
After several moments of on-field waiting while the flight of the ball was reviewed in the press box from single-camera video, a fateful decision (that the ball was indeed fair) was made by a commission official assigned this newly invented task. Umpire Lobaina quickly reversed his original stance with a very tardy home run single. While Gourriel (perhaps as surprised as anyone) toured the base paths with the game-tying run, a stunned Pinar team led by manager Alfonso Urquiola clustered around the embattled crew of arbiters near home plate and heated argument raged. After several moments of protest Urquiola ordered his team off the field and when they refused to return from the dugout after a required five-minute interval the game was suspended and Industriales awarded victory via a rare and highly controversial forfeit.
There were a multitude of issues surrounding the game's final moments. While aiming to copy MLB's latest technological innovations, it was now quickly apparent that the Cuban Federation officials had done so without any of the needed preparations or any of the required technology. MLB employs a battery of different cameras (and camera angles) for its instant replay reviews and then has a final call made by a league umpire stationed in a New York control room, an official who has access to the multiple camera angles beamed from the distant ballpark. The situation in Havana turned out to be quite a different animal. A single camera was being used in Latin American Stadium and that camera housed in the upper-level press box seemed to be badly placed to the far left field side of home plate, thus providing a view that made any clear-cut ruling unlikely. Worse still perhaps, the ruling was made by a single league official housed in the home team press box. During the delay, a pair of announcers working the national television broadcast of the game commented on half-a-dozen replays of the ball's flight and repeatedly remarked that the camera angle made any accurate call virtually impossible.
Such a chaotic scenario would clearly have disaster written all over it even under the most normal of circumstances. But this one ominously unfolded in a crucial late-season game vital to Pinar del Río's chances of staving off pennant-race elimination and defending last year's league title. Further complicating fallout from the event was also swift in arriving and most damaging in its implications. Within 24 hours manager Urquiola was sanctioned by league officials and suspended for the remaining first-half qualifying-round games; Pinar's provincial INDER head was also disciplined with a suspension for his alleged failure to intercede and order Urquiola and his ball club to return to the field. Such suspensions only took on the air of lame efforts by league commissioners to deflect attention away from their own culpabilities in the entire matter.
To add fuel to the fire, Urquiola insisted this past week in televised interviews that he was never granted the required five-minute window to collect his thoughts and calm his irate bench before umpire Lobaina rashly called the game off. Further fallout loomed on the horizon the following weekend when a second league umpire Fernando Zamora (perhaps now fearing a similar disaster induced by Cuba's shoddy replay provisions) denied a request by the Las Tunas manager for video replay appeal during a disputed moment in a game with Santiago. The umpire's decision – however wise given the heated circumstances – fell outside the new league rules and in another apparent overreaction by league commissioners he too was suspended from further game action.
Cuban baseball is already facing a severe crisis in credibility. The effort (sometimes not well thought out) to strengthen league play has resulted in an awkward split schedule designed to eliminate half teams from title contention after only 43 games. Pennant race momentum was dealt a severe blow during the current qualifying round by a several-week suspension of games to allow for the national team's Central American Games appearance. A similar disruption will mar the championship round when the league again shuts down for this year's Caribbean Series – an event in which the nation will supposedly be represented by last year's champion but this year's lightning rod from Pinar. How embarrassing will it be if the Pinar team carrying the national banner has already been eliminated from this year's title hunt? Will now-suspended manager Urquiola still be allowed to direct his embattled team when it heads into Caribbean Series play in San Juan in early February? The problems continue to expand as league officials seem bent on continuously shooting themselves in the foot with one bad administrative decision after another.
Off course there is a lighter side here and one bound to please collectors of inane baseball trivia – especially the kind found repeatedly on the island of Cuba. Yulieski Gourriel now becomes the only player in the game's known annals to stroke a walk-off homer that tied a game and thus provided his club with instant victory. Gourriel's homer is also the only walk-off of its type to take place before a game reached at least the home half of the ninth inning – and also the only one in which it was not his own winning club but the eventual losers who walked off the playing field. And indeed it was not the so-called "walk-off homer" itself that provided home club victory but rather the action of the departing defensive squad that secured that result. In brief, the Gourriel home run now provides an entirely new category and an entirely new definition for one of baseball's most dramatic moments. It may have thus been the oddest long ball ever struck in more than a half-century of Cuban League game action.
Pinar's defending champions are not yet entirely eliminated from this season's second-half championship round. Perhaps the chaotic results of last week's Havana fiasco might even spur the club on to a last-minute heroic stretch run to rescue a season that has gone horribly wrong. Pinar did salvage a final match with Industriales and then returned home to stretch their latest victory string to four straight against basement-dwelling Cienfuegos. But as the qualifying first round moves into its final week the Tsunami are still caught in a near-deadlock with Santiago and Villa Clara for the last precious qualifying slot. And due to a further quirk of scheduling the Green Tsunami team faces an even steeper uphill battle. Eight suspended or cancelled games must now be made up in the single week after regulation play and Pinar is on tap to play a full half of them – one on the road in Villa Clara and three at home, including a final pair with second-place Granma. Those games will take place in the span of five days, with the finale staged at 10 am on Christmas morning. If Pinar doesn't survive this arduous stretch run (and falls a single game short of a needed eighth-place finish) they will likely become the first known team in any major circuit to be eliminated from playoff possibilities by a forfeited game brought on by their manager's fit of anger over sloppy umpiring decisions and ill-conceived league regulations.
At times the Cuban League is anything but artistic: a constantly shifting structure and irregular scheduling formats – plus an inept attempt at mirroring big league policies and regulations – has only served to underscore that dilemma. But if it isn't always (or even usually) pretty and rarely efficient, few could argue that the league isn't highly entertaining and always full of intriguing surprises. And some of us wouldn't have it any other way.
—–
(*) Peter C. Bjarkman is Senior Writer at BaseballdeCuba.com (since 2007), widely recognized as a leading authority on Cuban baseball history (both pre- and post-revolution) and author of A History of Cuban Baseball, 1864-2006 (2007) among numerous other titles.