Cuban Percussionist Passes down African Heritage to the Youth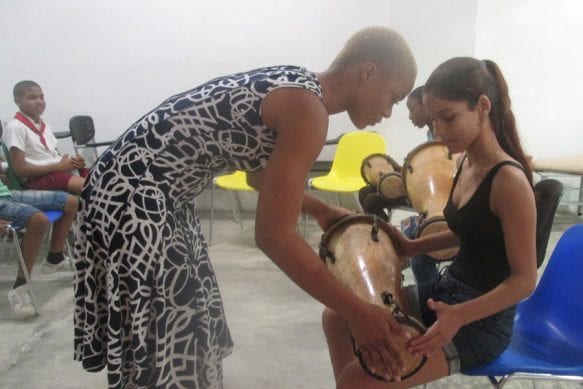 Brenda Navarrete, a young Cuban artist who is renowned on international stages, is leading a non-profit project for teenagers.
HAVANA TIMES – Using the same energy and passion she puts into her performances on stages in Belgium, the US or New Zealand, Cuban artist Brenda Navarrete is teaching percussion and bata drums to children and teenagers at the a+ Espacios Adolescentes Center in Old Havana.
Twenty-eight years old and born in Havana, she describes herself as simply as she can: "Brenda Navarrete is an artist who loves children and social work."
"I decided to do this for free, because every school is free here in Cuba. And so I joined the a+ Center which gives children who don't have a chance of getting into music schools, but are talented, an opportunity," the artist told IPS Cuba, as she prepared a new workshop for this month.
"The thing I want to achieve with these young people, first and foremost, is that they take more of an interest in our traditions. If they are musicians, this is definitely going to help them, and if they aren't, then they will at least know what happened in the past," she explained.
Known for her vibrant and innovative dressing style, one of the artist's other ambitions is to support children and teenagers during this difficult phase of growth.
"We are living in a technological age and many of them are completely glued to their phones… they don't communicate, they don't talk, they are shy. That's why, the courses are a way for them to not only learn about our history, rhythms and musicality, but also about socializing among themselves, opening up, touching each other and connecting in a healthy way, through music and dance," the young woman believes.
Leaving a mark
Ever since she was a little girl, Brenda remembers loving Cuban percussion, especially rumba. She used to swim for many years and when she was asked whether she liked music enough for her to go and study it at school and what instrument she liked, she didn't hesitate in giving her answer.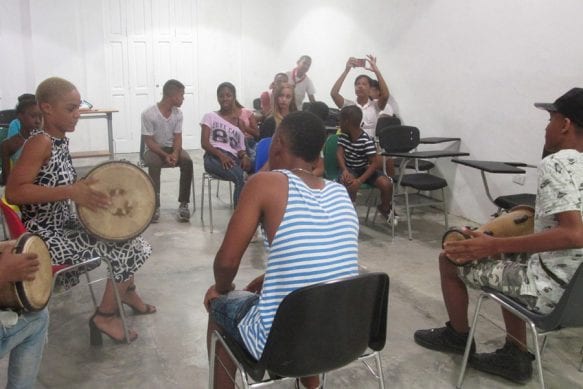 At middle school, I had a class that was to teach symphonic percussion classes to elementary school students. There, a student introduced her to the world of bata drums.
"This boy put a bata drum on my legs and told me: play it like this, then we'll take to the street, to the sessions with experienced players, that's the only way to really learn, living and breathing it, how the sound works, the energy, how people respond to it when they hear it," she shared.
"That's what I want to transmit to these kids: what I learned with music, what my teachers taught me, what I have learned on the street, because they don't teach you these drums at art schools," she added.
Generally-linked to African religions, there is still a certain prejudice that hangs around percussion and the bata drums but, "you don't have to be religious to play them," Navarrete clarified.
Going further
In the two first editions of the course in 2018, Brenda taught the classes alone, teaching children about what captivated her the most about these instruments.
"The bata drums come from Nigeria. They were played to princes and kings, then these same princes became Orishas (deities). When enslaved Africans came to Cuba, this all underwent a process of transculturation," she told the teenagers who attended the last workshop of the year, in November.
Every time a new student comes, Navarette tells them: "it's a family of three drums: iya, the mother drum, itotele and concolo, in the shape of an hour glass, with heads on either side, the mouths, which are played at the same time. They are the foundation of Cuban rhythms."
Better known abroad than in her own country, the percussionist says: "I feel that it is something that needs to be saved, that shouldn't be left to die out. If everything is born from the root, the stem, the flowers, the leaves… then, the root can't die because otherwise everything else will be ruined."
"Children and teenagers are the rebirth, they are the generations who are coming and imposing new laws, new cultures: if they have this foundation, then just imagine what they will create when they grow and exhibit their work, especially if they are Cubans," she said.
The artist also defends anti-racist ideas on social media and proudly declares her African origins.
"I can't speak about Cuban culture without saying that we are folklore, we are negritude because everything got mixed: the indigenous that came, then the Africans, this is what is pure, it's Black, it's the earth, it's blood, it's folklore, it's culture, education, we shouldn't forget that."
In her upcoming workshops, Navarrete is planning on including folklore dance teacher Santiago Alfonso and musician Alain Perez, to name a few, as well as branch out and offer them at art schools and cultural centers. (2019)