Cuban Women and a Legal Second Job
By Dalia Acosta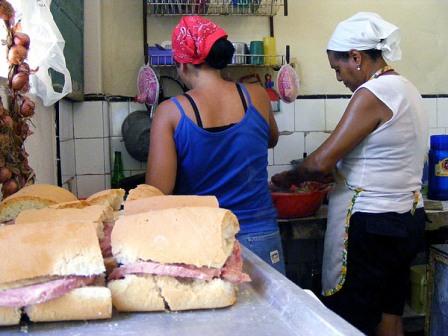 HAVANA TIMES, Aug. 24 (IPS) – Secure in a good professional position with the Cuban state sector, Mariela Sanchez is taking advantage of the flexible schedule at her workplace to hold a second job part time, in addition to collaborating with a specialized publication.
Her "bump with reality" came in 1991, when her daughter was born at the very time Cuba was entering an economic crisis that would radically change the lives of the island's more than 11 million residents. The impact, which in some spheres seems irreversible, is still being felt by families and across all society.
"Though I was able to hold on to my job, which I enjoy and like, I also cleaned house for a foreign family.  This was how I was able to guarantee an income in dollars, which allowed us to live a little bit better and – especially – to feed my little girl well," said the 45-year-old Cuban mother.
Then the roles reversed.  Her husband got a well-paying position with a company that paid in foreign currency.  Mariela continued at her principal job while at the same time picking up odd jobs here and there, as do so many Cuban women. Nevertheless, she found herself alone when it came to taking care of the house that they share with her maternal grandparents.
Although Mariela has spent almost 20 years engaged in informal and alternative forms of employment, she is not very convinced of the real potential of opportunities authorized by the government in June.
The measure legalized multiple job-holding in the state sector as well as paid part-time work for university students – two previously prohibited activities.  The objective was to "stimulate the productive forces to facilitate increases in incomes" and to confront the problem of an aging population.
For the time being, managers, healthcare and educational personnel, researchers and auditors are still proscribed from participating in the reform and from holding more than one job.
Moreover, many claim that the change fails to solve a basic contradiction.  The actual value of wages paid in Cuban pesos continues to be extremely low, despite increases authorized over the past few years.  Except for rare exceptions, a second State job will not bring in the income in hard currency needed today for families to survive.
Though Cubans enjoy a range of subsidized and free services, the average wage does not surpass 415 pesos, barely $17 USD.
"Multiple job-holding can be an alternative provided it is not thought of as a magic wand that will solve the problem," commented one economist to IPS anonymously.
Living in crisis
Studies conducted at the end of the 1990s predicted that Cuba would need many years to recover its standard of living achieved prior to the economic crisis brought on by the disintegration of the Soviet Union and the disappearance of the former socialist bloc, previously the island's principal trade partner.
In addition to the abrupt crash of the economy, the crisis caused other important changes on the socialist governed Caribbean island: the social pyramid was inverted, marked differences between social groups and classes were generated or accentuated, incomes became stratified and the vulnerability of socially disadvantaged populations became more pronounced.
Now twenty years later, Mariela Sanchez insists that her family "has not been able to get out of the crisis."
Around 80 percent of the economically active population is concentrated in the State sector, allowing the official unemployment rate to barely reach 1.6 percent.  However, a study by the Center of Psychological and Sociological Research found at the beginning of this decade that a significant number of people are searching for options outside of the State sector.
Among the strategies to increase incomes is part-time work, the abandoning of professional employment for better paid jobs, early entry into the workforce, self-employment and seeking jobs that receive tips.
However, these alternatives tend to be unequal for women and men. Social psychologist Mareelen Diaz noted that while men "pursue strategies that must be realized outside of the home," women usually "stay indoors."
"Young women in Havana leave the domestic environment to sell goods, some created by themselves or other women, and others of dubious origin.  Elderly women, more frequently than youth, find domestic jobs or are hired as cleaning employees in the State sector," the researcher affirmed.
Data from the National Statistics Office indicates that 26 percent of the self-employed are women.  Those who opt for this path are concentrated in lower paying activities such as food stand clerks, seamstresses, dressmakers, hairdressers and cooks.
In the wide range of "work on the left" (informal labor), women are the majority among professionals who teach all types of classes to children and teens – from language courses to basic tutoring to reinforce school lessons.
A comparative study of the situation of women and work in Cuba and Spain highlights that on the island, contrary to other Latin American countries, "self-employment in the informal sector constitutes a more lucrative option than employment in the State sector."
"However, it is in this sector where women participate to a smaller degree, which contributes to greater salary disparity between women and men," the study pointed out.
Cuban women continue to hold the lowest paid positions, according to analysts, despite labor legislation that guarantees equal pay for equal work by men and women.  At the same time, however, females represent more than 66 percent of the technical and professional labor force in the country.
In this context, economists consulted by IPS believe that the approval of multiple job-holding could be a viable alternative for professional women to obtain greater income without the need to opt for paths that are riskier and often illegal.
"When you have an opportunity it's one opportunity more.  We will have to see with time how women and men take up this alternative," commented psychologist Norma Vasallo, president of the Women's Professorship of the University of Havana.
Impact on youth
Contrary to Mariela Sanchez, her daughter Ana preferred vocational school to the university. This summer, for the first time, the youth is working as vendor in a crafts fair on the weekends. "She doesn't have a contract; she helps a friend of the family and, in exchange, receives the equivalent of about $15 dollars for the two days of work," the mother explained.
University attendance had been the aspiration for the generation currently in their forties, but the situation is different for those now in their twenties.  The economic crisis of the 1990s stimulated a search for other paths, including the abandonment of studies by 15 and 16-year-olds.
Parallel to this, Cuban centers of higher education are feminizing.  More women than men are entering these institutions, where 63 percent of those who now graduate are female.
Data from the Third National Survey of Youth, carried out in 2004 by the government-run Youth Studies Center (CEJ) and the National Statistics Office, indicated that 19.3 percent of people between 15 and 29 do not have a "formal tie" to study or work with state entities.  Of that total, 69.3 percent were women and 30.7 percent male.
"A historical analysis of unemployment in Cuba, in good times as well as downturns, revealed a remarkably high incidence among females, youth and people living in the eastern region of the country," highlighted CEJ specialist Maria Josefa Luis.
Youth unemployment usually occurs in settings where the availability of jobs does not coincide with the expectations of this group.  The Cuban labor sector has experienced a paradox for decades: unemployment coexists with an unsatisfied demand for personnel in productive sectors such as construction and agriculture.
Alejandra Menendez, 21, told IPS that it is clear that she needs to balance her need for a wage with her university studies, though she insisted, "I'm not going to study and work a whole bunch of hours for a wage in Cuban pesos."
On the other hand, for Raquel Sierra, of the weekly publication Tribuna de La Habana, the reform has had immediate benefits for numbers of youth in the media.
"Since the beginning of this degree program, many journalism students have worked in the media.  They have sweated blood, but up until now there was no way to pay them.  The approval of multiple job-holding changes that situation," she commented with satisfaction.