Cubans in the MLB All-Star Game
A Brief History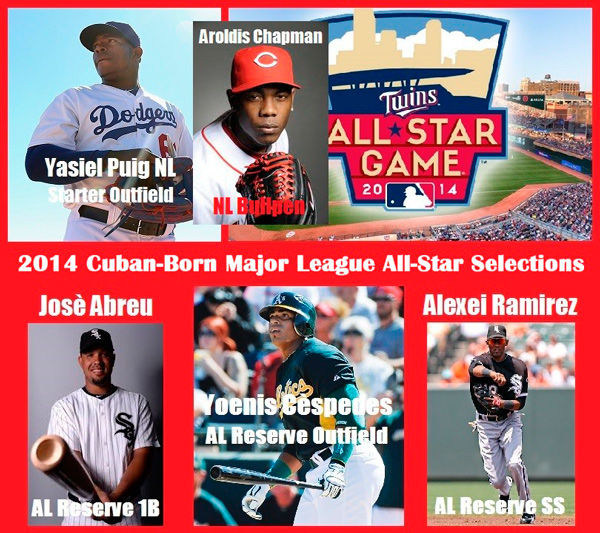 By Peter C. Bjarkman*
HAVANA TIMES – The Cubans are back squarely in the major league limelight – at least if a somewhat tarnished mid-season All-Star Game extravaganza is any yardstick for center-stage attention. After more than a half-century of diminishing presence on the North American baseball scene in the wake of Fidel Castro's 1959 socialist revolution, a new small but potent wave of Cuban League "defectors" have been corralling considerable notice and enjoying increasing visibility on big league diamonds for at least the past three seasons, thanks mainly to the 105 mph fastball of Cincinnati's Aroldis Chapman, the colorful off-field and on-field escapades of 2013 Dodger rookie phenomenon Yasiel Puig, the laser-like outfield throws and Home Run Derby exploits of Oakland's Yoenis Céspedes, and this spring's unprecedented first-year power displays produced by Chicago White Sox novice slugging sensation Jose Abreu. And this exploding long-awaited Cuban presence has now received something of an official rubber stamp acknowledgement via announcement of this year's American and National League "Midsummer Classic" rosters.
With Puig tabbed for the National League starting outfield, Chapman in the senior circuit bullpen, and Abreu, Céspedes and Alexei Ramirez all named as American League reserves, Cuba boasts more than a mere pair of MLB All-Stars for the first time in what might be labelled the post-1998 "defectors" era. The presence of five native islanders at Target Field in Minneapolis next Tuesday night will represent the largest Cuban showing in four and a half decades and the second most in the full eight decades of the showcase "media frenzy" exhibition extravaganza.
The Cubans will again this time around play second fiddle to the Dominicans (nine players) and Venezuelans (six selectees) when it comes to All-Star clout, but they have nonetheless now left both the Puerto Ricans (with only Yadier Molina) and Japanese (with Yu Darvish and Masahiro Tanka) far behind when it comes to All-Star Game international flavor. And if the dominant Dominicans still lead the way with five starters, Cuban presence might be deemed somewhat more impressive since the five former Cuban Leaguers heading to Minnesota actually represent nearly a full third of the entire current Cuban big league contingent.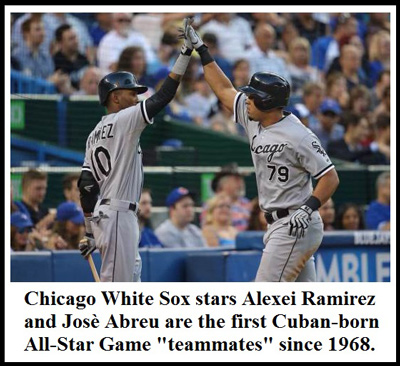 Despite significant impact on daily headlines over the past few seasons – Puig's 2013 challenge to DiMaggio's 1939 record debut month, Céspedes and his recent trio of incredible rocket-like outfield tosses, Abreu's reprise and then one-upmanship of Puig's rookie month feats –  the Cuban League invasion has heretofore been negated at the All-Star ballot box. Despite his media-darling star status and a hefty LA fan support, Puig missed out last year in a "final-slot selection" fan voting runoff with Atlanta's Freddie Freeman. Although Tampa-reared rookie Jose Fernandez (Miami Marlins) and flamethrower Aroldis Chapman did make brief solo bullpen appearances (three for Chapman) across the last four years, hurlers Jose Contreras and Danys Baez were honored with selections earlier in the decade that never resulted in actual game appearances. The one brief Cuban moment in the spotlight came last summer when Céspedes walked off with Monday-night ESPN Home Run Derby honors at New York's Citi Field.
Cuban appearances have in fact been surprisingly rare during a full decade (2003-2013) marked by an ever-increasing big league seepage of Cuban League talent. El Duque Hernández for all his 1998 and 2005 World Series accolades never once made the MLB All-Star scene. Chapman and Liván Hernández (1997 post-season MVP) are the only pair to boast more than a single token appearance and the latter (with the Washington Nationals at the time) worked but one 2005 inning at Comerica Park in Detroit. While posting hefty offensive numbers on three separate occasions (with the LA Angels in 2009 and 2012 and in Seattle last season), oft-injured Kendrys Morales has never been an All-Star nominee. And for all his defensive brilliance as one of the AL's acknowledged premier shortstops, Alexei Ramirez is finally cracking into the Midsummer Classic field for the first time in this his seventh solid Chicago White Sox campaign.
With easier access to the North American baseball big-time in the pre-Castro 1950s, and with a larger arsenal of island-grown big leaguers (most of whom had left home before 1960), Cubans also nonetheless rarely figured prominently when it came to earlier-decade All-Star selections. The Classic was in its 18th edition when Minnie Miñoso pioneered for his country with an inaugural 1951 pinch-hitting role and late-inning outfield stint at Detroit's Briggs Field.
Aging Washington hurler Connie Marrero was also selected for that same 1951 squad but never made it out of AL bullpen and onto the field of play. Colorful and fleet-footed Miñoso was not only the earliest Cuban All-Star but also the most durable, eventually logging nine selections through 1960 (including 8 actual game appearances and 4 starting assignments in 1954, 1959 and both games of 1960). "The Cuban Comet" also boasted several flashes of All-Star brilliance: a double and run scored in 1952, two hits and an RBI in 1953, another two safeties a year later, a double and RBI in 1957, and an overall 8-game batting average of .300. Philadelphia Phillies second baseman Tony Taylor was the belated inaugural Cuban Senior Circuit selection (appearing off the bench in both 1960 games) and only in 1966 did Cincinnati shortstop Leo Cárdenas became the first National League Cuban-born starter.
Luis Tiant remains to date the only Cuban pitcher to start an All-Star contest (1968 in Houston) and also only the second to earn a pitching decision; Tiant worked two opening two frames at the then spanking new Astrodome and yielded the game's sole run via a first-inning double play roller that plated Willie Mays. Again in 1974 at Pittsburgh Tiant gained the dubious distinction of being the Junior Circuit's losing hurler. Camilo Pascual holds the backhanded "honor" of becoming the first Cuban-born pitcher to earn a game decision (working the middle three frames of the first 1962 affair on home turf in Washington and suffering a 3-1 defeat). So far no Cuban pitcher has ever walked away as a celebrated All-Star Game winner.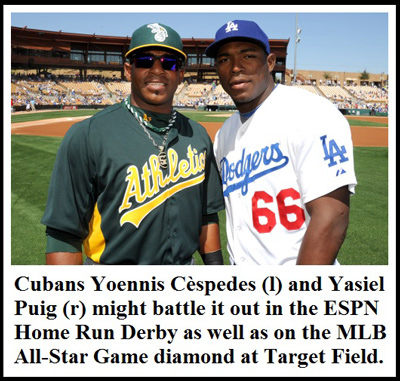 The biggest (and arguably the only) highlight for Antillean All-Stars indisputably came with the memorable marathon 1967 game staged in Anaheim Stadium. It was there that Tony (Atanasio) Perez belted the first and only Cuban homer and also walked off with the only country's sole MVP selection as a result of his late-inning heroics. With the game knotted 1-1 in the top of the 15th frame, Perez (a late-game replacement for Dick Allen at third base) rocked a homer to deep left field off future fellow Hall-of-Famer Catfish Hunter to decide the longest All-Star Game on record.
A year later, in 1968, Cuba would enjoy the largest-ever island presence during the event staged at the Houston Astrodome. In addition to American League starting pitcher Luis Tiant, five additional countrymen all appeared in that rarest of games – one that concluded without a single RBI recorded in the scorebook; the remaining 1968 Cubans were bench players Jose Azcue, Tony Oliva and Bert Campaneris for the American League, and National Leaguers Tony Perez and Leo Cardenas (both representing Cincinnati).
If Cuban All-Star Game presence has diminished over recent decades, so has the stature of the very game itself – an event now largely morphed into "a multimillion dollar media frenzy that few fans pay much attention to" (Stuart Shea, Baseball Digest). Recent TV ratings have fallen off the charts and the sideshow Monday evening HR Derby exhibition event today seems almost more popular than the actual Tuesday night nine-inning ballgame itself. Between 2010 and 2012 the Midsummer Classic FOX telecasts suffered three consecutive record "lows" in the Nielsen Ratings, with the Kansas City-based 2012 game being the least-viewed ever.
The comparable NFL Pro Bowl (now resting on its own Death Bed and likely soon to be scrapped) out-ranked the MLB version in viewership during the same recent period – a truly shocking development given that the MLB version topped its NFL rival in audience by a whopping 66% only four years earlier. Over the same 2010-2012 stretch the Home Run Derby expanded its own viewership by nearly 3% and the 2013 New York City-based Derby exhibition logged a record 5.0 rating (compared to 6.9, 11 million viewers for the traditional Tuesday night AL versus NL showdown baseball game).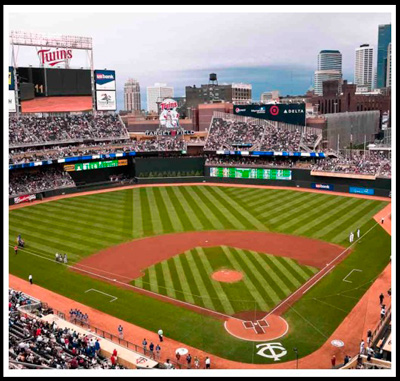 There are numerous rather obvious reasons for this severe steady dip in MLB All-Star Game interest among the sport's traditional fans. Foremost is today's lack of any clear distinction between the two rival leagues. Back in the Golden Age of the 1950s and 1960s interleague rivalry was heightened by distinctive league offices, umpiring crews, and even playing styles. In all but a handful of cities (New York, Chicago, Philadelphia and later LA) fans had little or no  opportunity to see rival league stars; pre-cable era TV coverage was restricted to the local club; and a match between rival leagues with the top stars playing nearly a full nine-innings really felt like a true and intriguing test of league superiorities.
In the Forties, Fifties and Sixties many of the game's biggest stars (Mantle, Williams, Banks, Clemente, Musial, Berra) played all or most of the careers on a single club, in a single league, and were only shadowy images of greatness for fans in rival league cities. Now extensive inter-league play, rampant player free agency (with most stars switching teams and even leagues on a regular basis), cable or internet TV access to almost every MLB game, and merging of league administrations have eradicated any pretense at distinct Junior Circuit or Senior Circuit mystiques.
Equally damning has been the All-Star Game practice of playing fan-chosen starters only a few innings and then turning the game into a meaningless spring-training-like exhibition in which rival managers are charged with making sure that all their bench players enjoy at least a one-inning token appearance. An crucial added factor is today's astronomical player salaries that in turn dictate ball-club unwillingness to allow star hurlers to work more than a single inning, and also ruling out appearances by pitchers who have drawn their team's starting assignments on pre-All-Star Sunday. What we are left with hardly looks like a competitive baseball game and any lip-service paid by MLB talking heads or FOX network broadcasters to traditional league rivalry or deep-seated league pride can hardly be taken at face value.
In one of his less inspired moments, long-standing MLB Commissioner Bud Selig back in 2003 instituted a policy of awarding World Series home-field advantage to the league winning the Midsummer Classic, a seeming knee-jerk reaction to the 2002 debacle in Milwaukee where the self-same Commissioner pulled the plug on an extra-inning tied game and generated a small fire-storm of protest in the process. It hardly seemed the kind of fix needed to meet the perhaps impossible task of restoring the event to its previous glory. Numerous other fixes for sagging interest have been proposed of late, some far more serious than others.
Writing in a recent issue of Baseball Digest, Stuart Shea outlined a series of "fixes" topped by a plea to have starters play most of the game and a suggestion that a preceding "All-Star Week" feature a string of "rivalry" games between such traditional or regional foes as the Yankees and Red Sox, Cubs and Cardinals, Dodgers and Giants, and Astros and Rangers. With the FIFA World Cup and MLB World Baseball Classic clearly in mind, Joel Sherman of The New York Post suggests that a game pitting USA stars versus international stars might make more sense than the now fading spectacle of an American League versus National League matchup.
Perhaps reflective of the recent status of Cuban imports during MLB All-Star Week is the fact that the biggest (really the only) impact of recent years has come during the sideshow circus-like atmosphere of the Monday evening ESPN Home Run Derby. A pair of imports who never played on the island of their birth, Jose Canseco (1986, 1990) and Rafael Palmeiro (1998, 2004) each appeared twice and the latter walked off with a third-place finish in his second try. Cuban League refugee Yoenis Céspedes garnered bigger headlines (and far more attention back in Havana) a year ago with his surprise victory, making him the only winner of the three-decade-old event not selected for the game itself.
But Céspedes captured his honors against a field of rivals (headed by Washington novice Bryce Harper and Pittsburgh's unrated Pedro Alvarez) that hardly seem to reflect the league icons of long-ball slugging. Recent seasons have found the game's top home run bashers increasingly bypassing an event which many top stars view as injurious to their normal swinging style. Already Miguel Cabrera and Mike Trout have declined participation in this year's tournament. It is still likely that a least a pair of Cubans (defending champ Céspedes and upstart Puig) will vie for target Field Derby honors – but the biggest Cuban threat, Jose Abreu, has already announced unwillingness to take part. Without Jose Abreu in the field this year's Derby will hardly be the gripping spectacle in either Miami or Havana that most exiled and home-based Cuban fans have been anticipating during recent weeks.
On the eve of this year's All-Star selections – despite Chapman's three-figure heaters and $30 million bankroll in Cincinnati, spiking Puig-mania in Los Angeles, Céspedes firepower at last summer's Home Run Derby in New York, and this spring's dismantling of rookie records by Abreu in Chicago – only a mere three veterans of Cuban National Series action had so far enjoyed Mid-Summer Classic recognition. An additional two were also chosen for the honor but never made it onto the field of play. Now suddenly we have doubled those numbers with five island heroes scheduled to suit up at Target Field next Tuesday evening. It is finally altogether obvious that the contemporary Cuban League impact on Major League Baseball is no longer merely a passing footnote to North America's self-proclaimed National Pastime.
List of Cuban MLB All-Stars (Chronological Appearance)
*Starter, #Did Not Play (Two All-Star Games, 1959-1962)
29 Cubans Have Been All-Star Selections (but 5 in boldface never appeared in an All-Star Game; players in red typeface are "defectors" who played in Cuban National Series)
(1) Orestes Miñoso 9 (1951, 1952, 1953, 1954*, 1957, 1959A*, 1959B#, 1960A*, 1960B*)
(2) Conrado Marrero 1 (1951#)
(3) Sandalio Consuegra 1 (1954)
(4) Camilo Pascual 7 (1959B#, 1960A#, 1960B#, 1961B, 1962A, 1962B#, 1964)
(5) Pedro Ramos 1 (1959B#)
(6) Tony Taylor 2 (1960A, 1960B)
(7) Miguel Fornieles 1 (1961A)
(8) Zoilo Versalles 2 (1963*, 1965)
(9) Tony Oliva 8 (1964*, 1965, 1966*, 1967*, 1968, 1969#, 1970, 1971#)
(10) Leo Cardenas 5 (1964, 1965, 1966*, 1968, 1971#)
(11) Tony (Tany) Perez 7 (1967, 1968, 1969, 1970*, 1974, 1975, 1976)
(12) Miguel Cuéllar 4 (1967, 1970, 1971, 1974#)
(13) Paul Casanova 1 (1967#)
(14) Luis Tiant 3 (1968*, 1974, 1976)
(15) José Azcue 1 (1968)
(16) Bert Campaneris 6 (1968, 1972, 1973*, 1974*, 1975*, 1977)
(17) Cookie Rojas 3 (1971, 1972, 1973)
(18) José Canseco 6 (1986#, 1988*, 1989#, 1990*, 1992#, 1999#)
(19) Rafael Palmeiro 3 (1991, 1998, 1999*)
(20) Rolando Arrojo 1 (1998)
(21) Liván Hernández 2 (2004#, 2005)
(22) Danys Báez 1 (2005#)
(23) José Contreras 1 (2006#)
(24) Aroldis Chapman 3 (2012, 2013, 2014)
(25) Jose Fernandez 1 (2013)
(26) Yasiel Puig 1 (2014*)
(27) José Dariel Abreu 1 (2014)
(28) Yoenis Céspedes 1 (2014)
(29) Alexei Ramirez 1 (2014)
List of Cuban MLB All-Stars (Year-by-Year)
*Starter, #Did Not Play (Two All-Star Games, 1959-1962)
1951 (Detroit): Orestes Miñoso (AL), Conrado Marrero (AL#)
1952 (Philadelphia): Orestes Miñoso (AL)
1953 (Cincinnati): Orestes Miñoso (AL)
1954 (Cleveland): Orestes Miñoso (AL*), Sandalio Consuegra (AL)
1957 (St. Louis): Orestes Miñoso (AL)
1959A (Pittsburgh): Orestes Miñoso (AL*)
1959B (Los Angeles): Orestes Miñoso (AL#), Camilo Pascual (AL#), Pedro Ramos (AL#)
1960A (Kansas City): Orestes Miñoso (AL*), Tony Taylor (NL), Camilo Pascual (AL#)
1960B (New York): Orestes Miñoso (AL*), Tony Taylor (NL), Camilo Pascual (AL#)
1961A (San Francisco): Miguel Fornieles (AL)
1961B (Boston): Camilo Pascual (AL)
1962A (Washington): Camilo Pascual (AL)
1962B (Chicago): Camilo Pascual (AL#)
1963 (Cleveland): Zoilo Versalles (AL*)
1964 (New York): Tony Oliva (AL*), Camilo Pascual (AL), Leo Cardenas (NL)
1965 (Minneapolis): Leo Cardenas (NL), Tony Oliva (AL), Zoilo Versalles (AL)
1966 (St. Louis): Tony Oliva (AL*), Leo Cardenas (NL*)
1967 (Anaheim): Tony Perez (NL, MVP), Miguel Cuéllar (NL), Tony Oliva (AL*), Paul Casanova (AL#)
1968 (Houston): Luis Tiant (AL*), José Azcue (AL), Tony Oliva (AL), Bert Campaneris (AL), Tony Perez (NL), Leo Cardenas (NL)
1969 (Washington): Tony Perez (NL), Tony Oliva (AL#)
1970 (Cincinnati): Tony Perez (NL*), Tony Oliva (AL), Miguel Cuéllar (AL#)
1971 (Detroit): Miguel Cuéllar (AL), Tony Oliva (AL#), Cookie Rojas (AL), Leo Cardenas (NL#)
1972 (Atlanta): Cookie Rojas (AL), Bert Campaneris (AL#)
1973 (Kansas City): Bert Campaneris (AL*), Cookie Rojas (AL)
1974 (Cincinnati): Bert Campaneris (AL*), Tony Perez (NL), Luis Tiant (AL), Miguel Cuéllar (AL#)
1975 (Milwaukee): Bert Campaneris (AL*), Tony Perez (NL)
1976 (Philadelphia): Luis Tiant (AL), Tony Perez (NL)
1977 (New York): Bert Campaneris (AL)
1986 (Houston): José Canseco (AL#)
1988 (Cincinnati): José Canseco (AL*)
1989 (Anaheim): José Canseco (AL#)
1990 (Chicago): José Canseco (AL*)
1991 (Toronto): Rafael Palmeiro (AL)
1992 (San Diego): José Canseco (AL#)
1998 (Denver): Rafael Palmeiro (AL), Rolando Arrojo (AL)
1999 (Boston): Rafael Palmeiro (AL*), José Canseco (AL#)
2004 (Houston): Liván Hernández (NL#)
2005 (Detroit): Liván Hernández (NL), Danys Báez (AL#)
2006 (Pittsburgh): José Contreras (AL#)
2012 (Kansas City): Aroldis Chapman (NL)
2013 (New York): Aroldis Chapman (NL), Jose Fernandez (NL)
2014 (Minneapolis): Yasiel Puig (NL*), Aroldis Chapman (NL), José Dariel Abreu (AL), Yoenis Céspedes (AL), Alexei Ramirez (AL)
Notable Firsts and Rare Distinctions for Cuban MLB All-Stars
(Two All-Star Games, 1959-1962)
Cuban with Most All-Stars Game Starts: Orestes Miñoso (4)
Cuban with Most All-Star Game Appearances: Orestes Miñoso (8)
Cuban with Most All-Star Game Selections: Orestes Miñoso (9)
First Cuban All-Stars Selected: Orestes Miñoso (1951), Conrado Marrero (1951)
First Cuban All-Star Game Appearance: Orestes Miñoso (1951)
First Cuban All-Star Game Starter: Orestes Miñoso (1954, AL)
First Cuban All-Star Game Starting Pitcher: Luis Tiant (1968, Losing Pitcher)
First Cuban National League All-Star Selection: Tony Taylor, 1960A)
First Cuban National League All-Star Game Starter: Leo Cardenas (1966, NL)
First Cuban All-Star Game Pitcher of Record: Camilo Pascual (1962A, Losing Pitcher)
First Cuban Rookie in MLB All-Star Game: Tony Oliva (1964)
First Cuban All-Star Game MVP: Tony Perez (1967)
First Cuban All-Star Game Home Run: Tony Perez (1967)
First Cuban All-Star Selection in Both Leagues: Miguel Cuellar (1967 AL, 1970 NL)
First Cuban All-Star Game Designated Hitter: Rafael Palmeiro (1999 AL)
Most All-Star Game Losses for Cuban Pitcher: Luis Tiant 2 (1968, 1974)
Most All-Star Game Decisions for Cuban Pitcher: Luis Tiant 2 (1968 Loss, 1974 Loss)
Most Cuban All-Star Selections in Single Year: 6 (1968, but only one starter)
Most Cuban All-Star Game Starters in a Single Game: 2 (1966)
Cuban Rookie All-Star Game Selections: Orestes Miñoso (1951), Tony Oliva (1964*), Jose Canseco (1986#), Rolando Arrojo (1998), Jose Fernandez (2013)
Cubans in All-Star Home Run Derby: 3 (Yoenis Céspedes 2013 Winner; Rafael Palmeiro 2004 Third, 1998 Fourth; José Canseco 1990, 1986)
Post-1951 All-Star Games with No Cuban Players: 25 (1955, 1956, 1958, 1978, 1979, 1980, 1981, 1982, 1983, 1984, 1985, 1987, 1993, 1994, 1995, 1996, 1997, 2000, 2001, 2002, 2003, 2007, 2008, 2009, 2010, 2011)
—–
(*) PETER C. BJARKMAN is author of A History of Cuban Baseball, 1864-2006 (McFarland, 2007, 2014) and is widely recognized as a leading authority on Cuban baseball, past and present. He has been reporting on Cuban League action and Cuba's national team as Senior Writer for www.BaseballdeCuba.com for nearly a full decade and is currently writing a groundbreaking book (The Yanqui in Cuba's Dugout) detailing his two decades of travel throughout Cuba and his adventures covering the Cuban national team abroad. His work as a "Cuban baseball insider" has also been featured on Anthony Bourdain's Travel Channel episode of "No Reservations Cuba" (2011) and with a 2010 front page profile in the Wall Street Journal.