Cuba's 2014 International Book Fair
Irina Echarry
HAVANA TIMES — Cubans who love to read anxiously await the month of February. In a few days, the cobblestoned walkways of Havana's Cabaña Fortress will feel the steps of thousands of people, individuals of all ages who will visit the different exhibition areas and book stands that commonly grace Cuba's International Book Fair.
The Fair, to be held in La Habana from February 13 to 23 (and then until March 9 in all other provinces), will be dedicated to writer Nercys Felipe Herrera and historian Rolando Rodriguez Garcia, the authors of more than 15 books re-published for the occasion.
The guest country of honor this year will be Ecuador and the many different cultures that make up the country. A space for conferences, panel discussions and the launching of Ecuadorian books will operate throughout the fair.
A wide range of essays, short stories, poetry, contemporary narrative, Ecuadorian science fiction poetry, contemporary theater and other anthologies will be some of the books on sale on this occasion.
A number of authors, such as Andres Cadena and Miguel Antonio Chavez, and poets Margarita Lasso and Aleyda Quevedo, will personally read excerpts from their works. Ecuadorian President Rafael Correa will offer a lecture at the University of Havana, tittled El Buen Vivir en el Ecuador ("The Good Life in Ecuador"), and present his book Ecuador, de Banana Republic a la No Republica ("Ecuador: From Banana Republic to Non-Republic").
Havana's 23rd International Book Fair will also celebrate the 200th anniversary of the birth of Cuban writer Gertrudis Gomez de Avellaneda at a homage to be held at the University of Havana and through the launching of the books Tres novelas ("Three Novels") and Gertrudis Gomez de Avellaneda, a compilation put together by Cira Romera, published by the Letras Cubanas publishing house. A multimedia titled La Avellaneda, published by the Computer Sciences Center for Culture (Cubarte) will also be launched.
The book Octavio Paz: Valoracion Multiple ("Octavio Paz: A Broad Appraisal"), an anthology compiled by Enrique Sainz, and the complete works of Puerto Rican poet Julia de Burgos, will be launched in commemoration of these two important figures of Latin American literature.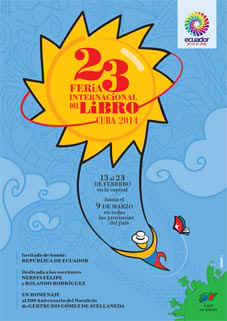 Other books that could prove of interest to the rather mixed crowd that commonly attends the fair are: Un cubano en el cosmos ("A Cuban in the Cosmos"), by Arnaldo Tamayo Mendez, Hans Modrow's La Perestroika: impresiones y confesiones ("Perestroika: Impressions and Confessions"), Ricardo Machado's and Karla Gattorno's Abrir y mantener un negocio for cuenta propia ("Opening and Maintaining a Private Business"), several cooking and nutrition books, a Cuban 21st century poetry anthology compiled by Lizabel Monica and the biography of Cuban dancer Viengsay Valdez. The organizing committee has also planned concerts, conferences, panel discussions, colloquia, exhibitions, lectures and many other activities.
Since the first fair held in 1982, Havana's International Book Fair has changed considerably: it has changed its location, the number of people who attend the event has grown staggeringly (on weekends, it is difficult to make one's way through the crowds, in spite of the size of the venue) and the food offer has been expanded (to the point many people go to the fair to have a bite to eat and not to buy books). That said, it continues to be a cultural event where one can find the latest publications. And it has extended nationwide.
Though different bookstores around Havana begin to sell some of the books published for the fair in early February, to know what international publications have been made available this year, one must make the trip down to the fair and visit the different venues and sub-venues there. In addition to the San Carlos de la Cabaña Fortress, fair venues will also operate in Pabellon Cuba, Casa de las Americas, the Dulce Maria Loynaz Center, Casa del ALBA Cultural Center, The Cuban Writers and Artists Association (UNEAC), the Guayasamin Museum, the University of Havana and the Cuban United Nations Association.