Cuba's Caribbean Series Fortunes Hang with Freddy Asiel Alvarez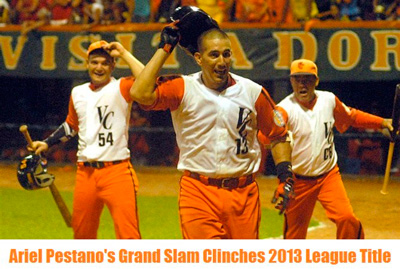 HAVANA TIMES — Cuba's historic return to the Caribbean Series is filled with almost as many doubts and plagued by almost as many unanswered questions as it is draped in hoopla and optimistic anticipation. Just how well will the reinforced Villa Clara lineup hold up in this short-haul event against four talented rival squads stuffed with seasoned MLB-affiliated professionals?
One key for the Cubans may well be the depth of their pitching and the presence of two of the nation's best right-handed starters – long-time national team aces Freddy Asiel Alvarez and Ismel Jiménez (a reinforcement player drafted from the roster of the Sancti Spíritus Gallos).
Currently in his tenth league season Jiménez has toyed in recent campaigns with overhauling the career Cuban League won-lost percentage record (.726) still owned by former MLB stalwart Orlando Hernández. Jiménez was also the top starter for Victor Mesa's squad in the recent third edition MLB World Baseball Classic.
Alvarez is widely recognized as Cuba's top mound talent and over the past nine months the 24-year-old phenom (he will finally turn 25 this April) has strung together a series of eye-popping and unparalleled performances during island domestic league play. Most notable was a post-season streak last May and June that has little precedent in any league including the North American majors.
There have indeed been some rather memorable individual performances down through the years to spice Cuban National Series post-season action. Santiago outfielder Alexei Bell once smacked two homers in a single inning during one playoff session (2007) and the same Bell also registered the oddity of three base knocks in the same frame during yet another post-season fray.
Ernesto Molinet repeated the single-inning pair of homers for Habana Province only two seasons later. Legendary third sacker Omar Linares once homered in six straight playoff games (during the 1997 Revolutionary Cup post-season). But so far there has never been anything to quite match the rare performance that was authored over the final three weeks of National Series #52 by Freddy Asiel Alvarez and that highlighted the conclusion of one of the most entertaining and competitive Cuban playoff rounds from recent memory.
Coming off a solid but unspectacular regular-season campaign (in which his club finished fourth and provided him with spotty offensive support) Alvarez ramped up his game by tossing four consecutive near-complete-game playoff shutouts (8 or more innings during each start) and in the process wrote a new chapter in the Cuban League record book with his 33.0 consecutive scoreless innings.
With those masterpiece games Alvarez also almost single-handedly launched his surprising underdog Villa Clara club (the league's final post-season qualifier) straight into the driver's seat in the scramble for a coveted Cuban League championship banner and a ticket to this year's historic Caribbean Series.
The Alvarez heroics aside, Villa Clara's miracle run to the 2012-2013 National Series title was truly an unlikely Cinderella tale. Hollywood script writers could never have provided a more dramatic or less predictable scenario.
In March veteran catcher Ariel Pestano (by wide consensus the best backstop the island has ever produced) saw his glorious 14 year tenure (1999-2012) as starting national team receiver come to a rather inglorious end when he was overlooked for a slot on the Cuban World Baseball Classic roster.
Many fans and most commentators in Cuba (without much, if any, actual concrete evidence) attributed the embarrassing exclusion solely to national team manager Victor Mesa; Pestano had endured a rather stormy relationship with Mesa during the latter's lengthy tenure as skipper of the Villa Clara ball club.
The rumored Pestano-Mesa flap was of course based mainly on speculation; there might have been numerous defensible reasons for overlooking Pestano and certainly the decision (taken by the selection committee surrounding league commissioner Higino Vélez) was never made by team manager Mesa alone.
Pestano's career was, after all, on the slide after 21 long and productive seasons; he was now employed mainly as a DH by his own league club; and there were plenty of other options – especially given the recent power displays of veterans Eriel Sánchez (Sancti Spíritus) and Yosvani Peraza (Pinar del Río). But the surprise exclusion had nonetheless created a firestorm and ultimately resulted in a premature mid-season retirement announcement by the celebrated Villa Clara star.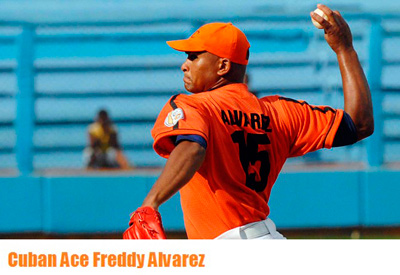 Two months later Ariel Pestano was back in uniform and again handling the backstop duties while a surprising Villa Clara club under manager Ramón Moré charged down the stretch to a fourth-place finish and a slot in the revamped and truncated National Series #52 playoffs.
When Villa Clara upended regular-season pacesetter Cienfuegos to reach the finals it appeared that Ariel Pestano had suddenly and unexpectedly been handed the ultimate scenario to exact a full measure of revenge on his former charismatic skipper – now the bench boss for championship opponent Matanzas. And in the end it all played out precisely that way, and with a heavy dose of Hollywood hyperbole to boot.
During the string of five incredible outings by Freddy Asiel Alvarez (three in the semifinals, two in the finals) it was Pestano who was calling the signals behind the plate while the ace VC right-hander rang up his record skein of 40-plus consecutive scoreless post-season innings. And then with the league championship finally within reach, it was none other than Ariel Pestano who drove a final nail into the Matanzas post-season coffin with his dramatic sixth-inning grand slam smash that clinched victory and brought home the coveted trophy in the dramatic home-turf Game 5 National Series wrap-up game.
The 2012-2013 championship was the first for the Naranjas in 17 long winter seasons and it provided perfect bookends to Pestano's illustrious career with the Villa Clara ball club. The Orange-clad outfit had reigned as league kingpin for three consecutive seasons at the dawn of Pestano's two-decade tenure, those titles earned under manager Pedro Jova in 1993, 1994, and 1995.
Previously the same Province (also one-time home to a club called Las Villas) had earned one additional crown under the Villa Clara name back in 1983 with Eduardo Martin at the helm. In more recent years the Orangemen had reached the league finals on six different occasions (five under Mesa and once more under Martin) only to come up short on consecutive outings in 1996 and 1997, 2003 and 2004, and 2009 and 2010. Four of those final-series disappointments came at the hands of Havana-based Industriales, the other two being defeats suffered from Pinar del Río (National Series #36) and Habana Province (National Series #48).
But for all the fittingly scripted Pestano heroics it was pitcher Alvarez who ultimately stole the post-season stage. The fourth straight brilliant outing for the Naranjas ace came in the vital final-round lid-lifter at Victoria de Girón Stadium (Matanzas), a 4-0 victory that thrust Ramón Moré's overachieving club into the championship driver's seat.
Alvarez breezed through eight innings allowing a mere four meager safeties (all rather tame singles) and benefiting from a game-clinching fifth-inning uprising sparked by a pair of RBIs from Holguín shortstop Yordan Manduley (a "replacement draft" addition to the championship-round Naranjas roster), plus an insurance-proving solo homer in the sixth off the bat of first-sacker Ariel Borrero.
For the fourth straight time Freddy Asiel was assisted by the stellar ninth-inning closing relief efforts of veteran righty Jonder Martínez, currently on loan from Artemisa also courtesy of the novel reinforcement draft system. As impressive as the Alvarez outings had been, it his perhaps more remarkable still that three of the initial four had come on the road – a vital factor given that fourth-place Villa Clara suffered from a home field disadvantage in both playoff rounds.
Thus the true hero of the final series and clear post-season MVP choice was by almost any measure Freddy Asiel Alvarez. The reliable fast-baller – unrivaled among island starting pitchers by any except possibly Sancti Spíritus ace Ismel Jiménez and Ciego de Avila workhorse Vladimir García – had built an initial string of 25 run-free frames in the semifinal series shootout with heavy-hitting Cienfuegos and slugger José Dariel Abreu (three starting 8-plus-innings winning efforts), then stretched the string to 33.0 with another 8-inning whitewash in the final-round lid-lifter. The league's 125 pitch restriction ironically prevented the Villa Clara stalwart from registering a single complete-game, with closer Martínez doing the ninth-inning mop-up chores on all four occasions.
In Game 4 of the Finals the record string was further stretched to an expanded record 40.2 innings and it only ended in the most bizarre of fashions. A pair of unaccountable infield errors in the eighth frame (a dropped pop fly and bobbled grounder, both occurring with the last two batters Alvarez was allowed to face, due to the pitch-count regulation) opened the door on an unearned run eventually surrendered by Martínez but nonetheless credited to Freddy Asiel as the pitcher of record. (Alvarez was still on the hill when the eventual unearned tally had reached the base paths.)
The previous league post-season mark had been 29.1 frames earlier registered by retired Pinar del Rio's Pedro Luis Lazo. The all-time regular-season standard in Cuba remains the 46.1 innings logged by Maximiliano Gutierrez (Pinar del Río Vegueros) in National Series #17 (1978), but Alvarez does become only the fifth hurler ever to cross the 40-inning plateau in any full season of Cuban League play.
FREDDY ASIEL'S SCORELESS STREAK SUMMARY
Semifinals versus Cienfuegos (25 innings)

Game 1 (May 25, 2013)

Villa Clara 1, Cienfuegos 0 at 5 de Septiembre Stadium (Cienfuegos): 8.2 IN, 2 H, 8 K, 3 BB (27 Batters)

Game 3 (May 30, 2013)

Villa Clara 3, Cienfuegos 0 at A. C. Sandino Stadium (Santa Clara): 8.1 IN, 4 H, 8 K, 1 BB (28 Batters)

Game 7 (June 5, 2013)

Villa Clara 2, Cienfuegos 0 at 5 de Septiembre Stadium (Cienfuegos): 8.0 IN, 6 H, 4 K, 3 BB (25 Batters)

Finals versus Matanzas (15.2 innings)

Game 1 (June 11, 2013)

Villa Clara 4, Matanzas 0 at Victoria de Girón Stadium (Matanzas): 8.0 IN, 4 H, 5 K, 1 BB (26 Batters)

Game 4 (June 16, 2013)

Villa Clara 4, Matanzas 1 at A. C. Sandino Stadium (Santa Clara): 7.2 IN, 4H, 4K, 1 BB (26 Batters)

Post-Season Totals: 40.2 IN, 1 R, 0 ER, 20 H, 29 K, 9 BB (132 Batters Faced), 0.00 ERA
A review of the historical record underscores a rather unmistakable conclusion that Freddy Asiel has proven over his short career to be a far different (and better) hurler under the pressures of international tournament outings or post-season league games – games when there is little margin for error and when championship banners are the ultimate prize.
His playoff winning percentage is considerably higher than his won-loss standard for regular-season action; over the course of the past couple of campaigns Alvarez has been little better than a .500-level pitcher and he has rarely dominated league hitters in domestic play the way he often has in a number of brilliant international outings.
Most memorable are his classic starting outing versus a big league-laced Dominican Republic lineup at the 2011 Panama IBAF World Cup and also his stellar if wasted effort in late relief against the Americans during the 2009 World Cup finals in Nettuno, Italy. Why a different Freddy Asiel seems always to show up for the most tension-packed games is now a conundrum to be deeply pondered.
COMPLETE CUBAN LEAGUE RECORD FOR FREDDY ASIEL ALVAREZ
Born

: April 29, 1989 (Age: 24 yrs. 9 mos.)

Regular Seasons in Red Typeface; Post-Seasons in Blue Typeface; *2014 season still in progress
Year (Series)
W-L (Pct.)
ERA
Runs
ER
IN
SO
BB
Games
2005-06 NS#45
4-5 (.444)
3.83
21
20
47.0
42
28
12
2006 Playoffs
0-0 (.000)
0.00
0
0
0.2
1
1
1
2006-07 NS#46
4-3 (.571)
3.64
36
34
84.0
79
30
17
2007 Playoffs
0-2 (.000)
14.40
8
8
5.0
4
0
3
2007-08 NS#47
3-2 (.600)
5.66
35
30
47.2
27
22
16
2008 Playoffs
0-0 (.000)
2.45
2
2
7.1
4
2
2
2008-09 NS#48
7-2 (.778)
3.40
46
36
95.1
54
32
17
2009 Playoffs
4-0 (1.000)
2.33
12
10
38.2
26
14
7
2009-10 NS#49
3-10 (.231)
3.82
55
49
115.1
71
39
17
2010 Playoffs
3-1 (.750)
3.00
16
14
42.0
38
7
6
2010-11 NS#50
8-4 (.667)
1.89
34
23
109.1
73
37
17
2011 Playoffs
1-1 (.500)
2.08
5
5
21.2
14
4
3
2011-12 NS#51
7-5 (.583)
2.90
41
32
99.1
61
28
15
2012 Playoffs
1-2 (.333)
2.55
7
7
24.2
18
9
3
2012-13 NS#52
8-6 (.571)
2.68
40
30
94.0
53
30
16
2013 Playoffs
5-0 (1.000)
0.00
1
0
40.2
29
9
5
2013-14 NS#53*
6-2 (.750)
1.99
22
16
72.1
50
16
11
Career TOTALS
63-45 (.583)
3.12
380
316
937.1
640
307
167
Regular Season
44-37 (.543)
3.03
308
254
692.0
460
246
127
Post-Season
14-6 (.700)
2.29
50
46
180.2
134
46
30
FREDDY ASIEL ALVAREZ INTERNATIONAL EVENTS RECORD
Year
Location
Tournament
W-L
ERA
2009
Rotterdam
World Port Tournament
1-0
2.65
2009
Europe
IBAF World Cup
2-0
0.56
2010
Netherlands
Haarlem Baseball Week
1-1
1.88
2010
Havana
Nicaragua Friendly Series
1-0
1.80
2010
Puerto Rico
Pre-Olympic Tournament
1-0
0.75
2010
Chinese Taipei
Intercontinental Cup
1-0
2.79
2011
Panama
IBAF World Cup
2-0
0.69
2011
Mexico
Pan American Games
0-1
27.07 (1 inning only)
2012
Nicaragua
Nicaragua Friendly Series
1-0
1.80
2012
Havana
USA Friendly Series
1-0
0.00
2012
Netherlands
Haarlem Baseball Week
0-1
2.40
2012
Chinese Taipei
Taiwan Thunder Series
1-0
0.00
2012
Japan
Japan Samurai Series
0-0
0.00
2013
Japan
World Baseball Classic (MLB)
0-0
3.38
2013
USA
USA Friendly Series
0-0
1.25
International Career W-L Record: 12-3 (five years, 15 events)
To place Freddy Asiel's nifty post-season spotless streak in proper perspective a few meaningful comparisons and parallels are useful. On the big league front, New York Yankees Panamanian closer Mariano Rivera currently holds the all-time post-season record of 33.1 consecutive scoreless frames (7-plus frames short of Alvarez) but this mark was established over several different seasons. The major league World Series mark is also 33.0 innings and once again it is a multi-year record.
Hall-of-Famer Christy Mathewson of the erstwhile New York Giants still holds the single-season World Series record of 27 frames with his three consecutive 1905 whitewashes of the Philadelphia Athletics – a record so ancient that neither of those teams have existed for more than half a century.
While Freddy Asiel now owns the Cuban league post-season mark by himself, he still stands some distance short of the three-decade-old Gutierrez all-time league standard. Three other Cuban Leaguers have also previously topped the 40-inning scoreless-string plateau: Eliecer Velazquez (Mineros, 44.0 innings in NS#11, 1972), Manuel Hurtado (Industriales, 41.1 innings in NS#10, 1971), and Maximiliano Reyes (Occidentales/Industriales, 40.2 innings over two separate seasons during NS#3 and NS#4, 1964-1965).
If National Series #52 (2012-2013) ended with a considerable bang for Villa Clara's ace right-hander, the new league season would also soon find Alvarez making the early-year headlines. On November 9 (his second outing of the year) Freddy Asiel added to his growing legend by tossing the fifty-third no-hit, no-run game in league annals and the first such masterpiece in nearly two full years.
The whitewashing was again authored on the home grounds in Santa Clara's Augusto César Sandino Stadium against Sancti Spíritus, and a single fourth-inning base on balls to Freddie Cepeda (who was immediately erased from the base paths via a double play roller) prevented only the second-ever league perfect game. Alvarez struck out seven and faced only the minimum 27 hitters (26 official at-bats) during his stellar 1-0 victory.
With a short single-round tournament format on tap for Isla Margarita, pitching will be more than ever of the particular essence. And it is precisely pitching that is often the true Achilles Heel in Caribbean Series play, where MLB clubs do not favor lengthy or frequent outings for their high-investment personnel during the winter off-season.
Cuba faces no such restrictions and with Freddy Asiel on tap for the crucial opening match-up against Mexico, and then also available for a potential finale eight days later, the Villa Clara prospects are indeed promising.
This will be especially true with national team veterans Ismel Jiménez and Vicyohandri Odelín (Camagüey), plus stellar 19-year-old prospect Norge Luis Ruiz (also Camagüey), available for Game 2, 3 and 4 starting assignments. And perhaps the biggest advantage of all for Ramón Moré's Orangemen will be the luxury of having wily veteran backstop Ariel Pestano once again in the stable to expertly handle a talented and well-seasoned Cuban pitching corps.
(*) Peter Bjarkman is author of A History of Cuban Baseball, 1864-2006 (McFarland, 2007) and is widely recognized as a leading authority on Cuban baseball, past and present. He has reported on Cuban League action and the Cuban national team as senior writer for www.BaseballdeCuba.com during the past six-plus years and is currently writing a book on the history of Cuba's post-revolution national team. – See more at: http://havanatimes.org/?p=94657#sthash.Czhf839S.dpuf
 (*) Peter Bjarkman is author of A History of Cuban Baseball, 1864-2006 (McFarland, 2007) and is widely recognized as a leading authority on Cuban baseball, past and present. He has reported on Cuban League action and the Cuban national team as senior writer for www.BaseballdeCuba.com during the past six-plus years and is currently writing a book on the history of Cuba's post-revolution national team.